Review: Chuck Berry's 1987 Concert Film with 7 Hours of Bonus Material
by Jeff Burger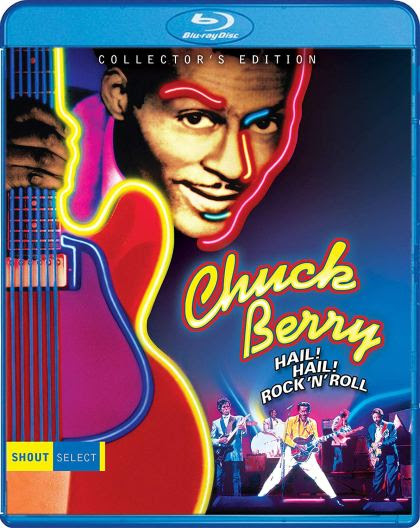 Chuck Berry: Hail! Hail! Rock 'n' Roll, which first came out in 1987, has arrived on Blu-ray looking better than ever—and sounding great too, with DTS-HD Master audio surround sound. The movie, whose centerpiece is a concert marking Berry's 60th birthday, was directed by Taylor Hackford, whose credits also include Ray, the Ray Charles biopic. It finds Berry performing his biggest hits, including "Almost Grown," "Sweet Little Sixteen," "Nadine," "Memphis, Tennessee," "Too Much Monkey Business" and "No Particular Place to Go." He shares the spotlight on songs like "Back in the U.S.A." (with Linda Ronstadt), "Brown Eyed Handsome Man" (Robert Cray), "Rock and Roll Music" (Etta James), "Johnny B. Goode" (Julian Lennon) and "Wee Wee Hours" (Eric Clapton).
Watch "Johnny B. Goode" from the film
Rolling Stones guitarist Keith Richards, the show's musical director, accompanies Berry throughout, as does Berry's longtime collaborator, pianist Johnnie Johnson. Berry's voice is a bit rough—he had the flu on the night of the concert—but his guitar work and stage antics are terrific, as are virtually all of his accompanists. Also featured in the film are memorable interviews with such artists as Little Richard, Bo Diddley and Bruce Springsteen (who tells a funny and revealing story about backing up Berry at a concert years earlier).
Related: 17 classic Chuck Berry covers
The two-hour movie does a great job of showcasing Berry's talents as both songwriter and performer but—perhaps inevitably, since he served as coproducer—it only hints at his legal troubles and difficult personality. For details about all that, however, you need only turn to The Reluctant Movie Star, one of the bonus features on this two-disc collector's edition: this documentary about the making of Hail! Hail! Rock 'n' Roll fills in most of the blanks—the good, the bad and the ugly—with variously humorous, disturbing and astonishing commentary and anecdotes from the filmmakers and assorted Berry associates.
Watch Chuck Berry and Keith Richards rehearse
More often than not, when you watch a Blu-ray's "bonus" material, you understand why it didn't make it into the film. In this case, though, the extras—which run about seven hours (!)—are just as memorable as the main attraction. In addition to the aforementioned Reluctant Movie Star, they include long interviews with Sun Records' Sam Phillips, Atlantic Records' Ahmet Ertegun and artists like Roy Orbison, the Everly Brothers, Jerry Lee Lewis and Willie Dixon. Also here: nearly an hour of excellent rehearsal footage; a long discussion of rock's early days by Berry, Bo Diddley and Little Richard; and video of a meeting between Berry and the Band's Robbie Robertson during which they flip through Berry's scrapbook together and reminisce.
Watch "No Particular Place to Go" from the film
Related: Dave Edmunds shares two Chuck Berry stories
Latest posts by Jeff Burger
(see all)