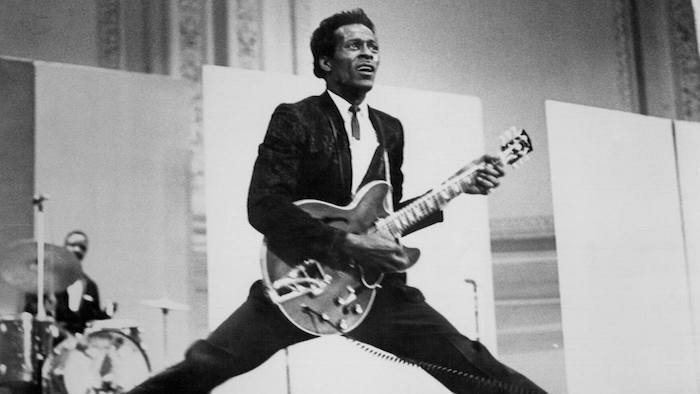 One of the architects of rock 'n' roll–maybe the architect–was born Charles Edward Anderson Berry on this day, October 18, 1926, in St. Louis, MO. A guitarist from his teens, Chuck Berry learned a wide swath of styles sitting in with groups around St. Louis before he joined The Sir John Trio led by pianist Johnnie Johnson (whose style and some say melodies became part of Berry's music). He drew attention in the combo due to his animated performing style and the seeming anomaly of singing white hillbilly music with the jazz/R&B group, which upped their popularity and drew white fans to their gigs.
In May 1955 Berry visited Chicago, and after seeing a show by Muddy Waters asked the bluesman how he could start making records. Waters referred Berry to Leonard Chess of Chess Records. On May 21, he recorded his adaptation of the Western swing song "Ida Red' as "Maybelline" at Chess Studios. It became a Top 5 pop single, went #1 R&B and sold a million copies.
Watch him perform it a decade later
From '56 to 1960 he recorded a number of chart singles that codified a substantial part of the now-classic rock style and ethos, marked by rollicking rhythms, clever wordplay and his snappy guitar lines that celebrated rock music ("Roll Over Beethoven," "Rock 'n' Roll Music," "Let It Rock"), teenage life ("School Days," "Sweet Little Sixteen") and prosperous 1950s America ("Back in the U.S.A.") as well as, in a way, his own growing mythology ("Johnny B. Goode," "You Can't Catch Me").
Berry influenced countless musicians, from the Beatles, Rolling Stones and the Kinks to the Grateful Dead, the Beach Boys, Jimi Hendrix and Bruce Springsteen. Bob Dylan has acknowledged Berry as an influential lyricist and John Lennon once famously said, "If you tried to give rock and roll another name, you might call it 'Chuck Berry.'"
In December 1959, he was arrested for violating the Mann Act by bringing an underaged female across state lines for immoral purposes (the same law that boxer Jack Johnson, the world's first black heavyweight champion, was charged with violating in 1912). Berry claimed he had brought 14-year-old Janice Norine Escalanti from Juarez, Mexico to St. Louis to work as a hat check girl at his nightclub, Berry's Club Bandstand. Prosecutors contended he did so for sexual purposes. Found guilty in March 1960 and then again after a retrial (following claims that the first trial judge prejudiced the jury with racist statements) in June 1961, he served some 20 months in prison beginning in February 1962. He was released on his birthday in '63.
The experience had a profound effect on Berry's personality. ""Never saw a man so changed," said Carl Perkins after the two toured England in 1964. "He had been an easygoing guy before, the kinda guy who'd jam in dressing rooms, sit and swap licks and jokes. In England he was cold, real distant and bitter."
It wasn't until 1972 that Berry earned something that had eluded him with his marvelous repertoire: a #1 pop single. He finally did so with a tune he didn't even write, "My Ding-a-Ling."
In 1986, he was one of the initial inductees into the Rock and Roll Hall of Fame.
Berry was the subject of a film, 1987's Hail! Hail! Rock 'n' Roll, that documented the planning of a pair of 60th birthday concerts in Berry's hometown of St. Louis, and featured appearances by Keith Richards, Eric Clapton, Linda Ronstadt, Julian Lennon, Etta James, and Berry's longtime pianist Johnnie Johnson, among others.
Berry died on March 18, 2017, and received an outpouring of respect from his rock 'n' roll peers. His first studio album in 38 years, Chuck, was released that year.
Related: First-generation rockers… who's still with us?

Latest posts by Best Classic Bands Staff
(see all)