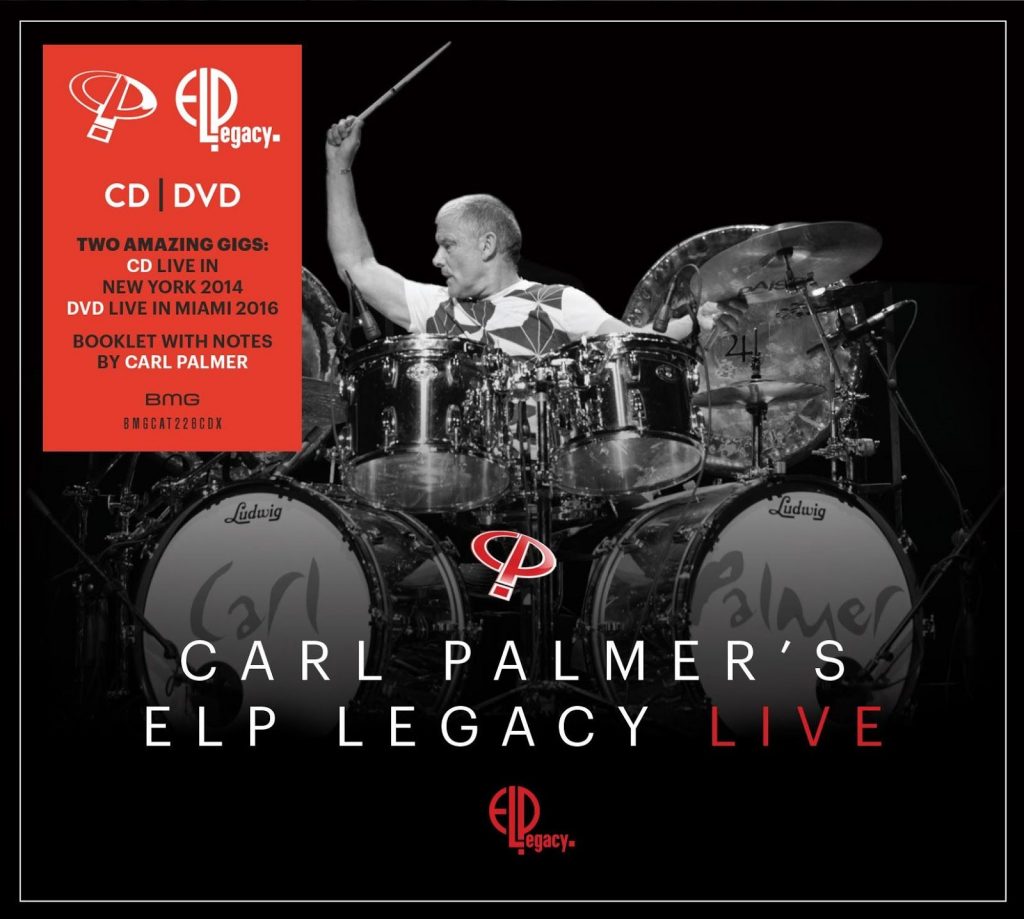 Drummer Carl Palmer announced, on May 15, the release of Carl Palmer's ELP Legacy Live​, a new two-disc set. Palmer is the sole surviving member of progressive rock giants Emerson, Lake & Palmer. The title comes from BMG on​ June 29 and encompasses two concerts captured together on ​CD ​and ​DVD. Pre-order it here.
The CD, recorded on November 25, 2014, includes a full-length version of ELP's Tarkus album, plus other music from Palmer's career, including King Crimson's "21s​t Century Schizoid Man," before a sell-out crowd at Buffalo, New York's Tralf Music Hall.
The DVD is a two-hour tribute show to Keith Emerson, recorded at Olympia Theater in Miami, Fla., on June 24, 2016. The performance features special guests Steve Hackett (Genesis), Mark Stein (Vanilla Fudge) and David Frangioni. The show includes ELP classics such as "Hoedown," "Karn Evil," "Fanfare For The Common Man" and "Jerusalem."
The combo release is ​presented with a deluxe booklet including sleeve notes by Palmer. See complete track listings below.
Related: Our interview with Carl Palmer
Carl Palmer's ELP Legacy was formed in 2001 and includes Simon Fitzpatrick on guitar and Paul Bielatowicz on bass. The power trio takes classic ELP works and reconstructs them with drums, bass and guitar rather than replicating the unique keyboard/synth work of Emerson. "It's metal prog-rock playing Emerson, Lake and Palmer," Palmer says. "It's original and unique, and that's important to me."
CD: TRALF MUSIC HALL BUFFALO, NEW YORK, U.S.A., Nov. 25, ​2014
1. Rondeau Des Indes Galantes / Ride Of The Valkyries
2. Toccata and Fugue in D Minor
3. Mars,TheGodOfWar/21s​t​CenturySchizoidMan
4. Tarkus (Full Version)
5. America
6. Knife-Edge
7. Trilogy (Short Version)
DVD: PICTURES AT AN EXHIBITION – A TRIBUTE TO KEITH EMERSON. OLYMPIA THEATER, MIAMI, FLORIDA, U.S.A., June 24, 2016
1. Introduction
2. Peter Gunn
3. Karn Evil 9 (Welcome Back My Friends)
4. The Barbarian
5. Bitches Crystal
6. Jerusalem
7. Romeo & Juliet
8. 21st Century Schizoid Man
9. Clair De Lune
10. Knife-Edge
11. Hoedown
12. Take A Pebble
13. Carmina Burana
14. Pictures At An Exhibition
15. Fanfare For The Common Man / Drum Solo
16. Nutrocker
Bonus footage:
17. Behind The Scenes at the Tribute for Keith Emerson
Carl Palmer's ELP Legacy Tour 2018
Jun 29 – Las Vegas, NV – Golden Nugget Hotel& Casino
Jul 02 – San Diego, CA – Belly Up
Aug 02 – London, England – Under the Bridge
Aug 03 – Fletching, England – Trading Boundaries
Aug 04 – Faverham, Kent, England – New Day Festival
Aug 17 – Klagenfurt am Wörthersee, Austria – Eboardmuseum
Aug 18 – Marina de Pisa, Italy – Piazza Gorgona
Aug 23 – Macerata, Italy – Sferisterio
Aug 26 – Custoza, Italy – Corte Cavalchina
Aug 29 – Hamburg, Germany – Downtown Blues Club
Aug 30 – Reichenbach, Germany – Bergkeller
Aug 31 – Dresden, Germany – Tante Ju
Oct 10 – Westbury, NY – The Space
Oct 11 – Bay Shore, NY – Boulton Center
Oct 12 – Ridgefield, CT – Ridgefield Playhouse
Watch Carl Palmer's ELP Legacy perform the trio's "Welcome Back My Friends"

Latest posts by Best Classic Bands Staff
(see all)