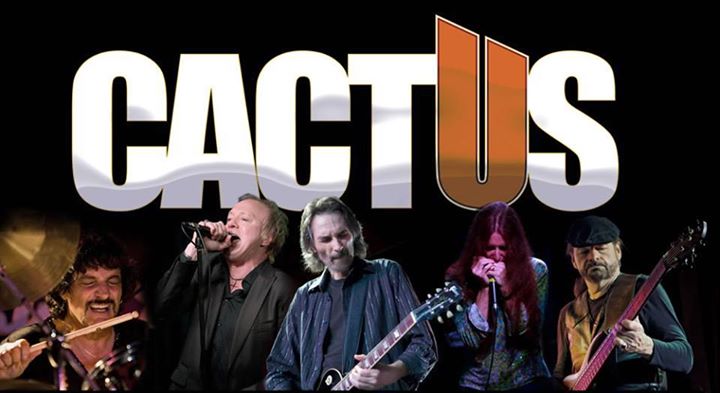 Cactus, the proto-hard rock band that grew out of the ashes of the Vanilla Fudge in the early '70s, is back with a new studio album, Black Dawn, its first release in nearly seven years. The current Cactus lineup features founding members Carmine Appice (ex-drummer for the Fudge) and guitarist Jim McCarty, who had played with Mitch Ryder and the Detroit Wheels and the Buddy Miles Express prior to the formation of Cactus in 1970. Rounding out the 2016 lineup are bassist Pete Bremy, harp player Randy Pratt and lead singer Jimmy Kunes. The album was released on September 2 on Blvd Records and can be ordered here.
"This is a whole new phase for Cactus," said Appice in a new release announcement. "We had a renewed energy when we got together to make this album, and it shows. Being away for a few years actually did us a lot of good. We were focused and ready to rock again."
"We put in an enormous amount of time getting the feel of the record and the sound just right," added McCarty. "I would have to put my money down on the fact that there are not a lot of other bands out there right now, especially from our era, that rock as solid or as hard as Cactus does on Black Dawn."
The album features several original compositions, including "Heading For a Fall," "Mama Bring It Home," "Juggernaut" and "You Need Love," as well as two previously unreleased studio tracks featuring the original line up of Appice, bassist Tim Bogert (also ex-Fudge), singer Rusty Day (ex-Amboy Dukes) and McCarty.
Related: Vanilla Fudge's Spirit of '67 reviewed
Cactus was formed after plans for Appice and Bogert to launch a new band with guitarist Jeff Beck were scuttled by a serious car accident that sidelined Beck. The Beck, Bogert and Appice trio finally came together in 1973 upon Beck's return and the dissolution of Cactus. Day later led his own version of Cactus in the late '70s but died in 1982. The current version of Cactus took shape in 2010. Bogert was involved initially but was forced into retirement after a serious motorcycle accident.
Watch the new video for Cactus' "Heading For a Fall."
The group will head out next week on its first U.S. tour in six years.
Cactus Tour Dates
9/9—Brian's BBQ—Campbell Hall, NY
9/10—Club 66—Edgewood, MD
9/14—B.B. King's—New York, NY
9/15—Sellersville Theater—Sellersville, PA
9/17—Magic Bag—Ferndale, MI
9/22—Tupelo Hall—Londonderry, NH
9/24—Reggie's—Chicago, IL
9/30—YMCA Boulton Performing Arts—Bayshore, NY

Latest posts by Best Classic Bands Staff
(see all)