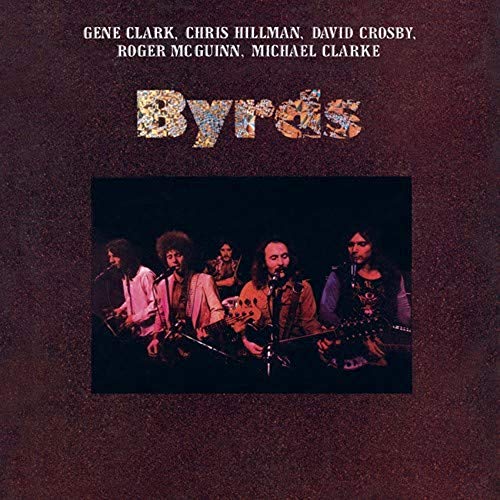 In 1973, the Byrds' classic line-up of Gene Clark, Chris Hillman, David Crosby, Roger McGuinn and Michael Clarke fully reunited for the first time since 1966, when they released the album, Byrds.
Recorded at the Wally Heider studios in Los Angeles during October and November 1972, the album featured compositions by Gene Clark ("Full Circle" and "Changing Heart"), Roger McGuinn ("Sweet Mary" and "Born to Rock n' Roll") and Chris Hillman ("Things Will Be Better" and "Borrowing Time") along with David Crosby's "Long Live the King" and a new version of "Laughing" (originally recorded by Crosby on his 1971 solo album If Only I Could Remember My Name).
The album also featured a cover version of Joni Mitchell's "For Free" and two Neil Young compositions: "Cowgirl in the Sand" and "(See the Sky) About to Rain," the latter not released by Young himself until 1974 when his version appeared on the album On the Beach.
Byrds reached #20 on the U.S. album chart, soaring higher than any release since 1965's Turn! Turn! Turn!
The album was remastered and reissued in 2019 by Cherry Red Records' Esoteric Recordings label. The updated edition of Byrds restored the original album artwork and features an illustrated booklet with essay.
In 1966, Gene Clark had left the group in part due to his fear of flying. (He died at just 46 years old on May 24, 1991.) The following year, Michael Clarke departed and ultimately joined the Flying Burrito Burritos. (He passed on Dec. 19, 1993, at age 47.) Soon thereafter, Crosby left and soon formed Crosby, Stills & Nash.
Related: Our review of McGuinn and Hillman's 2018 Sweetheart of the Rodeo tour

Latest posts by Best Classic Bands Staff
(see all)