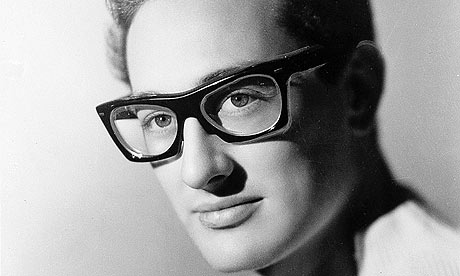 When seminal rock star Buddy Holly's possessions were collected from the wreckage of the plane crash that killed him on February 3, 1959, his trademark black glasses were not among them. At the time, no one noticed that they were missing from his personal effects. It took 21 years for them to resurface.
Holly had at first resisted wearing glasses after a school vision test indicated impaired vision. He tried early contact lenses that were uncomfortable, and finally gave in to glasses.
Yet he remained reluctant to wear them onstage and was concerned about how they affected his image. But fellow performer Phil Everly of the Everly Brothers encouraged Holly to embrace his specs as emblematic of who he was.
"Buddy was trying to wear the least conspicuous frames he could find," says Dr. J. Davis Armistead, Holly's optometrist in his hometown of Lubbock, TX. He also encouraged the singer and songwriter to play up his glasses as part of his distinct image. Armistead was inspired to do so by actor Phil Silvers, who played the then highly popular and bespectacled Sergeant Ernest Bilko on TV. He found the very thick black plastic Faiosa frames Holly was wearing at the time of his death in Mexico City during a vacation and bought them back for his patient.
Related: A reintroduction to Buddy Holly
Holly's glasses helped erase some of the "four-eyes" stigma. Most notably they encouraged a later rocker whose band was named as an homage to Holly's Crickets and felt ambivalence about his eyeglasses to accept them: John Lennon of The Beatles.
The glasses had been thrown some distance from the plane crash and were found in the Iowa cornfield where Holly died after the spring thaw that year. They were apparently turned in to Cerro Gordo County Sheriff's department and sealed into an envelope dated the day the broken specs were received: April 9, 1959.
On February 29, 1980, Sheriff Jerry Allen was sorting through old files and found them. He returned the glasses to Holly's widow, Maria Elena. She subsequently sold them to Civic Lubbock, Inc., a city booster organization, for $80,000. They were then donated to the City of Lubbock, and can be seen at its Buddy Holly Center.
Related: First-hand recollections of Holly, Ritchie Valens and the Big Bopper

Latest posts by Best Classic Bands Staff
(see all)