Lindsey Buckingham Christine McVie Album: Mac-To-The-Basics
by Jeff Tamarkin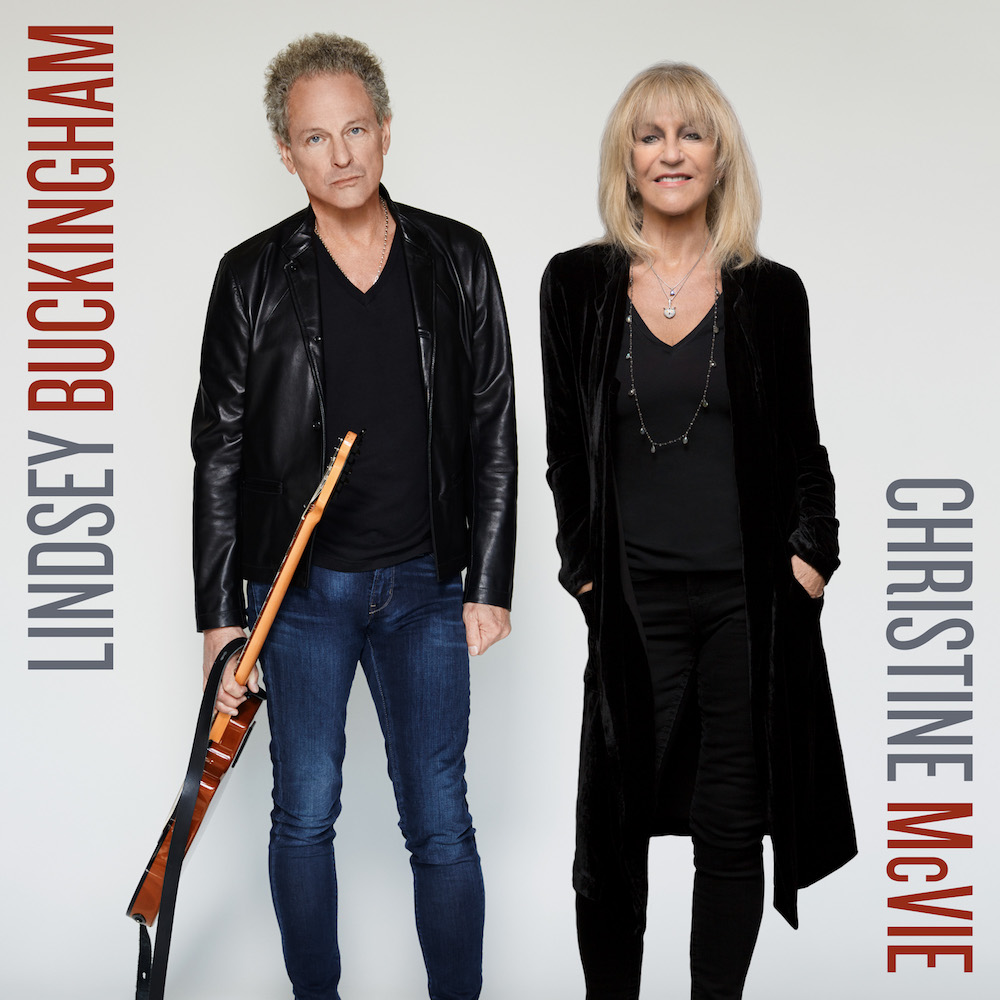 It's called, technically, Lindsey Buckingham Christine McVie—no ampersand or slash separating their names. Perhaps the idea in billing it that way was to avoid any suggestion that one was more important to this unexpected and wholly enjoyable collaboration than the other. And neither is—they're on roughly equal footing for this first-ever duets set: five songs written by Buckingham, two by McVie solo, three by the pair and the vocal chores distributed more or less evenly. The album was released on June 9, 2017.
What is strange about Lindsey Buckingham Christine McVie [yup, even five years later, the website was still up in 2022] is not so much that the two bandmates came together to make the project—they started on it shortly after McVie's 16-year hiatus from the band ended in 2014—but rather what's going on under the hood. And, even more so, what isn't: The rhythm section throughout happens to be those two fellows from whom Fleetwood Mac took its name some 50 years ago, Mick Fleetwood drumming and John McVie playing the bass. Lindsey Buckingham Christine McVie is, in essence, a Fleetwood Mac album, save for one conspicuous detail: Stevie Nicks is nowhere to be found.
It's best, perhaps, not to read too much into that. Nicks has said that she no longer wants to make Fleetwood Mac albums. Lindsey Buckingham and Christine McVie enjoy working together, they've obviously got the hang of it by now, so why not? And if you're them, who would you want accompanying you? The four musicians make a great team or they wouldn't still be going strong four decades after Rumours. The idea here wasn't to experiment, but simply to write some new songs and get them out there—nothing too fancy, no overindulgences, just neatly packaged, accessible songs that remind us that these two have a chemistry of their own, even without what's-her-name.
What you've got here is Mac-to-the basics. Other than Mitchell Froom—who co-produced three tracks—supplying additional keyboards, no other musicians outside of the core four are listed in the credits. So, what have they come up with? Classic Fleetwood Mac, sort of. All of what you'd expect, and sometimes what you don't. "Sleeping Around the Corner," the opening track, sets the tone ideally: shimmery acoustic guitar, Buckingham's sandpapery croon, a blast of forward-motion bass/drums, those unmistakable harmonies, a tale of complex love: "She said to me, I don't mean to scorn you/But I've been lying and I've been too scared to warn you/Lord I don't want to bring you down/No, I never meant to give you a frown/I'm just sleeping around the corner."
"Feel About You," with its tropical lilt, is practically giddy in tone, a McVie/Buckingham-penned love song so unrequited—"You're honey in my tea/Your jam, it tastes the sweetest to me/This love for you I can't conceal"—you almost feel cheated when it goes away without a surprise twist.
Listen to "Feel About You"
"In My World," track three, is an instant hum-along gem so cheerful in mood, its chorus repeated just enough times to ensure it sticks: "In my world everybody stays/Nobody wishes for words they couldn't say/Bless my soul, let the night unfurl/Dancin' spinnin' dreamin'/Singing in my world."
Listen to "In My World"
Related: A look back at Rumours
Pop perfection becomes these two. "Red Sun"—as close as McVie gets to acerbic here—could easily have been an outtake from the 1975 eponymous set that once and for all marked the turned corner from British blues band to classic rock cornerstone act; "Love is Here to Stay" is all wispy, soft edges amidst bittersweet reflection.
You're only at the halfway mark now, and if you're still trying to get a feel for exactly what these two are up to, you may be trying too hard. From a purely musical standpoint, it's classic Buckingham-dominated Mac-minus-one, albeit with Christine McVie playing a larger role than she traditionally does on Mac albums. The rhythms are taut and articulate; the vocal performances rarely stray into anything approaching the dissonant; the musicianship is uniformly impeccable. If that sounds mechanical, it's not intended to: this music is more playful, and less fussy, than anything the full quintet would dare release—if McVie and Buckingham were ever not having a good old time in the studio while crafting this work, the tracks don't let on.
"Too Far Gone," pair-written and McVie-led, nods back in the direction of the snaky blues of the Mac's Peter Green era, all fuzzy and nasty and persistent. Buckingham bounds back with a straight-ahead, nothing-much-to-ponder radio-rocker (if radio still rocked), "Lay Down for Free," and then it's "Game of Pretend," McVie's first solo-authored tune on the record. A piano-driven ballad, its initially minimal accompaniment erupts into grand-harmony grandeur, naked emotion exposed: "'Cause you are the reason for my happiness/And I am so blessed/So blessed to find you/You take, take away the emptiness/And I will follow, follow behind you."
That leaves two. "On With the Show" veers toward jangly folk-rock and offers a direct, anthemic message to some friends. Finally, "Carnival Begin," McVie's other sole writing effort, is moody and cool, mystery and groove and seduction.
This is one dynamic, satisfying record, and one way to approach it might be to try to forget, just for a minute, that you know who these people are. Instead, consider these songs as having arrived from out of nowhere, music from a struggling but hopeful new indie band whose lives and secrets and history are a blank slate. To this listener, there is no doubt that if this were offered up by 25-year-olds rather than rock icons with a whole lot of baggage, it would be embraced enthusiastically, that they'd become the darlings of Spotify and Coachella, emulated and soon finding their way into the incidental music of some Brooklyn hipster's low-budget film, ready to be discovered and embraced.
This is music that's at once familiar and sparkly-new. You're going to want to come back to it often, for a long time. Maybe not Rumours-length long, but it's not an idle-time toss-away. By kissing off any future Fleetwood Mac group recordings, Stevie Nicks may have done the group's creativity a giant favor.

Latest posts by Jeff Tamarkin
(see all)