Bruce Springsteen has revealed that he'll tour with the E Street Band in 2020, on the heels of a new album that he intends to record with them this fall.
The Boss was in Italy during Memorial Day weekend to watch his daughter, Jessica, participate in an equestrian event. In a May 25, 2019, interview with an Italian newspaper, Repubblica, that the eagle-eyed staff from NJ.com spotted, Springsteen was quoted as saying, "We will go on tour next year. I'll record with the E Street Band in the autumn and when we are done, we'll go on tour."
Springsteen turned 70 on September 23, 2019.
A Nov. 28 story published in the Daily Mail quoted him as saying the E Street Band would be touring Australia late next year [2020]. "I always love coming to Australia," he said "It's become a great, great place for us, with a great audience for us there."
[The new album, Letter to You, was announced on Sept. 10, 2020.]
When they do tour, tickets will be available here.
NJ.com posted their story on May 27. It also briefly mentioned a documentary in conjunction with Springsteen's upcoming solo album, Western Stars. That Western Stars film, directed by Thom Zimny and Springsteen, made its world premiere at the 2019 Toronto International Film Festival.
Related: Links for 100s of classic rock tours
Springsteen released Western Stars, on June 14, his first new studio album in five years. The solo album was written by Springsteen and includes guest appearances from several musicians including his wife, Patti Scialfa. No other member of the E Street Band is on it.
From the album's April 25 announcement: Springsteen takes his music to a new place, drawing inspiration in part from the Southern California pop records of the late '60s and early '70s. The album was recorded primarily at Springsteen's home studio in New Jersey, with additional recording in California and New York.
Watch the lyric video for "There Goes My Miracle," released May 16
Western Stars, is his 19th studio album, all on Columbia Records. A first song and video for "Hello Sunshine" was officially released on April 26.
"This record is a return to my solo recordings featuring character driven songs and sweeping, cinematic orchestral arrangements," says Springsteen. "It's a jewel box of a record."
Springsteen had previously let it be known that a new E Street Band album will be up next.
In an interview with the Asbury Park Press, the ever-surprising performer said that he's written "almost an album's worth of material for the band." He revealed that he experienced a seven-year writer's block when no E Street-ready material came to him, but recently, " I had about two weeks of those little daily visitations, and it was so nice."
Springsteen gave no indication when the new songs would be recorded or released, but did add that he expects there will be a band tour at some point in the future.
Related: The E Street Band broke their own endurance records on their 2016 tour, performing for over 4 hours
Since the closing of his long-running one-man show Springsteen on Broadway last December, The Boss has kept busy, although he's not been as prolific as he often is. On May 4, he turned up at an L.A. performance by bandmate Little Steven Van Zandt's Disciples of Soul band. The occasion was the West Coast record release show for the band's new album, Summer of Sorcery, at the Saban Theatre in Beverly Hills.
Meanwhile, another E Street Band member, Nils Lofgren, recently announced that he would be teaming up with Neil Young for a new Crazy Horse album. Lofgren was a member of that band for a brief while in the '70s.
More from the Western Stars announcement: The 13 tracks of Western Stars encompass a sweeping range of American themes, of highways and desert spaces, of isolation and community and the permanence of home and hope.
Ron Aniello produced the album with Springsteen and plays bass, keyboard, and other instruments. Patti Scialfa provides vocals and contributes vocal arrangements on four tracks. The musical arrangements include strings, horns, pedal steel and contributions from more than 20 other players including Jon Brion (who plays celeste, Moog, and farfisa), as well as guest appearances by David Sancious, Charlie Giordano, and Soozie Tyrell. The album was mixed by Tom Elmhirst.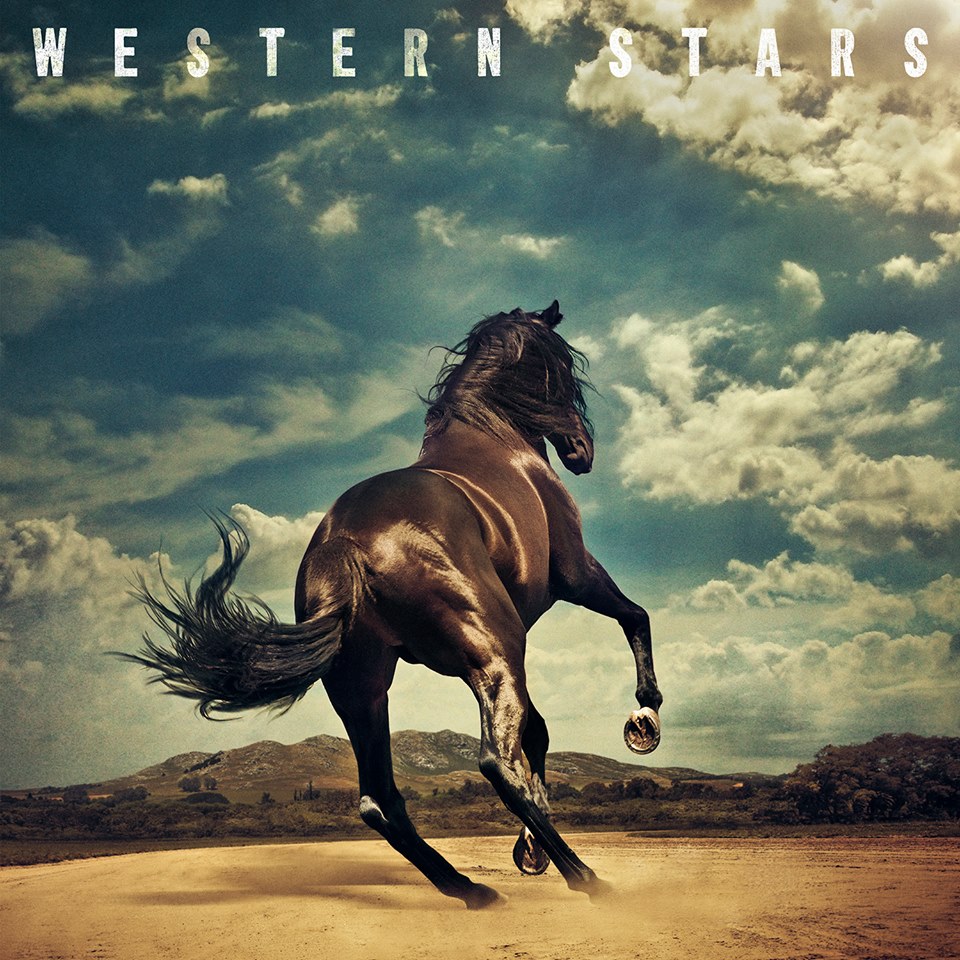 Western Stars Track Listing
1. Hitch Hikin'
2. The Wayfarer
3. Tucson Train
4. Western Stars
5. Sleepy Joe's Café
6. Drive Fast (The Stuntman)
7. Chasin' Wild Horses
8. Sundown
9. Somewhere North of Nashville
10. Stones
11. There Goes My Miracle
12. Hello Sunshine
13. Moonlight Motel
Springsteen's recording career spans over 40 years, beginning with 1973's Greetings from Asbury Park, NJ. He has garnered 20 Grammys, won an Oscar and a Tony, been inducted into the Rock and Roll Hall of Fame, received a Kennedy Center Honor, and was MusiCares' 2013 Person of the Year. Springsteen's memoir Born to Run and its companion album Chapter and Verse were released in September 2016, and he was awarded the Presidential Medal of Freedom in November 2016. His historic 236-show run of Springsteen on Broadway at Jujamcyn's Walter Kerr Theatre from October 2017 to December 2018 also yielded an accompanying soundtrack album and Netflix special.
Related: A "lost" interview with John Hammond who first signed Springsteen

Latest posts by Best Classic Bands Staff
(see all)