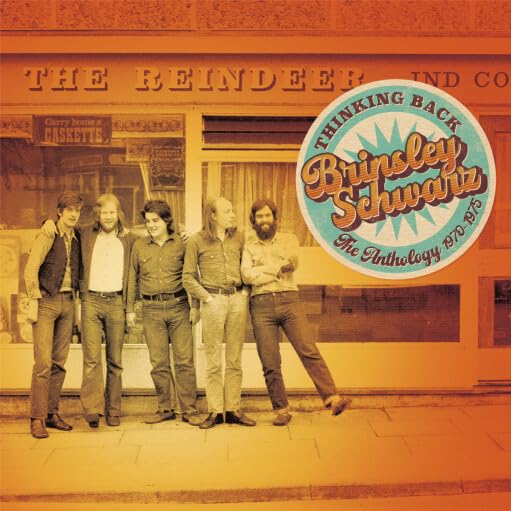 Brinsley Schwarz, the influential British pub rock band, is the subject of a comprehensive new collection, Thinking Back — The Anthology 1970-1975. The 7-CD set arrived November 24, 2023, via the U.K.'s Cherry Red Records. The band, named for their guitarist, also included guitarist-vocalist Nick Lowe, who was their primary songwriter, keyboardist Bob Andrews, and drummer Billy Rankin. Guitarist Ian Gomm joined the lineup in time for their third album.
From the label's announcement: The 7-CD set, packaged in a clamshell box contains all of the original six albums as well as the It's All Over Now album that was recorded in 1975 but not released until 1988. Also included are previously unreleased tracks from the Warner vaults as well as live recordings and rarities from Gomm who has also provided many rare/unseen images from his archive as well as contributing to the sleeve notes.
The set includes one of Lowe's most famous songs, "(What's So Funny 'Bout) Peace, Love And Understanding" from their 1974 album, The New Favourites of… Brinsley Schwarz, produced by Dave Edmunds. (The song was released as a U.K. single but didn't chart. It became far better known several years later when it was recorded by Elvis Costello & the Attractions, produced by Lowe.)
Also here are "JuJu Man," "It's Been So Long," "Play That Fast Thing (One More Time)" and "Cruel To Be Kind," all of which were later recorded by Lowe or his longtime recording partner, Edmunds.
Bonus material includes a wealth of live material from throughout their career, as well as the band's last ever single, billed as The Brinsleys, plus live recordings from 1975 including some recorded just nine days before the band broke up.
The complete track listing is below the Amazon links.
Brinsley Schwarz Thinking Back — The Anthology 1970-1975 Track Listing
DISC ONE
Brinsley Schwarz (1970)
1 Hymn To Me
2 Shining Brightly
3 Rock And Roll Women
4 Lady Constant
5 What Do You Suggest
6 Mayfly
7 Ballad Of A Has Been Beauty Queen
Bonus Tracks
8 Thinking Home (Previously Unreleased)
9 Girl In Spanish Lace (Previously Unreleased)
10 Thinking Back (Previously Unreleased)
11 Seymour (I Love You)
12 Funk Angel (Alternate Version)
13 Crime Of Passion
14 Murder On My Mind
15 Motorway Madness
16 Rock And Roll Station
DISC TWO
Despite It All (1970)
1 Country Girl
2 The Slow One
3 Funk Angel
4 Piece Of Home
5 Love Song
6 Starship
7 Ebury Down
8 Old Jarrow
Bonus tracks
9 Intro (Live, London, 1972)
10 Country Girl (Live, London, 1972)
11 She's Got To Be Real (Live, London, 1972)
12 Home Work (Live, London, 1972)
13 Going Down The Road (Live, London, 1972)
14 Midnight Train (Live, London, 1972)
15 Private Number (Live, London, 1972)
DISC THREE
Silver Pistol (1972)
1 Dry Land
2 Merry Go Round
3 One More Day
4 Nightingale
5 Silver Pistol
6 The Last Time I Was Fooled
7 Unknown Number
8 Range War
9 Egypt
10 Niki Hoeke Speedway
11 Ju Ju Man
12 Rockin' Chair
Bonus tracks
13 The Old Country
14 That's What It Takes
15 Strange Feeling
16 One More Day (Live, London, 1972)
17 Unknown Number (Live, London, 1972)
18 Range War (Live, London, 1972)
19 Silver Pistol (Live, London, 1972)
DISC FOUR
Nervous On The Road (1972)
1 It's Been So Long
2 Happy Doing What We're Doing
3 Surrender To The Rhythm
4 Don't Lose Your Grip On Love
5 Nervous On The Road (But Can't Stay At Home)
6 Feel A Little Funky
7 I Like It Like That
8 Brand New You
9 Home In My Hand
10 Why, Why, Why, Why, Why Bonus tracks
11 What Would You Do (Live, Amsterdam, 1972)
12 Nervous On The Road (But Can't Stay At Home) (Live, London, 1972)
13 It's Just My Way Of Saying Thank You (Live, London, 1972)
14 Wonder Woman (Live, London, 1972)
15 I'm Ahead If I Can Quit While I'm Behind (Live, London, 1972)
16 Surrender To The Rhythm (Live, London, 1972)
17 Home in My Hand (Live, Paris, 1973)
DISC FIVE
Please Don't Ever Change (1973)
1 Hooked On Love
2 Why Do We Hurt The One We Love?
3 I Worry ('Bout You Baby)
4 Don't Ever Change
5 Home In My Hand
6 Play That Fast Thing (One More Time)
7 I Won't Make It Without You
8 Down In Mexico
9 Speedoo
10 The Version (Hypocrite)
Bonus tracks
11 Hypocrite (as The HITTERS)
12 I Should Have Known Better (as LIMELIGHT) 13 Tell Me Why (as LIMELIGHT)
14 Run Rudolph Run (Live, Newcastle, 1973)
15 It's Been So Long (Live, Cardiff, 1974)
16 Happy Doing What We're Doing (Live, Cardiff, 1974) 17 You're So Fine (Live, Cardiff, 1974)
18 Hip City (Live, Cardiff, 1974)
19 Trying To Live My Life Without You (Live, Cardiff, 1974)
20 Small Town Big City (Live, Cardiff, 1974)
21 Honky Tonk (Live, Cardiff, 1974)
22 Ju Ju Man (Live, Cardiff, 1974)
DISC SIX
The New Favourites Of Brinsley Schwarz (1974)
1 (What's So Funny 'Bout) Peace, Love And Understanding
2 Ever Since You're Gone
3 The Ugly Things
4 I Got The Real Thing
5 The Look That's In Your Eye Tonight
6 Now's The Time
7 Small Town Big City
8 Trying To Live My Life Without You
9 I Like You, I Don't Love You
10 Down In The Dive
Bonus tracks
11 Cried My Last Tear
12 (It's Gonna Be A) Bringdown
13 I'll Be Doggone (Live, Tilburg, 1974)
14 Love Is Gone (Live, Tilburg, 1974)
15 Don't Lie To Me (Live, Tilburg, 1974)
16 Save The Last Dance For Me (Live, Tilburg, 1974) 17 I Ain't Never (Live, Sheffield, 1974)
18 Hey Bartender (Live, Sheffield, 1974)
19 Brown Sugar (Live, Sheffield, 1974)
20 Hooked On Love (Live, Cardiff, 1974)
21 (What's So Funny 'Bout) Peace Love And Understanding (Live, Cardiff, 1974)
DISC SEVEN
It's All Over Now (1988, recorded in 1975)
1 We Can Mess Around
2 Cruel To Be Kind
3 As Lovers Do
4 I'll Take Good Care Of You
5 Hey Baby (They're Playing Our Song)
6 Do The Cod (The Thirty Pounder)
7 God Bless (Whoever Made You)
8 Everybody
9 Private Number
10 Give Me Back My Love
11 It's All Over
Bonus tracks
12 There's A Cloud In My Heart (as The BRINSLEYS)
13 You've Been Cheatin' (Live, Groningen, 1975)
14 You Ain't Living Until You're Lovin' (Live, Groningen, 1975)
15 Walking The Dog (Live, Groningen, 1975)
16 Snatch It Back And Hold it (Live, Groningen, 1975)
17 Play That Fast thing (One More time) (Live, Groningen, 1975)
18 We Can Mess Around (Live, Groningen, 1975)
19 I Have Cried My Last Tear (Live, Groningen, 1975)
20 Cruel To Be Kind (Live, Groningen, 1975)
21 Please Don't Ever Change (Live, Koln, 1975)
22 Don't Lose Your Grip on Love (Live, Koln, 1975)

Latest posts by Best Classic Bands Staff
(see all)