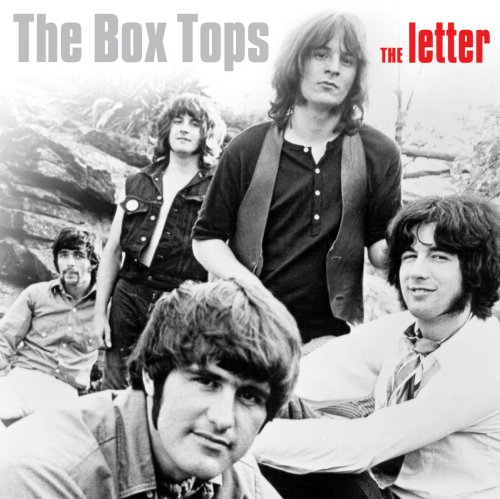 One of our favorite singles of 1967 is The Box Tops' "The Letter." We'll try to tell its story in about the length of time that the song lasts: a super short 1:58.
The song was written by a 23-year-old named Wayne Carson Thompson – more on him below – whose country music-singing father had spoon fed him a lyric which would ultimately become the first line of the song: "Give me a ticket for an aer-o-plane." The younger Thompson got the completed song to the Memphis-based "Chips" Moman, who though just 29 was already a veteran producer, songwriter, label exec and studio owner.
Moman gave the song to a staff production assistant, Dan Penn, who corralled a local quintet into the studio to record the tune.  The lead singer, Alex Chilton, was just 16 years old – not a typo, he was born December 28, 1950 – when the song was recorded. Penn is quoted as saying: I hadn't even paid any attention to how good he sang because I was busy trying to put the band together… I had a bunch of greenhorns who'd never cut a record, including me… I borrowed everything from Wayne Thompson's original demo – drums, bass, guitar."
The band's other original members included lead guitarist Gary Talley, bassist Bill Cunningham, John Evans on keyboards and drummer Danny Smythe, who died (at 67) on July 6, 2016. No cause of death was announced. Chilton died March 17, 2010.
Our Classic Video is a rather unconvincing lip synch version of the great song. Whoever set up the shoot could've at least placed some microphones…
That sound you hear at the 1:34 mark? An aer-o-plane taking off via a special effects recording that Penn edited in, against Moman's wishes. Penn, steadfast, won the argument.
The single was released in the summer of 1967 and on September 23 it was #1 in the U.S., where it would stay for four weeks, selling over one million copies. It ranked as the #2 song on Billboard's 1967 singles chart. (Joe Cocker would famously record a version of it in 1970 that would become his first big pop success at #7.)
The studio version…
Related: Where does "The Letter" rank among 1967's biggest U.S. radio hits?
Here's a live version from later that year…
The Box Tops would have another huge hit in 1968 with "Cry Like a Baby." The group disbanded a few years later. Chilton went on to form the influential power pop group Big Star. Chilton died at 59 of a heart attack in 2010.
And what of songwriter Wayne Carson Thompson? Five years later, in 1972, he wrote "Always on My Mind."

Latest posts by Best Classic Bands Staff
(see all)