Rock Hall Inductee Bobby Womack: R&B Legend, Friend of Rock Stars
by Harvey Kubernik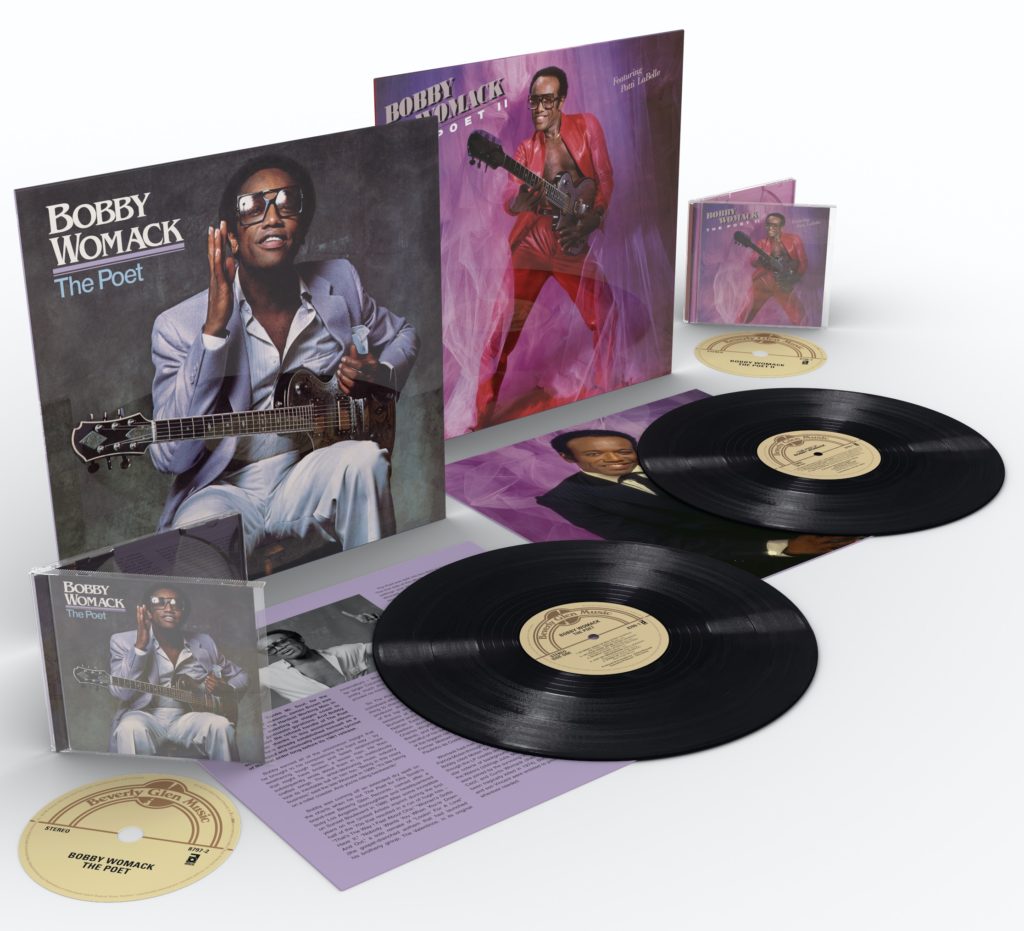 Bobby Womack was an accomplished musician, singer, guitarist, record producer, stage performer, songwriter and Rock and Roll Hall of Fame inductee. He was born March 4, 1944, in Cleveland, Ohio, and died after suffering from diabetes, cancer and Alzheimer's in Tarzana, Calif., on June 27, 2014, at age 70. 2021 marked the 40th anniversary of his album The Poet, which was followed by The Poet II. These landmark albums were re-released from the original tapes by ABKCO that spring.
Womack first came to prominence in the 1950s as part of the Womack Brothers, a gospel group comprising his siblings Cecil, Harry, Curtis and Friendly. Impressed with the group, Sam Cooke encouraged them to come to Los Angeles, where he signed them to his SAR label. They made the transition from gospel to R&B when they recorded as the Valentinos, scoring with "Lookin' For A Love" and "It's All Over Now," written by Bobby and his sister-in-law Shirley Womack. The song was later covered by the Rolling Stones and produced by Andrew Loog Oldham.
Listen to "If You Think You're Lonely Now" from Womack's The Poet
Womack's legendary career included stints as the guitarist in Ray Charles' touring band, studio work in Los Angeles and Memphis and writing for other artists. He played on sessions supporting Elvis Presley, Joe Tex, King Curtis, Aretha Franklin and Wilson Pickett. Womack was involved in creating the landmark soul album by Sly and the Family Stone, There's a Riot Goin' On—that's him playing the wah-wah pedal on "Family Affair."
He wrote "Breezin'" for jazz great Gabor Szabo, which would become George Benson's breakthrough recording a few years later, and penned tunes for Janis Joplin, the J. Geils Band, Ronnie Wood and others. Womack also composed and recorded music for the soundtrack of Across 110th Street in 1972.
One night at Art's Delicatessen in Los Angeles, this writer asked Womack about musicians he met in the '60s around Hollywood and while touring the U.S. "I would see a lot of guitar players," he recalled. "The first time I saw and met Jimi Hendrix he was with a guy named Gorgeous George, who made clothes and always thought he could be a Sam Cooke or Jackie Wilson. George never had that kind of talent, but you couldn't tell him that. He had Jimi Hendrix playing for him. Hendrix is settin' his guitar on fire in a routine, and George said, 'Hey, man, you're trying to steal my gig. If you do this again I'm gonna fire you.'"
Another time Womack told me, "Frank Zappa lived right around the corner from me. The strange thing about Frank is that he didn't invade my space and I didn't invade his space. He was always to himself. He admired [blues artist] Johnny 'Guitar' Watson and Johnny had mentioned that Frank wanted to take him on tour, a big thing. I told him, 'Man, go do that.' Johnny Watson went to Japan and took my horn section 'cause I wasn't working and I was in the studio. Then he never came back."
In the '70s, Womack crossed paths with John Lennon one memorable evening. "I will never forget," he said. "I was on the stage at the Troubadour in West Hollywood. John Lennon grabbed the piano and I grabbed a guitar. At the time I didn't know who he was. The piano was out of tune, and he turns around and asks me to give him the guitar. I said, 'I don't play no piano, man.' So Lennon got real hot and said, 'Give me the fuckin' guitar.' And I said something back. Afterwards he came up to me to give me an apology."
"The Rolling Stones were family," Womack told me in 2008. "I sing on their version of 'Harlem Shuffle.' I never will forget when Woody [Ronnie Wood] brought Keith Moon, the drummer in the Who, up to my place. I said, 'This guy is crazy.' I just got my house with my new furniture and everything, and Woody and them came by with him. And Moon comes in, he was so wild, and he jumps on top of my couch and starts running all over it and the counter. Everywhere. So I said, 'Who in the fuck is this?' Woody started laughing and said Keith was OK. 'Yeah, but I just bought these couches.' I had never seen a guy this wild. He fell on the floor, started pouring water on himself. He was just crazy. But when I saw him play, I knew that was a place where he could be himself. He looks normal. (laughs)."
Listen to Janis Joplin sing Womack's "Trust Me"
Another friend was Janis Joplin. Womack was one of the last people to see her alive. It was Joplin's producer, Paul Rothchild, who had originally suggested they get to know each other. "Rothchild was at the studio and he said, 'Man, she loves you. You guys should hang out. She'll be good.' Janis called me. I didn't think it was her. She said, 'Well, everybody else has recorded your songs and I just want to do one of your songs. Why don't you come to the studio?' I brought her every song I had ever written that was not recorded. She did my tune 'Trust Me.'"
"Trust Me" appeared on Joplin's album Pearl, which peaked at #1 on the Billboard 200, but their friendship was cut short. "In a short time we became very close," enthused Womack. "I remember Janis coming to the studio the next day and she was very upset because she was sayin', 'Jimi Hendrix passed.' She then joked about, 'Oh, I plan to kill my own self. Now with Jimi just leaving I ain't gonna get no publicity.' She was joking like that all the time. Later, Janis said to come by the Hollywood Landmark Hotel. I went to the hotel and we were partying…She was very respectful. I found out a lot about her in a short time. The thing that blew me away about Janis was when she asked, 'What bothers you the most in this business as far as the black and white thing?' And I told her, 'Every time I cut a record I try to cross over to appeal [to the white audience]. I said, 'What about you?'
"'Everybody keeps saying I'm trying to be Tina Turner,' she said. That blew me away. 'You don't sound nothin' like her.' And jokingly I added, 'You don't look anything like Tina.' I hadn't heard this Tina thing and told her it was in her head. She was very serious. Janis loved Tina Turner. Then the phone rang and she told me to go. Someone was coming to visit her. As I went into the elevator, I remember hearing [an alleged heroin dealer] coming up the stairs…Paul Rothchild then called me early that morning, and he says, 'She OD'd.' And I said, 'You got to be joking me…'
"That just broke my heart… That's something I could never adjust to, seeing somebody today and losing them tomorrow."
Related: Pearl is celebrating its 50th anniversary in 2021
Listen to the original "It's All Over Now" by Bobby Womack with the Valentinos
Latest posts by Harvey Kubernik
(see all)