Exodus, the ninth studio album by Bob Marley and the Wailers, will get a 40th anniversary upgrade with a series of four separate reissues, three of which will feature Exodus 40—The Movement Continues, son Ziggy Marley's newly curated "restatement" of the original album. The announcement was made April 20 by the Marley Family, Island Records and UMe.
Exodus was released on June 3, 1977, featuring a new backing band including brothers Carlton and Aston "Family Man" Barrett on drums and bass, Tyrone Downie on keyboards, Alvin "Seeco" Patterson on percussion, and the I Threes—Judy Mowatt, Marcia Griffiths and Rita Marley—on backing vocals, with the newest member, Julian "Junior Marvin," on guitar. The album was released just six months after an assassination attempt was made on Bob Marley's life in Jamaica in December 1976, forcing him to flee to London, where Exodus was recorded.
As part of the celebration, according to the press release, "Ziggy Marley has intimately revisited the original session recordings, uncovering unused and never-before-heard vocals, lyric phrasing and instrumentation, incorporating and transforming these various elements into brand-new session takes."
Related: Bob Marley's final show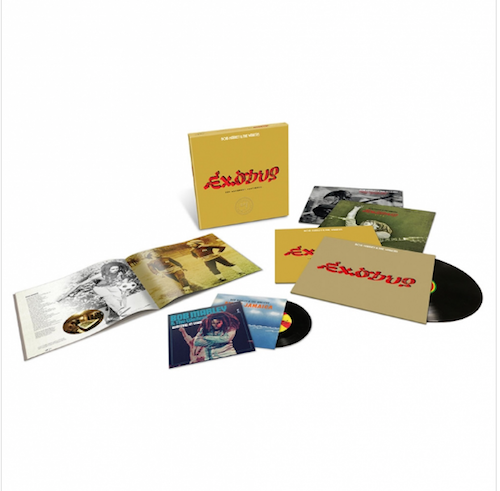 On June 2, UMe released a version of Exodus 40—The Movement Continues in a two-CD package that includes the original album and the Ziggy Marley "restatement"; a three-CD set (and digital equivalent) that includes the original Exodus, Exodus 40—The Movement Continues and Exodus Live. A limited edition gold vinyl version of the original 1977 album will also be available.
A Super Deluxe, four-LP, two-7″ single vinyl version includes the original LP, Exodus 40—The Movement Continues, an Exodus Live set recorded at London's Rainbow Theatre the week of the album's release, the Punky Reggae Party LP, which includes a previously unreleased extended mix of "Keep On Moving," and a pair of vinyl 7″ singles, including "Waiting in Vain" b/w "Roots" and "Smile Jamaica (Part One)" b/w "Smile Jamaica (Part Two)."
Listen to the previously unreleased live version of "Jamming" from June 1977 at the Rainbow Theatre in London featured in both the super deluxe vinyl and 3-CD sets…
Related: Ben & Jerry's has announced a new Marley-inspired ice cream
Ziggy uncovered 10 lead vocal outtakes for "One Love," proceeding to piece together a new lead vocal from the outtakes, which includes vocal booth lyric ad libs near the end of the song.
Watch the new lyric video for "One Love"
He also assembled a roster of musicians to record a new music bed for "Turn Your Lights Down Low."
Full details of all formats are available here.
Ziggy Marley will be embarking on a summer tour beginning June 12 in San Diego, Calif. In addition to his own catalog, Ziggy will also be incorporating music from Exodus into his set. For more information, go here.
Watch Bob Marley and the Wailers perform "Exodus" in 1979

Latest posts by Best Classic Bands Staff
(see all)