When he's not busy doing the things Bob Dylan is usually known for doing, he apparently likes to spend his free time painting, boxing and sculpting in iron—he even has his own metal shop. Some of his work is on permanent display, for example a 26-by-15-foot piece he calls "Portal," which can be seen at Maryland's MGM's National Harbor Casino.
Now, according to an article in The New York Times, Dylan can add whiskey-maker to his résumé. The singer-songwriter has trademarked the phrase "bootleg whiskey" and teamed up with Marc Bushala, a liquor entrepreneur who owns a bourbon brand called Angel's Envy, to create what the piece describes as "a portfolio of small-batch whiskeys."
Next month, says the article, written by Ben Sesario, Bushala and Dylan "will introduce Heaven's Door, a collection of three whiskeys—a straight rye, a straight bourbon and a "double-barreled" whiskey." The article emphasizes that Dylan is not merely licensing his name to the whiskey, but is a full partner in the venture.
Related: We revisit Dylan's Blood on the Tracks
Dylan, who once wrote a song called "Moonshiner" (stream it below), is quoted in a statement published in the Times piece: "We both wanted to create a collection of American whiskeys that, in their own way, tell a story. I've been traveling for decades, and I've been able to try some of the best spirits that the world of whiskey has to offer. This is great whiskey."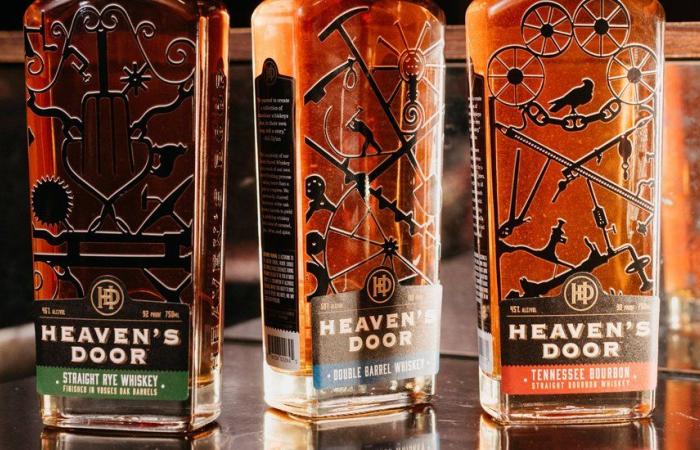 In a separate article, also in the Times but in the paper's business section, Heaven's Door is reviewed. Writer Clay Risen calls the straight bourbon "a classic, no-fuss bourbon, though with more oak-derived notes." The double barrel whiskey is "More restrained than its stable mates" although. "It tastes surprisingly astringent and medicinal." And the straight rye whiskey "opens deceptively smooth on the palate, but builds to a sweet spiciness before finishing with a burst of spicy, bittersweet chocolate." The reviewer called the bourbon his favorite of the three.
"The label design," notes the Times, "is derived from his ironwork sculptures, with rural iconography—crows, wagon wheels—in silhouette. And in promotional photos lighted like classic movie stills, a tuxedo-clad Mr. Dylan, 76, gazes off in a dark cocktail lounge or lonely diner, glass in hand."
Listen to Dylan's "Moonshiner"

Latest posts by Best Classic Bands Staff
(see all)