To commemorate Bob Dylan's 60th Anniversary as a recording artist a new music video, "Subterranean Homesick Blues 2022"—featuring a kinetic collage of visuals by a diverse array of artists inspired by the original video's lyric cue cards—was issued today (May 6). Release of the video was announced by Sony Music Entertainment, Columbia Records and Legacy Recordings (SME's catalog division), all of whom are also revealing, an Augmented Reality filter that provides a POV interactive experience featuring Dylan's iconic Ray-Ban Wayfarers. Watch the clip below.
The new "Subterranean Homesick Blues 2022" AR lens filter may be found on the new Dylan60 microsite, which also includes both the original and the newly-designed lyric/cue cards (with artist attribution for the new images) and the classic original clip starring Bob Dylan (with background cameo appearances by Allen Ginsberg and Bob Neuwirth).
More from the May 6 announcement: Developed by the independent creative agency Intro, and Sony Music's Josh Cheuse, the new "Subterranean Homesick Blues 2022" clip pays homage to the iconic opening sequence of D.A. Pennebaker's Dont Look Back (the game-changing cinéma vérité documentary chronicling Dylan's 1965 UK tour) with new lyric/cue card visuals created by contemporary artists, filmmakers, musicians and graphic designers. The handwritten cue cards in Pennebaker's original clip–featuring selected words and phrases from the song seasoned with deliberate misspellings, puns and 'hidden' jokes–have been visually reinterpreted and redesigned for the new short film by Julian House, Patti Smith, Zep, Cey Adams, Francis Cabrel, Wim Wenders, Anthony Burrill, Naoki Urasawa, Michael Joo, John Squire, Azazel Jacobs, Bruce Springsteen, Futura, Noel Fielding, Jim Jarmusch, Bobby Gillespie, Paris Redux, Wolfgang Niedecken, Jun Miura, Kate Gibb, Jonathan Barnbrook, Dave Shrigley, and Eric Haze.
Watch "Subterranean Homesick Blues 2022"
As a companion to "Subterranean Homesick Blues 2022," fans may experience an Augmented Reality lens filter, on Instagram and Snapchat, that allows users to try on a virtual pair of Dylan's iconic Ray Ban sunglasses while a select 10-second loop of the new "Subterranean Homesick Blues 2022" video plays in the lenses.
The lead track and first single from 1965's Bringing It All Back Home (Dylan's fifth studio album for Columbia), "Subterranean Homesick Blues" was one of the artist's first releases to showcase his new electric sound and became the first Dylan record to break into the U.S. Top 40. A groundbreaking highly influential record, "Subterranean Homesick Blues" has been cited as a precursor to rap while the song's video clip–featuring Dylan staring into the camera while throwing out lyric/cue cards–is widely acknowledged as one of the cornerstones of music video history.
The Bob Dylan Center is scheduled to open in Tulsa, Okla., on May 10, 2022. Designed by Olson Kundig, the Center will house and exhibit more than 100,000 exclusive cultural treasures created and owned by Bob Dylan over seven decades. These include handwritten lyric manuscripts to some of the world's most treasured songs, previously unreleased recordings, never-before-seen film performances, rare and unseen photographs, visual art and other priceless items spanning Dylan's unparalleled career as one of the world's most important cultural figures.
Dylan is on an extensive tour named for his 2020 album, Rough and Rowdy Ways. Tickets are available here and here.
Dylan, of course, was a trendsetter, not a follower, and although he never set out to make the 1965 equivalent of a rock video, he ended up making one of the first—and one of the most classic. On May 8 of that year, Dylan walked into an alley next to the Savoy Hotel in London, accompanied by two friends, poet Allen Ginsberg and musician/producer Bob Neuwirth. A camera crew followed.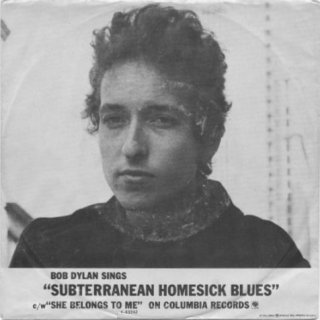 Dylan took with him a pile of oversized cue cards, each emblazoned with one or a few words, some bearing lyrics from the song, others not related at all (the cards were created by the three of them and Scottish singer/songwriter Donovan). Then, to the tune of "Subterranean Homesick Blues," Dylan stood in front of a camera, staring straight ahead expressionless or off to the side at the cards, holding up one card after another and dropping them to the ground when he was done with each. Ginsberg and Neuwirth are seen off to the side, paying no attention to the man in the vest, tossing the cards. At the end, Dylan simply drops the last one and walks off-camera.
Related: Bob Dylan in 1965: Evolving to Electric
The black-and-white clip wasn't meant to be a "video." It served its purpose and probably cost nothing to make. Nothing fancy, no great statement. But more than 55 years later it's still a fascinating few minutes of film.
Watch the original film clip
Related: Pennebaker died in 2019

Latest posts by Best Classic Bands Staff
(see all)