Blackmore's Night, the Renaissance rock band led by guitarist Ritchie Blackmore and his wife, vocalist/multi-instrumentalist Candice Night, is celebrating its 20th anniversary with To The Moon And Back: 20 Years And Beyond…, a two-disc collection of favorites and new material. The set, announced on August 8, arrives August 18.
The three new songs include "Ghost Of John," which introduces the vocals of their 6-year-old daughter, Autumn Blackmore, at the close of the song, "Land Of Hope and Glory" (a reworking of British patriotic anthem "Pomp And Circumstance March No. 1") and a cover of the Rainbow tune "I Surrender," with Night providing the vocals.
The set includes re-recorded versions of catalog favorites "Moonlight Shadow," "Somewhere Over The Sea," "Coming Home," and "Writing On The Wall." Blackmore's Night songs such as "Shadow Of The Moon," "Ghost Of A Rose" and "Under A Violet Moon," and a live version of "Home Again," are also included. (See complete track listing below.) The included booklet displays a collage of memorabilia, showcasing live band photos, backstage passes, and tour flyers. There's also a behind-the-scenes bonus video of Blackmore and Night rehearsing at a soundcheck. Pre-order is available here.
After years as an original member of Deep Purple and then with Rainbow, Blackmore founded Blackmore's Night in 1997 with Night. (The two were married in 2008.) Though he declined to appear, Blackmore was inducted in the Rock and Roll Hall of Fame in 2016 with Deep Purple. He alternates tours with Ritchie Blackmore's Rainbow and Blackmore's Night.
Related: Blackmore's signature playing is featured in our story of 11 not-so-typical guitar leads
The announcement describes the band's "ability to transport the listener to a bygone era, gathered around a fire or in an old renaissance tavern. Their sold-out concerts resemble that era, with band and fans alike decked out in Renaissance garb, losing themselves in the mirth of the music. This ambiance is created via Blackmore's dexterous movement between acoustic and electric guitar, mandolin, mandola, cello, and hurdy gurdy, Night's ethereal vocals and command of seven medieval woodwind instruments (bagpipe, chanters, shawms, and pennywhistles, to name a few)."
Listen to "Renaissance Faire"
The group is rounded out by keyboardist/back-up vocalist Bard David, violinist Scarlett Fiddler, back-up vocalist/shawm player Lady Lynn, bassist/rhythmic guitarist Earl Grey, and percussionist Troubadour of Aberdeen.
To The Moon And Back: 20 Years And Beyond… Track Listing: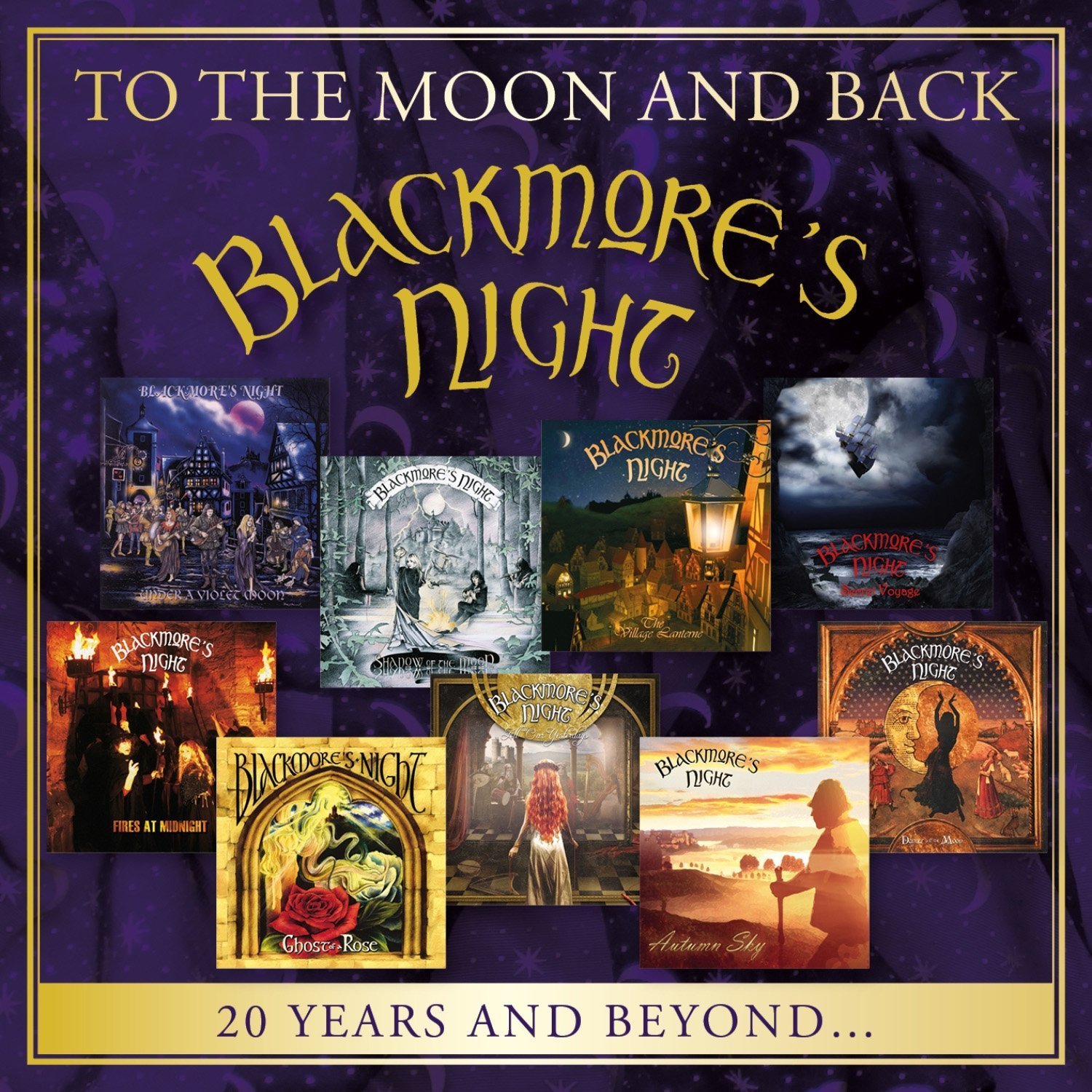 CD I:
1.) Shadow Of The Moon
2.) Spirit Of The Sea
3.) Renaissance Faire
4.) Play Minstrel Play
5.) Under A Violet Moon
6.) Spanish Nights
7.) Fires At Midnight
8.) Ghost Of A Rose
9.) Cartouche
10.) Village Lanterne
11.) The Circle
12.) 25 Years
13.) Dandelion Wine
14.) Home Again (live)
CD II:
1.) I Surrender (bonus track)
2.) Moonlight Shadow (2017 version)
3.) Somewhere Over The Sea (2017 version)
4.) Writing On The Wall (2017 version)
5.) Coming Home (2017 version)
6.) Ghost Of John (bonus track)
7.) Minstrel Hall
8.) Possum Goes To Prague
9.) Durch den Wald zum Bach Haus
10.) Nur eine Minute
11.) Village Dance
12.) Land Of Hope And Glory (2017 single version)
13.) Bonus Video

Latest posts by Best Classic Bands Staff
(see all)