(Update: March 7): If there was any doubt that the band was calling it quits, their Facebook and Twitter post today should end those discussions. For now…
Here's our earlier item from Feb. 5 about their final performance…
They never quite made it to the 50-year mark like some of their peers and—unless they change their minds—they never will: Black Sabbath played their final gig last night (Feb. 4) in Birmingham, England, the city where it all began for them in 1968. With "Paranoid," one of their early anthems, serving as the encore, the band that many credit with drawing up all the rules that heavy metal still follows finished their farewell tour, appropriately titled "The End," in front of 16,000 fans at the Genting Arena.
Only three of the original members—singer Ozzy Osbourne, guitarist Tony Iommi and bassist Geezer Butler—were on board for the momentous occasion: drummer Bill Ward, who left the band in 2011 over a contract dispute, did not make a special guest appearance, as had been rumored. (Tommy Clufetos was the drummer for the tour.) Nor did any other big-name celebs; it was all pure Sabbath from the opening tune, "Black Sabbath"—which also opened their self-titled 1970 debut album—through such classics as "Iron Man" and "War Pigs," as well as a handful of lesser known songs.
Related: Sabbath keyboardist Geoff Nicholls dies
Osbourne announced from the stage, "So it's the final show, and I've got to tell you something. What a journey we've all had. It's fucking amazing. We started this in 1968 and now it's 2017. I don't fucking believe that shit, man. But you know what? We would not survive if it wasn't for the fan base. So if you're a veteran fan, great. If you're new, welcome. But I can't tell you enough how grateful we are for your support."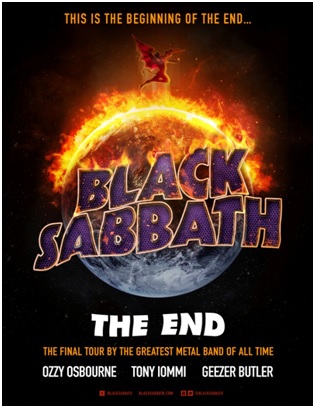 Below is the set from the final show, plus the video of the very last tune Black Sabbath will, very likely, ever perform live.
Related: October 27, 1970: Black Sabbath's first U.S. show
As far as what the Sabbath musicians will do with their time now, Iommi, who has battled cancer, currently has plans to get as far away from hard rock as possible. The 68-year-old guitarist recently composed a short choral work titled "How Good It Is," inspired by Psalm 133, which has already been performed by the Birmingham Cathedral choir and cellist George Shilling. Iommi told Britain's Daily Mirror that he also hopes to compose film scores and that these days his personal playlist runs more toward easy listening and jazz.
Iommi told the newspaper, "I have albums by Frank Sinatra, there's quite a bit of jazz music. I like The Carpenters, that sort of stuff. I don't listen to Black Sabbath albums. I've been playing those tracks for most of my life. I don't need to play them at home. At the moment I've been listening to a lot of Doris Day after taking a liking to her music. My pal Bev Bevan, from ELO, was round for dinner the other night. We were listening to Doris Day. How on earth did she get away with 'Move Over' Darling back in 1963? It's such a steamy, suggestive song. And they think that they're daring these days…"
Final Show Set List
Black Sabbath
Fairies Wear Boots
Under the Sun/Every Day Comes and Goes
After Forever
Into the Void
Snowblind
War Pigs
Behind the Wall of Sleep
N.I.B.
Hand of Doom
Supernaut/Sabbath Bloody Sabbath/Megalomania
Rat Salad
Iron Man
Dirty Women
Children of the Grave
Encore
Paranoid
Watch Black Sabbath perform their final-ever encore, "Paranoid," in Birmingham
Don't miss a post! Sign up for Best Classic Bands' Newsletter; form is on every page.

Latest posts by Best Classic Bands Staff
(see all)