Rock stars dating supermodels: Even in 1985 it was hardly a new concept. Since there'd been rock, musicians had always answered the question "Why did you get into this?" with "For the girls." The tabloids and music mags were filled with tales of the exploits of rockers and gorgeous women.
Yet, there was something particularly off the charts about the March 23, 1985, wedding of Billy Joel and Christie Brinkley. As People magazine put it at the time: "On the one hand, you have this absolutely gorgeous California cover-girl type—all teeth, hair, legs…And then, on the other hand, you have this scruffy rock 'n' roller: dark, moody, looks like he was probably a hood when he was a kid. And these two are supposed to get married—on a boat in the middle of New York Harbor, no less—and live happily ever after? Come off it; it'll never fly."
But it did…for nearly a decade. They'd met two years earlier on the Caribbean island of St. Barts. Joel had divorced his first wife, Elizabeth Weber, in 1982; Brinkley had divorced French artist Jean-François Allaux in 1981. She'd been dating race car driver Olivier Chandon but in March 1983, he was killed in an accident. Although Brinkley had split from him by then she was nonetheless devastated. She'd gone to St. Barts to get some rest when she happened upon a piano player whose music she enjoyed. She had no idea who he was.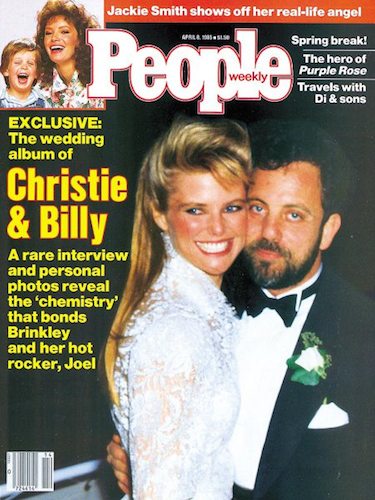 Billy Joel knew who Christie Brinkley was though. He'd met her earlier, on a cruise shortly after his divorce. She and Elle MacPherson, another model, plus a teenager named Whitney Houston who said she was a singer and was hoping to land a recording contract, had checked out his playing in the ship's lounge. Joel's ensuing relationship with MacPherson took his mind off of his woes, but when that relationship began heading south, and he noticed Brinkley on the Caribbean trip, he remembered her.
Related: Our review of Billy Joel at MSG
"We were friends first," Joel told Billboard years later. "I was nuts about her, but it took her a while to reciprocate."
Finally, she fell for him too. "He was a strong support for me [after Chandon's death]," she told People. "He's a wonderful person, and, you know, it's his heart and soul, his mind and everything that made me want to marry him."
Watch Brinkley tell Howard Stern in 2015 the story of how she and Joel met
They were wed on World Yacht Enterprises' 147-foot boat, the Riveranda, in New York Harbor. A hundred-fifty guests were invited. The press was not.
Related: 10 surprise guests at Joel's historic MSG residency
Their marriage produced a daughter, Alexa Ray, who is now a professional singer herself. It also produced many of Joel's greatest songs—his album An Innocent Man, particularly "Uptown Girl," was inspired by Brinkley. She famously starred in the video for that hit (scroll down to watch it).
Eventually they drifted, and on August 26, 1994, Billy Joel and Christie Brinkley were divorced. He's been married twice since then, first to Katie Lee (he was 55, she was 23) and, since 2015, to Alexis Roderick. Brinkley, too, has been married two more times, both marriages ending in divorce.
Watch the "Uptown Girl" video starring Brinkley and some auto mechanic who thinks he has a shot with her
Tickets for Joel's concerts are available here and here.

Latest posts by Best Classic Bands Staff
(see all)