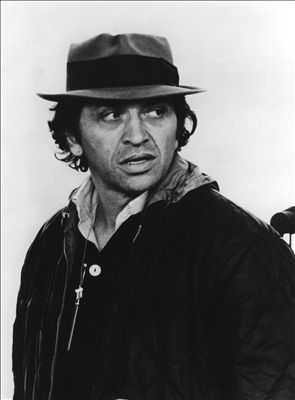 He changed the way that rock concerts were presented in the late 1960s and helped usher such San Francisco classic rock artists as the Grateful Dead, Jefferson Airplane, Janis Joplin and others to stardom at the Fillmore ballroom. And that was just the start for the famed promoter who rightly deserves his place in the Rock and Roll Hall of Fame under the "Without Whom" category.
Bill Graham also came a long way from his birth as Wolfgang Wolodia Grajonca in Berlin to Jewish Russian immigrants on January 8, 1931. With the rise of Nazism his mother placed him in an orphanage that transferred him to Paris to escape the Holocaust, in which his mother died. When France fell to Germany he was one of the "One Thousand Children" who were spirited out from under Nazi rule and brought to North America.
Growing up in the Bronx, he changed his name to Bill Graham and taught himself to speak in a New York accent to avoid the abuse inflicted on him by other children due to his odd name and German accent. After serving in the U.S. Army in Korea, Graham worked at Catskills resorts as a waiter and maitre d' before moving to San Francisco, where his sister Rita, who survived the Holocaust, lived. It was there where he found his calling when he put on a benefit for a member of the San Francisco Mime Troupe, who had been arrested for obscenity.
Starting in 1966, Graham transformed the rundown Fillmore auditorium into San Francisco's and then America's premier rock concert hall, bringing a professionalism to the business and distinguishing his shows by booking jazz, R&B, blues and folk acts onto bills with the rock acts and commissioning original poster art for his concerts.
In 1968 he opened the Fillmore East in New York City. By 1971 he had grown disillusioned with what he felt was a growing commercialization, greed and egotism in the rock concert business and closed both venues, taking a hiatus that didn't last long.
Listen to Graham speak at the Fillmore East closing on June 27, 1971
Related: 10 great "Live at the Fillmore" albums
In the 1970s his company Bill Graham Presents became the major rock show promoter in the Bay Area. He was also involved in producing events like the 1973 Watkins Glen show by the Grateful Dead, the Band and the Allman Brothers Band, which drew some 600,000 fans to become one of the largest outdoor rock shows ever, and the US Festival, plus national tours by Bob Dylan, the Rolling Stones and others, and managing such artists as Santana.
Throughout his years in the concert industry Graham was dedicated to presenting charity and benefit events, culminating in the U.S. portion of Live Aid in 1985. He could be tough and irascible and was known for his gift at creating stunning strings of obscenities; at the same time Graham was also a man of considerable charm, generosity and loyalty, as well as scrupulously fair and honest.
He died on October 25, 1991, when his helicopter, flying in inclement weather, collided with a high power line on his way back to San Francisco from a Huey Lewis and the News concert in Concord, California. His posthumously published book, Bill Graham Presents: My Life Inside Rock And Out, remains essential reading for anyone interested in the live music industry and the growth of the rock music business from the 1960s through the '80s.

Latest posts by Best Classic Bands Staff
(see all)