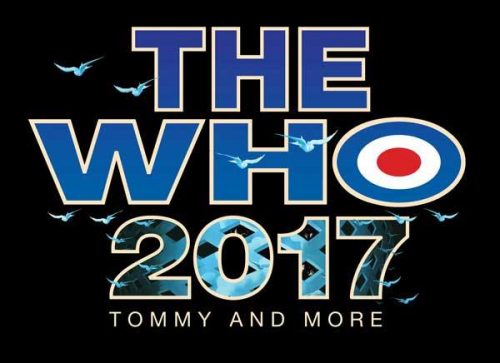 The burst of road activity that resumed in 2015 with their The Who Hits 50! tour will continue this summer with a return to the U.S. and what their manager describes as "their first time ever" to South America.
Longtime Who manager Bill Curbishley was a guest the other day (Jan. 27) with BBC Radio London's Gary Crowley on the "My London" program talking about his years in the British music scene managing such classic rock acts as Jimmy Page, Robert Plant, Golden Earring and Judas Priest. While discussing The Who's seven upcoming U.K. dates (March 30 – April 12), Curbishley revealed: "I'm busy putting together North American dates for later in the year for August-September and then—I still can't believe it—but we're gonna go down for the first time ever to South America.
"I know what great audiences they are and it's going to be fantastic. We're playing there in September with three shows in Brazil, one in Chile and one in Buenos Aires. We played Mexico City [in between last October's Desert Trip dates] and it was unreal. I don't think any of the audiences' feet touched the floor for two hours.
"Pete Townshend said to me 'Now I know why you've been pushing us to play South America' and he was still buzzing for like two weeks after that." The Who have done themed tours in recent years though Curbishley didn't get into specifics about these dates.
Related: New Who album? Townshend says maybe
Listen to Curbishley's BBC Radio interview here.
Last July, The Who announced a series of 2017 U.K. concerts celebrating Tommy including two acoustic performances of the rock opera featuring an all-star lineup at London's Royal Albert Hall, to benefit Teenage Cancer Trust. Among the artists announced at the time are Paul McCartney, Coldplay, Ed Sheeran, Noel Gallagher, Oasis, Arctic Monkeys, Paul Weller, The Cure, and more.
The concerts at the legendary venue will be on March 30 and April 1 where the band – including their guests – will play the opera in full for the first time since 1989. A selection of other Who songs will follow. Roger Daltrey and Townshend have been supporters of Teenage Cancer Trust for over 22 years and The Who headlined the very first show for them at the Royal Albert Hall in 2000. These represent the 100th performances to benefit the Trust. (Click here for tickets, though the concerts are currently sold-out.)
Watch The Who perform a Tommy favorite at Woodstock in 1969…
Related: Our review of The Who at Desert Trip, October 2016
Speaking about his longtime association with the band, Curbishley said: "The '70s was the most vibrant and fertile decade for music in this country. But The Who, for me, to see them in their prime… there was no band like them. The dynamic between them was so great, you didn't know whether they were gonna kiss or punch each other."
The Who 2017 U.K. Dates:
March 30 – London – Teenage Cancer Trust benefit at Royal Albert Hall
April 01 – London – Teenage Cancer Trust benefit at Royal Albert Hall
April 03 – Liverpool – Echo Arena
April 05 – Manchester – Manchester Arena
April 07 – Glasgow – SSE Hydro
April 10 – Sheffield – Sheffield Arena
April 12 – Birmingham – Birmingham Barclaycard Arena

Latest posts by Best Classic Bands Staff
(see all)