Charming indie flick gets real life rock right
Fictional movies about rock bands too often get it all wrong about rock'n'roll, which is kinda missing the point by parsecs. But one indie film just out on DVD gets it all delightfully correct: Big In Japan.
The film's storyline: Tennis Pro is a struggling Seattle rock trio playing empty rooms and about to give up on their dreams when they get an opportunity to tour Japan. The true life facts: Tennis Pro is an actual Seattle band who were going to tour Japan to try to expand their audience. They happened to meet director John Jeffcoat – whose previous indie film was Outsourced, later adapted into an NBC TV one-season series – who came along with a small video crew. And the movie and its plot developed from there.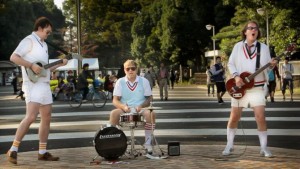 It may be a bass-ackward way to script and shoot a film, but the result is a near-seamless mix of light drama and gentle humor that is utterly charming and feels real to what the rock'n'roll experience is for a band. Tennis Pro prove themselves to be engaging characters despite the fact that they are not professional actors – bassist Phillip Peterson is luminously wacky – as is everyone else in the film, both Americans and Japanese. The songs by Peterson – whose credits as a producer include Owl City, Helmet, Portugal The Man, Gym Class Heroes, Mastodon, The Posies and Nada Surf – are hooky, crunchy and fun, and in an earlier and better time might well have made Tennis Pro big in Japan and the States (as they are not dissimilar to, say, Cheap Trick).
My only quibble here as with most dramatic rock movies is that the live club performance scenes are done to backing tracks (which waters down the sizzle and potency of a band actually playing live). But it's a minor if not almost no matter point because Tennis Pro is a real band playing themselves "playing" their own music, which gets as close to actual live music as a film can.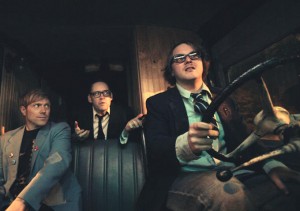 The breezy take on Big In Japan is that it's A Hard Day's Night meets Lost in Translation, though the latter is a far too shallow and facile way to describe the Tokyo experience for Tennis Pro in the movie, which is strangers in a strange land – and trust me as someone who has been to Tokyo, it's a funhouse full of twisted mirrors mix of Japanese foreign and Western familiar – finding common ground with the locals.
In the end, this is not just a film about a band and rock music but ultimately an exploration of the universal notion of brotherhood – not just within the interpersonal workings of a rock group but also with people on the other side of the globe. Without verging too close to a spoiler, when Tennis Pro finally hits a crux that sets up the movie's final act – based on a real-life music business experience of Peterson's – the best way to stay true to the music becomes a pressing issue. And by being true to real life rock, Big in Japan is a deliciously enjoyable not-to-be missed movie on cable, streaming services or at the video store (if wherever you live even has one anymore) that's well worth catching for real rock music fans.

Latest posts by Rob Patterson
(see all)