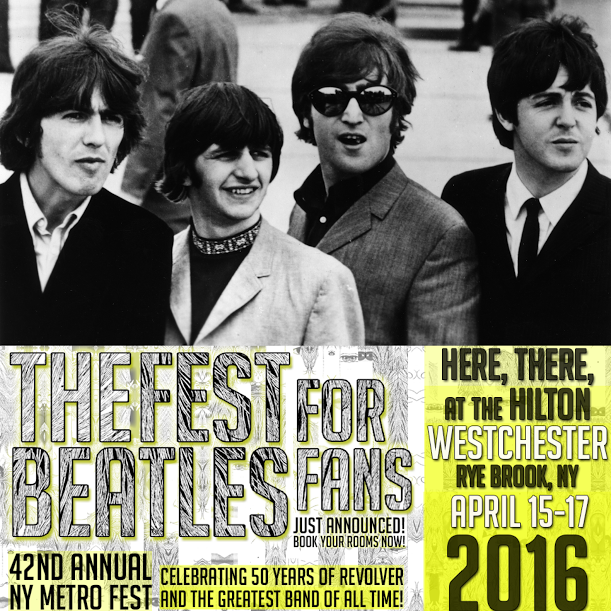 The first of two 2016 editions of the long-running The Fest For Beatles Fans will take place April 15-17 at the Hilton Westchester in Rye Brook, NY. This annual celebration attracts thousands of attendees to celebrate The Beatles with concerts, contests, photo and art exhibits, panel discussions, films, author presentations, a giant Beatles marketplace and more. And the event producers have outdone themselves with a tremendous guest list of performers and speakers.
The theme for this year's Beatles fans fest is the 50th Anniversary of Revolver. Among those attending the NY event are Peter Asher, who enjoyed numerous hits with Peter & Gordon (including the 1964 #1 smash "A World Without Love") and as a hugely successful producer, most prominently for Linda Ronstadt and James Taylor; Chad & Jeremy ("A Summer Song"); and Louise Harrison, sister of the late Beatle, who is the author of My Kid Brother's Band…a.k.a. The Beatles.
Other guests include Billy J. Kramer, who had several hits during the British Invasion; Mike Pender, a founding member of British Invasion band The Searchers; Ringo Starr's musical director Mark Rivera; Ringo's longtime producer Mark Hudson; and Beatles tribute band Liverpool, which will perform all three nights.
Please sign up for Best Classic Bands' newsletter; the form appears on every page.
Ken Dashow of NYC classic rock radio station Q104.3 will emcee a variety of presentations and discussions about The Beatles during the three-day event. The hotel's dozen ballrooms will also feature non-stop concerts, a Friday night dance party, trivia contests, auctions, yoga and the FABoratory Beatles Experimental Zone which debuted last year and which the organizers describe as "sparking a new wave of creative, collective, conscious-building of the Beatles fan experience to dissect songs, play Beatles games, invent the future of being a Beatles fan, and use your imagination."
You won't return home empty handed. The Marketplace has a stunning array of collectibles, recordings, videos, clothing, books, photos, posters, art, & much more.
The Fest's Daniel Abriano told Best Classic Bands: "The 2016 New York Fest is special because in addition to our celebration of Revolver, we'll be continuing to introduce new and exciting events and activities to go along with our decades-long Fest traditions. There will be more concerts, the FABoratory Beatles Experimental Zone, a second stage that runs all weekend and features tremendous local musicians, a visit from George Harrison's sister, Louise, and much more!"
Click here for tickets.
The Fest has raised over $590,000 over the years for John Lennon and Yoko Ono's Spirit Foundation and The Coalition to Stop Gun Violence, and numerous other organizations since 1974. Rooms at the Hilton Westchester for the Fest are sold out. The overflow hotel is the nearby Renaissance Westchester, which will be honoring the same room rate. Phone: 1-800-891-2696.
The year's second Beatles fans fest will be held August 12-14 in Chicago. Details for that event will be announced in May.

Latest posts by Best Classic Bands Staff
(see all)