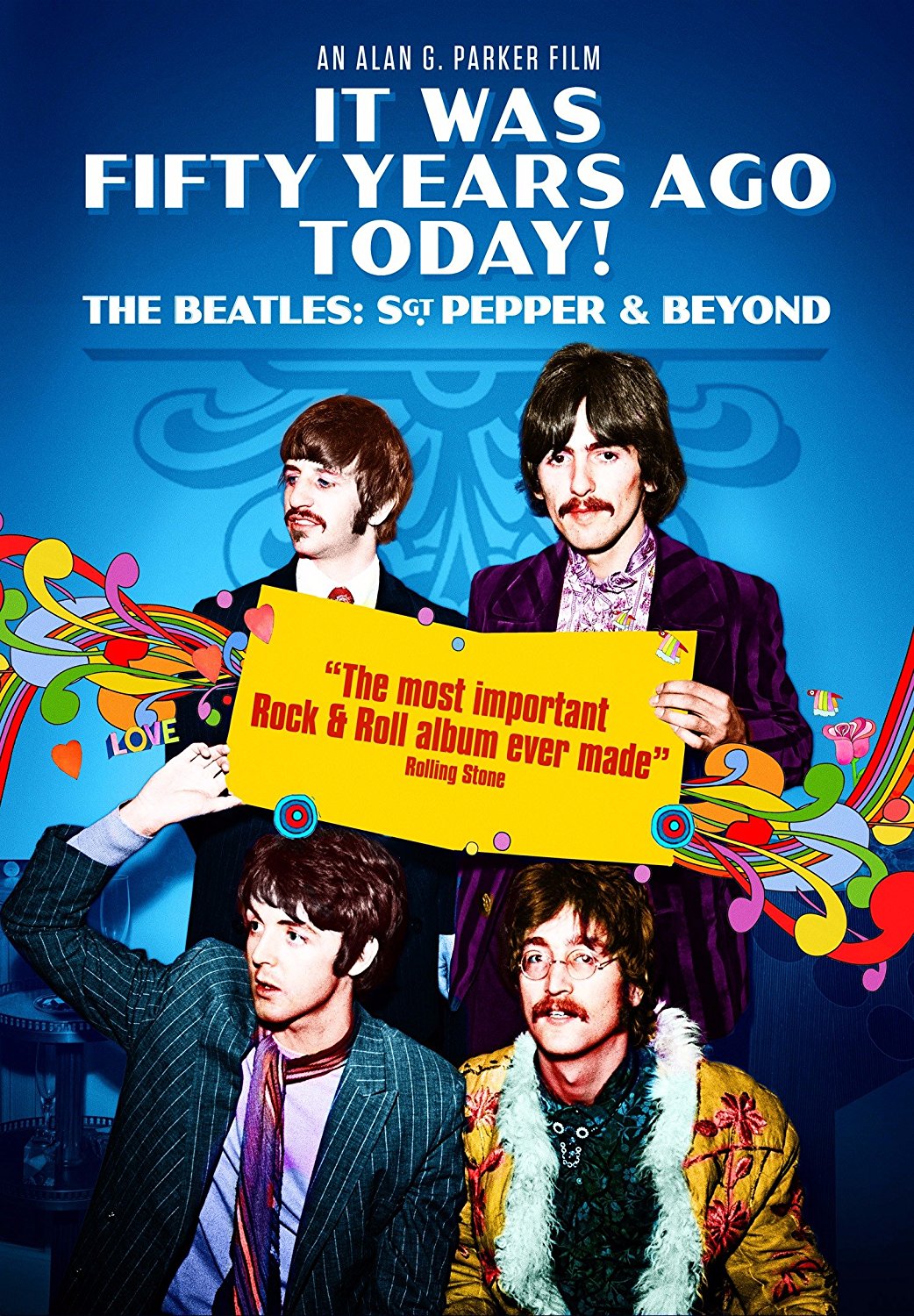 An all-new Beatles documentary, It Was Fifty Years Ago Today! The Beatles: Sgt. Pepper & Beyond, was released in the U.S. on September 8 on DVD, Blu-ray and VOD, by BFD distributed by The Orchard.
The film examines 1967, the year that would arguably be the most crucial in the band's career, a year in which they stopped being the world's number one touring band and instead became the world's most innovative recording artists, pushing the boundaries of what could be achieved in the studio.
It features rare archival footage unseen since the 1960s and rare interviews. (We've got several exclusive clips below.)
Best Classic Bands asked director Alan G. Parker (Monty Python: Almost The Truth, Rebel Truce: The Story of The Clash, Never Mind the Sex Pistols, among many others) several questions about the film.
Best Classic Bands: What makes your documentary different than the many that have come before?
Alan G. Parker: I think it's very much a passion piece–myself and a number of the team are big Beatles fans– so we were aware that with a little extra digging, we could find much rarer footage than a lot of previous documentary makers have used on The Beatles…. And that by interviewing a lot of the people who were closer to them we could unearth a number of stories that were less told than a lot of the others…. It's probably the first time the back story to any Beatles album has been explored in such depth, and we're proud of that.
BCB: Why did you choose to focus on the year 1967 specifically? Obviously, there's Sgt. Pepper, but what else made that a special year for them?
AGP: I personally think it's a very complex year in their lives… Brian Epstein dies, the man who made them famous. They meet the Maharishi. Yoko arrives on the scene. LSD and it's culture become a part of their lives. The first baby steps towards their company Apple… They've stopped touring amid a backdrop of total madness… I thought it was a very interesting time to explore…. If anything the album is the cherry on a very big cake….
BCB: What surprised you during the making of the film?
AGP: That we uncovered so many stories I'd never heard before, and anyone who knows me knows that was a huge thing. My Beatles book shelves are like The British Library! I've been reading about this group since I was a young kid, I'm now in my fifties so I'm not expecting to get surprised anymore by things that I hear about them. But in some cases I was.
BCB: How do you address Epstein's death in the film and how did that shape the Beatles from that point on?
AGP: I think in our movie we cover his death possibly better than anyone ever has outside a standalone documentary about Brian. We found some new information which to my mind now helps people understand his last weekend better. I think when Brian did die in 1967 he and The Beatles had already reached a crossroads in their relationship, with the group no longer touring, and the marketing of groups/merchandise nothing like it is now. Both parties were finding their way. I don't believe for a minute, though, that had he lived he'd have been sidelined. I think he'd have been a big part of the Apple jigsaw.
Watch an exclusive clip from the movie, including a 1966 interview with Epstein
BCB: What is your take on the new remasters and expanded editions of Pepper? Did it add anything to our understanding of that music/era?
AGP: That's a tough one for me, because I own hundreds of Beatles bootlegs, etc. Out-takes, demos, home recordings… For me, the big all-singing, all-dancing Sgt. Pepper box set is incredible. But I was probably already quite familiar with a lot of its content, unlike a lot of other fans. It will always be an amazing album, I play it an awful lot. It's hard to name you're favourite Beatles album, because as a body of work it's all so good. But for me Sgt. Pepper is way up there.
Related: Our review of the Sgt. Pepper 50th anniversary super deluxe edition
Here's another exclusive clip from the documentary, that focuses on the myths of Paul McCartney and John Lennon. "Paul was the leader…"
Watch the film's trailer

Latest posts by Best Classic Bands Staff
(see all)