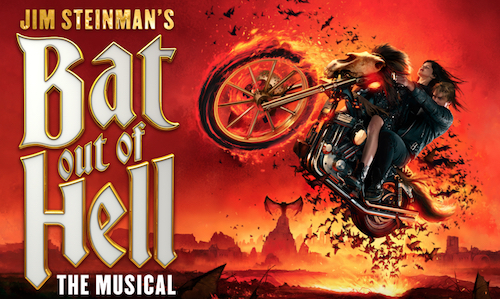 Following a successful run on London's West End which began in 2017,  Jim Steinman's Bat Out of Hell—The Musical, based on Meat Loaf's mega-selling albums of the same name, is coming to New York. The production begins a six-week run at New York City Center on August 1.
The musical opened at the London Coliseum on June 20, 2017, to mostly positive reviews from British critics. [It moved to the Dominion Theatre in 2018.] The Evening Standard named it Best Musical in its own theater awards.
In its 4-star review, The Times of London called it "a mega-blast of a musical." In its 5-star review, The Independent wrote: "It's loud, exhilarating and blows your socks off."
In its 2018 mixed review, The Hollywood Reporter wrote: "As sheer sense-battering escapist spectacle, [it] is admittedly impressive," but also described it as "a creaky, bloodless and dramatically flaccid production."
Said The Telegraph: Running to an overlong three hours, and cramming in greatest hits (and not so-great hits), Bat Out of Hell won't win awards for reinventing the musical" and added, "the book is even weaker than that long-running Queen cash-in," while The Guardian cautiously stated, "the show is more organically dramatic than most jukebox musicals."
Watch the ad for the New York production
Tickets for the New York production are available here. A touring company is in Oberhausen, Germany through July. (Tickets for those performances are available here.)
Before opening in London, Bat Out of Hell – The Musical first played the U.K.'s Manchester Opera House earlier in 2017.
The musical, with book, music and lyrics by Jim Steinman (who also composed the original Meat Loaf music) is described in BroadwayWorld.com as "a romantic adventure about rebellious youth and passionate love, set against the backdrop of a post-cataclysmic city adrift from the mainland." However, said The Evening Standard, "The plot is likely to mystify anyone who's not an ardent devotee of both Meat Loaf" while What'sOnStage went a step further, calling the show "batshit crazy" and stating, "Everything that made Meat Loaf awful but also really great is wholeheartedly here, from the love-wracked crooning, the light-goth look, the rock, the roll to the uber sex appeal."
Related: The inside story of Meat Loaf's Bat Out of Hell
For the stage musical, Steinman has incorporated iconic songs from the Bat Out of Hell albums made famous by Meat Loaf, including "You Took The Words Right Out of My Mouth," "Bat Out of Hell," "I Would Do Anything For Love (But I Won't Do That)" and "Two Out of Three Ain't Bad," as well as two previously unreleased songs, "What Part of My Body Hurts the Most" and "Not Allowed to Love." The London production was directed by theatre and opera director Jay Scheib.
Watch Meat Loaf talk about the musical

Latest posts by Best Classic Bands Staff
(see all)