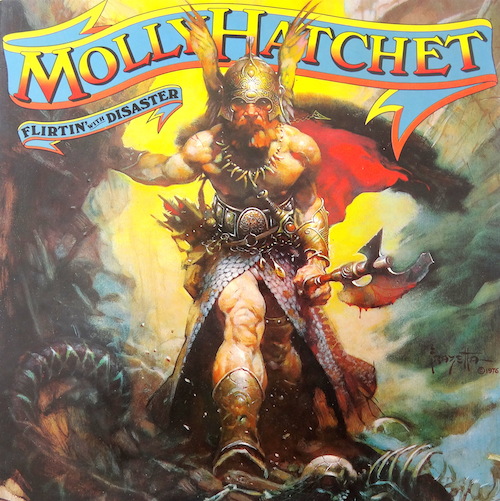 An early member of the Southern Rock band Molly Hatchet, bassist Banner Thomas, died April 10, 2017, at age 60. His death was confirmed by the band's social media pages; no cause was cited, although a Florida newspaper said he had been battling pneumonia for several weeks.
The announcement from the band reads: "Molly Hatchet bassist, Banner Thomas passed away this morning. From 1978-1983, Banner played on the first four MH albums, including the hit 'Flirtin' With Disaster.' He left the band and was replaced by Riff West, also deceased, who played on the next 5 albums. Tim Lindsey has been the bassist for nearly fifteen years and continues to carry the torch forward. Our prayers and condolences extent to Banner's family and friends. RIP"
Molly Hatchet was formed in the early '70s in Jacksonville, Fla., and was named after a famous 17th century axe murderess "hatchet molly," who would behead her lovers with the hand tool Lizzy Borden made famous, according to the band's website. The original band featured lead guitarist Dave Hlubek, guitarist Steve Holland and bassist Thomas, with drummer Bruce Crump and guitarist Duane Roland joining in the mid-'70s. Hlubek was the band's vocalist prior to Danny Joe Brown, who joined in 1976.
Related: 10 great Southern Rock albums
Thomas, who was born Sept. 6, 1956, in Orange Park, Fla., played on Molly Hatchet's first four studio albums: Molly Hatchet (1978), Flirtin' With Disaster (1979), Beatin' the Odds (1980) and Take No Prisoners (1981). Thomas and Hlubek wrote and co-produced most of the band's original material. The group is said to have filled a gap in the Southern Rock genre following the death of several members of Lynyrd Skynyrd in a plane crash.
Among Thomas' writing credits was the title track from Flirting With Disaster, the band's biggest hit single, reaching #42 in Billboard in 1980.
Thomas left Molly Hatchet in 1983, co-founding the group Big Engine. More recently, he was a part of a local Florida band, Those Guys.
According to Jacksonville.com, in a 2002 interview with Philippe Archambeau, Thomas explained why he left the band in 1981: "We all started thinking we were stars, and that drove wedges into the cracks that started forming. I was as guilty as anybody else. I got into an argument with [band founder] Dave [Hlubek], got mad and quit."
Molly Hatchet continues to perform today, having gone through numerous personnel changes, with Hlubek the only remaining original member.
Watch Molly Hatchet perform "Flirtin' With Disaster" live in 1979

Latest posts by Best Classic Bands Staff
(see all)