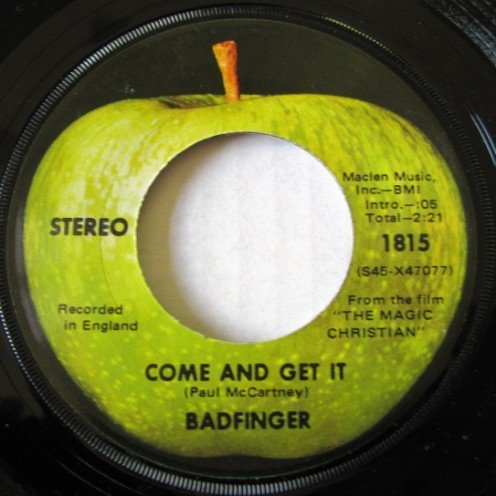 Their story is often told today as a tragedy but before the suicides of core members Pete Ham, in 1975, and Tom Evans eight years later, Badfinger was one of the great pop-rock bands of its time. And it was "Come and Get it," written by Paul McCartney and released on the Beatles' Apple label, that started the ball rolling.
They began in 1961 as the Iveys, from Swansea, Wales. By the late '60s the personnel had stabilized as Ham (vocals/guitar/piano), Mike Gibbins (drums), Ron Griffiths (bass) and David Jenkins (guitar). A couple of changes later, and the classic lineup emerged, with Evans replacing Griffiths and Joey Molland taking the place of Jenkins, but not before the still-developing quartet experienced some optimism and some disappointment.
Things first started happening for the Iveys in 1968 when Mal Evans, the Beatles' assistant, became their champion at the company. It took him a while but he (with some nudging from cohort Peter Asher) finally convinced the Beatles to sign the Iveys. Their first single, "Maybe Tomorrow," was released to little fanfare, bombing in the U.K. and peaking at #67 in the United States. It wasn't until the second half of 1969 that the Iveys' fortunes began turning around. McCartney, having been told of the group's frustration with its Apple deal, offered the Iveys a song he'd written for the film The Magic Christian, "Come and Get It."
Listen to McCartney's demo of "Come and Get It"
He also offered to produce the recording—as long as the band copied his demo and didn't try to change a thing. It was further suggested by Neil Aspinall, the head of Apple, that the Iveys change heir name to Badfinger. Finally, they were on their way.
Released on December 5, 1969, in the U.K. (and January 12, 1970 in the U.S.), "Come and Get It" took off on both sides of the Atlantic in early 1970, reaching #4 in the U.K. and #7 on the American Billboard singles chart. It established Badfinger as one of Apple's success stories, with two more top 10 singles following in both markets, "No Matter What" (#8 in 1970) and "Day After Day" (early 1972). "Baby Blue" landed at #14 in the States, and there were a few quasi-successful albums during the original Badfinger era—No Dice (1970), Straight Up (production begun by George Harrison, finished by Todd Rundgren; 1971) and Ass (late 1973).
Related: Looking back at the Concert for Bangladesh
There were other highlights during their initial run—three band members participated in Harrison's Concert for Bangladesh—but the self-inflicted death of Ham by hanging at age 27 effectively ended their glory days. The surviving members would carry on in various guises on other labels, and Molland still leads a Badfinger group today, but rock historians will always look back on those few years in the early '70s as Badfinger's time to shine.
Our Classic Video is a live version of this great song…
Related: Our Album Rewind of Badfinger's pop masterpiece, Straight Up

The BCB team brings you the latest Breaking News, Contests, On This Day rock history stories, Classic Videos, retro-Charts and more.

Latest posts by Best Classic Bands Staff (see all)