Randy Bachman and Burton Cummings have finally begun their 2022 reunion tour that so far comprises just seven Canadian dates. (See the itinerary below.)
To get you up to speed: the pair had announced a "Together Again" 2020 tour of the U.S. and Canada all the way back on Feb. 24, 2020, for that summer. U.S. dates had previously been pushed to 2021; as of July 21, 2022, none are scheduled in the States. The Canadian shows were also planned for 2021 but postponed to 2022 due to the COVID restrictions.
The Guess Who mainstays were finally able to perform one concert in 2021. On a Saturday night, (August 28), the pair played a 19-song set in their hometown of Winnipeg, featuring tracks from the Guess Who, Bachman-Turner Overdrive and Cummings' solo career. For the most part, they've been replicating that at their 2022 shows.
Among the classic rock favorites are "American Woman," "Takin' Care of Business," "These Eyes," "No Sugar Tonight," "Stand Tall," "Share the Land" and "Roll On Down the Highway." [Their 2021 performance was part of a free outdoor concert, Manitoba Unite 150.]
At the August 28, 2021, concert, Cummings said to the audience, "To come back and play all those songs, most of which we wrote here in our hometown… you've been wonderful." The entire performance was filmed, though he didn't indicate when or where it would be shown.
Watch them close their Aug. 28, 2021, set with a BTO favorite
Watch them perform several favorites in July 2022
Things went so well at several reunion performances over the summer of 2019 that Guess Who fans were eager to see the legends finally share the stage again. The 2020 tour was another victim of the Covid-19 pandemic.
The pair issued a statement on August 5, 2021. "It is with regret Bachman Cummings announce the cancellation of the US leg of their highly anticipated tour 'Together Again – Live In Concert,' scheduled to occur this September.
"While Randy and Burton have been looking forward to reuniting for their fans throughout the United States, they extend their love and appreciation to all of the fans that were planning to come to these shows, and they cannot wait to see you all again when things are more predictable in terms of travel in and out of Canada."
Watch them perform BTO's "Let it Ride" in July 2022
Cummings' Facebook page had frequently indicated, "More dates will be added."
"This is the one that changed everything for us," he said, before they performed "These Eyes" at the Aug. 28 Winnipeg concert.
Bachman Cummings, Toronto, Budweiser Stage July 19, 2022 Setlist
No Sugar Tonight / New Mother Nature
Clap For the Wolfman
Laughing
You Ain't Seen Nothing Yet
Albert Flasher
Hand Me Down World
Hey You
Undun
My Own Way to Rock
Roll On Down the Highway
These Eyes
Let It Ride
Lookin' Out For #1
Sour Suite
Stand Tall
Break It to Them Gently
American Woman
No Time
Encores
Share the Land
Takin' Care of Business
"We're the two guys who wrote and sang these songs and I think people know that and want to hear the real thing. Bachman Cummings are out there delivering that," said Cummings, in a statement in February 2020. "Not all artists are lucky enough to have this kind of staying power. Randy and I are able to touch Guess Who, BTO and Cummings solo stuff. We still have an audience that wants to hear those songs done by the original guys."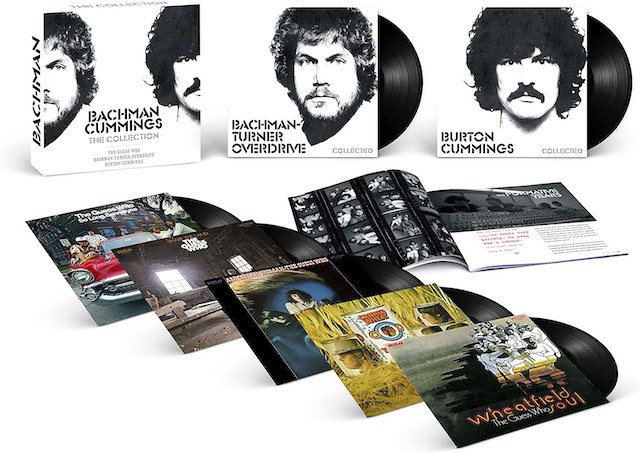 Though there are no announced plans to record new music, the pair have organized a 7-disc box set, The Bachman Cummings Collection, which gathers albums from the Guess Who, plus material from Bachman-Turner Overdrive and Cummings' solo career. It arrived in 2021 via Sony Music Canada. Order the CD set here and the LP set here.
On Jan. 12, 2020, Cummings made a series of posts on his Facebook page. The first teased: "YIKES!!! This guy's lookin' awfully happy about somethin'… almost TOO happy, if there's such a thing…" Moments later, he wrote, "Watch for these guys comin' to your area in 2020…" The post was accompanied by a photo of him and Bachman performing.
Several more posts followed, included a photo of the two of them captioned, "THESE GUYS…," a reference to the Guess Who's 1969 hit, "These Eyes."
On Feb. 4, 2020, Cummings wrote, "Currently mulling over what our set list is going to look like for the Bachman Cummings dates…tell ya this much…a lotta hit records that people have heard on the radio for years…should be a pretty solid couple of hours…"
Cummings initially fueled the rumor on Dec. 8, 2019, when he wrote on his Facebook page, "'Rumour has it' that this might be a sight many people will see in 2020…" The comment accompanied a photo of the classic rock pair celebrating onstage with their arms around each other.
On Dec. 17, Cummings wrote, "Looking MORE and MORE likely now that this will occur in 2020. I'm already mentally formulating a set list in my head, and it surely does look impressive. A two hour show composed of MANY familiar radio songs. Not a bad way to spend a couple of hours, I must say."
As the new year began, Cummings continued to provide hope that the reunion would take place. On Jan. 4, he wrote: "Looks more and more every day like this will happen in 2020."
The next day, he added, "Seems that 'both parties' want this, so now it's just a matter of timing and logistics. No one lives forever, and methinks 'it's time.'"
The pair performed at a Toronto charity event on July 18, 2019, to support Canada's Walk of Fame. But before that, it had been a decade – 2009 – since the two Canadian born musicians had last performed together.
On August 16, 2019, at Cummings' concert at the CNE Bandshell in Toronto, his longtime bandmate surprised the audience when he showed up onstage to perform three songs.
"I found out that an old friend of mine would be in the neighborhood," said Cummings to the audience towards the end of his set. "So I asked him would he like to come down and join in."
And with that, the guitarist joined Cummings on stage, first for a fist pump, then an embrace. "What are we going to do," teased Bachman. After a brief conference among the musicians, Bachman joked: "I'm trying to learn this song. Does it go like this?" And then came the unmistakable guitar riff that introduces the Guess Who's 1970 classic rock smash, "American Woman."
The audience roared its approval. "Seeing as how he's up here," said Cummings, "there's a song he did that has become an anthem in arenas. The song is in the DNA of everyone in the free world."
Bachman then led Cummings' band on a electrifying version of Bachman-Turner Overdrive's 1974 hit, "Takin' Care of Business," singing lead with Cummings switching over to keys.
Related: Our interview with Bachman on the Guess Who and BTO
That wouldn't be all. The pair then shared vocals on the Guess Who's 1969 hit, "No Time."
Watch them perform their U.S. breakthrough, "These Eyes," in July 2022
Bachman Cummings 2022 Tour Dates (Tickets for future dates will be available here and here)
2022 Canadian Dates
Jul 17 – Peterborough, ON – Peterborough Memorial Centre
Jul 19 – Toronto, ON – Budweiser Stage
Jul 20 – London, ON – Budweiser Gardens
Jul 22 – Kemptville, ON – Kemptville Live Music Festival
Jul 23 – St. Catharines, ON – Meridian Centre
Aug 05 – Grand Forks, BC – Canada Rock Fest
Sep 03 – Vancouver, BC – PNE Amphitheatre
2022 Burton Cummings and Band Dates
Aug 17 – Calgary, AB – Grey Eagle Resort & Casino
Aug 19 – Saskatoon, SK – Rock the River
Aug 20 – Edmonton, AB – Edmonton Rock Fest
Sep 23 – Sault Ste. Marie, ON – GFL Memorial Gardens
2021 Bachman Cummings U.S. Dates – Postponed
Sep 01 – Fort Wayne, IN – Foellinger Theatre
Sep 02 – Akron, OH – Goodyear Theater at East End
Sep 04 – Prior Lake, MN – Mystic Lake Casino Hotel
Sep 05 – Milwaukee, WI – Riverside Theater
Sep 07 – Cincinnati, OH – PNC Pavilion
Sep 08 – Huber Heights, OH – Rose Music Center
Sep 10 – Rosemont, IL – Rosemont Theater
Sep 11 – Green Bay, WI – Resch Center Theater
Sep 13 – Kansas City, MO – Kauffman Center for the Perf. Arts*
Sep 15 – Omaha, NE – Orpheum Theatre
Sep 16 – St. Charles, MO – The Family Arena
Sep 18 – Deadwood, SD – Deadwood Jam
Sep 19 – Colorado Springs, CO – Pikes Peak Center
Sep 21 – Salt Lake City, UT – Maverik Center
Sep 22 – Boise, ID – Morrison Center for the Perf. Arts
Sep 24 – Las Vegas, NV – The Smith Center
Sep 25 – Phoenix, AZ – Celebrity Theatre
TBA – Tama, IA – Meskwaki Bingo Casino Hotel
2021 Canadian Dates – Postponed
Jun 14 – Victoria, BC – Save-On-Foods Memorial Centre
Jun 17 – Medicine Hat, AB – Co-Op Place
Jun 19 – Edmonton, AB – Rogers Place
Jun 22 – Saskatoon, SK – SaskTel Centre
Jun 23 – Regina, SK – Brandt Centre
Jul 04 – Montreal, QC – Salle Wilfrid-Pelletier, Place des Arts
Jul 08 – Moncton, NB – Avenir Centre
Jul 09 – Summerside, PEI – Credit Union Place
Jul 12 – Halifax, NS – Scotiabank Centre
Jul 15 – St. John's, NL – Mile One Centre
Related: It's actually Cummings' fault that we started Best Classic Bands
The pair aren't able to use the Guess Who name. (Original member/drummer Garry Peterson, retains the rights to it.)
Related: Listings for 100s of classic rock tours

Latest posts by Best Classic Bands Staff
(see all)