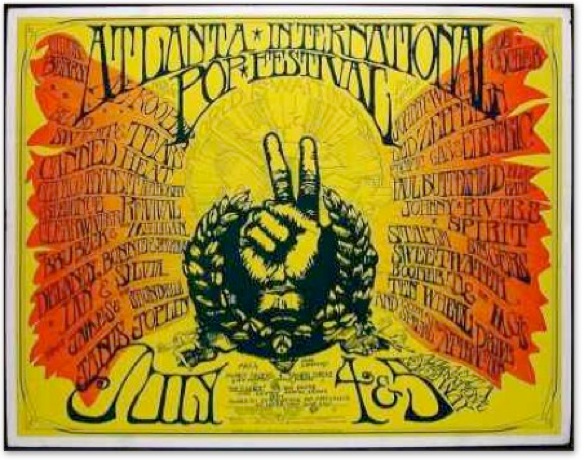 Although Woodstock the next month was to become known as the benchmark musical event of the rising counterculture, the Atlanta International Pop Festival, held over July 4 weekend at the Atlanta International Raceway in Hampton, Georgia, has its significance as well. Though its bill wasn't as star-studded as Woodstock, it drew a crowd estimated at up to 150,000 people to an event that was peaceful and ran rather smoothly (despite very long lines for the concession stands and 100 degree heat).
Among the score or so of acts on the bill were Janis Joplin, Joe Cocker, Creedence Clearwater Revival, Led Zeppelin and other rockers, jazz group the Dave Brubeck Trio w/Gerry Mulligan and such rising jazz-influenced bands as Blood, Sweat & Tears and Chicago Transit Authority (later shortened to Chicago), blues-based groups like the Butterfield Blues Band, Canned Heat and Johnny Winter, pop acts Johnny Rivers and Tommy James and the Shondells, folkies Ian & Sylvia, soul instrumental combo Booker T. & the M.G.'s and gospel group the Staple Singers. Plus a newly formed band called Grand Funk Railroad whose rousing set helped win them a record deal and who would go on two years later to sell out New York's Shea Stadium.
Watch some great archival footage posted by the Atlanta Journal-Constitution
More footage, though it's silent.
The fest's greatest impact may have been to show how in the American South that was thought to be closed-minded and redneck – Georgia's right-wing segregationist Governor Lester Maddox called the event "one of the worst blights that ever struck our state" – the hippie movement had still blossomed. "We may have felt like freaks, but now we knew we weren't the only freaks," noted writer Mark Kemp in in his book Dixie Lullaby: a Story of Music, Race and the Beginnings in a New South. As festival promoter Alex Cooley asserted, "I wanted to do something to make people where I lived understand that we could change."
Watch more tantalizing footage of Led Zeppelin, Janis Joplin and others. Alas, it's silent…

Latest posts by Best Classic Bands Staff
(see all)