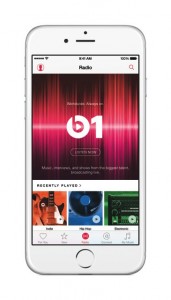 The consistently innovating computer company that revolutionized recorded music sales with iTunes now enters the already crowded music streaming field. Last Monday, June 8, it presented Apple Music at the Worldwide Developers Conference, touting such features as live radio programmed and hosted by humans (Beats 1) and similarly custom-curated playlists, a social media-style feature that provides direct contact between fans and artists (Connect), and the same subscription price, $9.99 a month, as most other major paid streaming services. For now it will only be available by subscription with no free option.
One big unanswered question remains how much of Apple's iTunes inventory of 26 million-plus songs for sale will also be available to stream on Apple Music; Spotify and Google Play offer some 30 million, and the Tidal service owned by such artists as Jay Z that debuted last October has access to 25 million.
Apple Music aims to reach 100 million subscribers. That far outpaces the most recent paid subscription numbers for Spotify of 10 million worldwide (as reported in Billboard last December).
Apple CEO Tim Cook is bullish on the service's potential. "It will change the way you experience music forever," he says. With more than 100 streaming services already in the game, his statement seems overly optimistic.
Apple Music is apparently an outgrowth from the company's May 2014 $3 billion purchase of Beats Music, the personalized streaming service started by famed record company executive and producer Jimmy Iovine and Dr. Dre. Like Cook, Iovine believes the new Apple venture has the formula for streaming success. ""Apple Music is really going to move the needle for fans and artists," he says. "Online music has become a complicated mess of apps, services and websites. Apple Music brings the best features together for an experience every music lover will appreciate."

Latest posts by Best Classic Bands Staff
(see all)