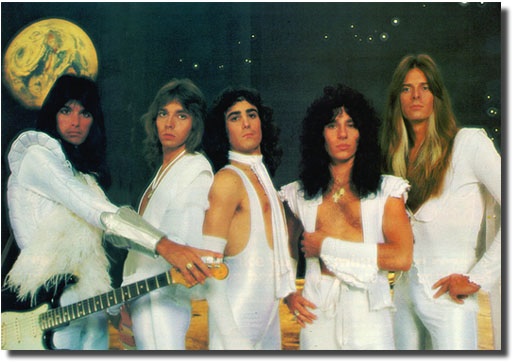 On September 14, Caroline/UMe will release Angel: The Casablanca Years, a seven-CD boxed set featuring the Washington, D.C.-bred glam/rock outfit's six albums that were released on Neil Bogart's Casablanca Records label. In addition, a seventh disc that contains mono mixes, single edits, soundtrack contributions, and other rarities is included in the set. Angel expert Dave Reynolds contributes liner notes to the box's included 28-page booklet, which also features rare photos and other memorabilia.
Angel was discovered in a nightclub by Gene Simmons of Kiss. Angel, says a press release, "was also known for their androgynous look and dressing all in white, a pure yin-yang contrast to Kiss' own all-black clothing and elaborate stage outfits." In 1975, the glam-rockers were signed to the home label for Kiss, Casablanca Records, ultimately releasing six albums (five studio, one live) uninterrupted between 1975-80 that mixed glam, hard rock and "pure unadulterated fist-pumping melodic singalongs."
Says the release, "While Angel never quite achieved success as their labelmates Kiss did, they left their mark on in-the-know rock fans of the era with tracks like the hard-driving  'Rock & Rollers,' 'Tower,' the perennial holiday favorite 'The Winter Song' and their key contribution to the soundtrack of the Jodie Foster-starring 1980 teen drama Foxes, '20th Century Foxes.' The lineup for their self-titled 1975 debut Angel consisted of guitarist Punky Meadows, bassist Mickie Jones, vocalist Frank DiMino, keyboardist Gregg Giuffria and drummer Barry Brandt. This lineup recorded two more albums, 1976's Helluva Band and 1977's On Earth As It Is In Heaven, after which Jones would be replaced on bass by Felix Robinson. Two more solid studio efforts, 1978's White Hot and 1979's Sinful, ensued before the release of a stellar live set, 1980's Live Without a Net.
Related: Listings for 100s of classic rock tours
Though Angel took a break during most of the 1980s, they reformed in 1998. With a revised lineup under the direction of vocalist Frank DiMino and guitarist Punky Meadows, the band has announced tour dates in the U.S. this August and September before heading to the U.K. in October (with more dates to be announced.)
2018 U.S. Dates–Punky Meadows and Frank Dimino of Angel
Sep 21 Wantagh, NY Mulcahy's Concert Hall
Sep 22 Wilmington, DE – Bar XIII
Sep 23 Sellersville, PA Sellersville Theatre
Oct 12 – Stoke-on-Trent, UK – Eleven
Oct 13 – London, UK – Camden Underworld
Oct 14 – Bilston, UK – The Robin 2
Oct 15 – Edinburgh, UK – Bannermans Bar
Oct 17 – Newcastle, UK – Trillians
Oct 18 – Nottingham, UK – Rock City
Oct 28 – Creve Couer, IL – Rock N Skull
Angel The Casablanca Years Track Listing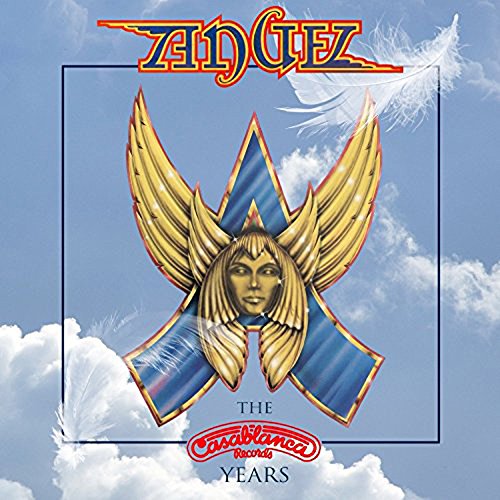 DISC ONE – ANGEL (1975)
Tower
Long Time
Rock & Rollers
Broken Dreams
Mariner
Sunday Morning
On & On
Angel (Theme)
DISC TWO – HELLUVA BAND (1976)
Feelin' Right
The Fortune
Anyway, You Want It
Dr. Ice
Mirrors
Feelings
Pressure Point
Chicken Soup
Angel Theme
DISC THREE – ON EARTH AS IT IS ON HEAVEN (1977)
Can You Feel It
She's A Mover
Big Boy (Let's Do It Again)
Telephone Exchange
White Lightning
On The Rocks
You're Not Fooling Me
That Magic Touch
Cast The First Stone
Just A Dream
DISC FOUR – WHITE HOT (1978)
Don't Leave Me Lonely
Ain't Gonna Eat Out My Heart Anymore
Hold Me, Squeeze Me
Over And Over
Under Suspicion
Got Love If You Want It
Stick Like Glue
Flying With Broken Wings (Without You)
You Could Lose Me
The Winter Song
DISC FIVE – SINFUL (1979)
Don't Take Your Love
L.A. Lady
Just Can't Take It
You Can't Buy Love
Bad Time
Waited A Long Time
I'll Bring the Whole World to Your Door
I'll Never Fall In Love Again
Wild And Hot
Lovers Live On
DISC SIX – LIVE WITHOUT A NET (1980)
Tower
Can You Feel It
Don't Leave Me Lonely
Telephone Exchange
I Ain't Gonna Eat Out My Heart Anymore
Over and Over
Anyway, You Want It
On the Rocks
Wild & Hot
All the Young Dudes
Rock & Rollers
White Lightning
Hold Me, Squeeze Me
Got Love If You Want It
Feelin' Right
20th Century Foxes
DISC SEVEN – (BONUS MATERIAL)
Rock & Rollers – Mono Mix
That Magic Touch – Mono Mix
Winter Song – Mono Mix
Flying With Broken Wings (Without You) – Mono Mix
Don't Leave Me Lonely – Mono Mix
Don't Take Your Love – Mono Mix
20th Century Foxes – Mono Mix
Rock & Rollers – Single Edit
On & On – Single Edit
Tower – Single Edit
Don't Leave Me Lonely – Single Edit
20th Century Foxes – Stereo Edit
Better Days – Single B-Side
Walk Away Renee – Anthology
Virginia – Foxes Soundtrack
20th Century Foxes – Foxes Soundtrack
The Christmas Song – Single Edit
Watch the video for "Tower" from Angel's 1975 debut album

Latest posts by Best Classic Bands Staff
(see all)