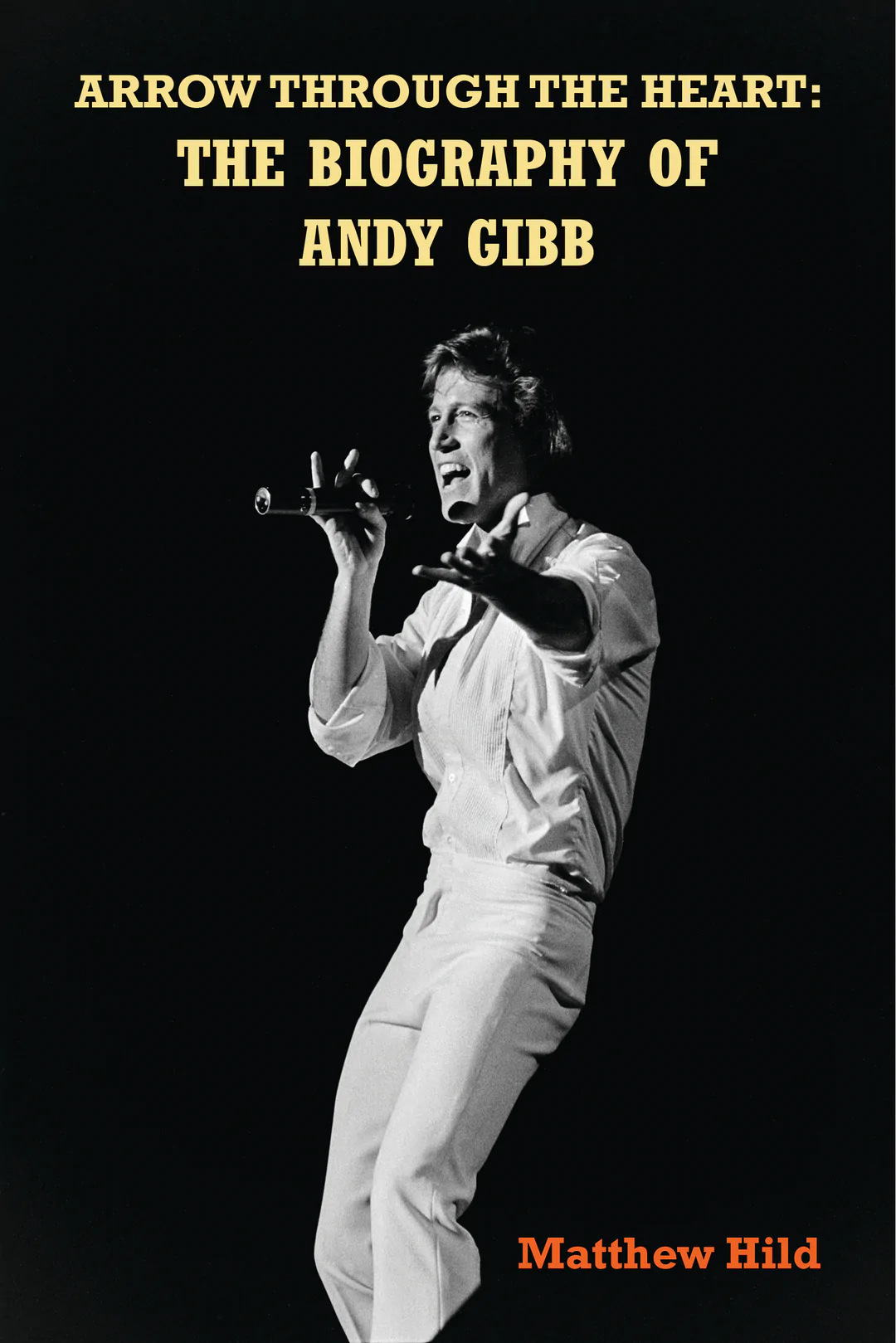 The first biography of '70s pop superstar Andy Gibb has just been published. The hardcover edition of Arrow Through the Heart: The Biography of Andy Gibb, from author Matthew Hild, arrived July 11, 2022, via BearManor Media. The younger brother of the Bee Gees' Barry Gibb, Robin Gibb and Maurice Gibb died at age 30 on March 10, 1988.
From the publisher's blurb: Gibb was one of the biggest pop stars of the disco era. His first three singles – "I Just Want To Be Your Everything," "(Love Is) Thicker Than Water," and "Shadow Dancing" – reached number one on the Billboard Hot 100 during 1977-78, and he became a fixture on television specials, appearing alongside legends such as Bob Hope, George Burns, and Dean Martin.
In 1981 he became the co-host of the iconic Solid Gold television series, and a year later he starred in Joseph and the Amazing Technicolor Dreamcoat on Broadway. But despite his enormous success, he battled with insecurity, depression, and substance abuse, causing his career to flounder and leaving him bankrupt by 1987. By then, he seemed ready to start anew and launch a comeback, but he died suddenly in 1988, five days after his thirtieth birthday.
Despite the tragic brevity of his career and life, Gibb is fondly remembered around the world. Arrow Through the Heart: The Biography of Andy Gibb draws upon extensive research, rare archival interviews with Gibb and members of his family, and interviews conducted by the author with nearly fifty of Andy's friends and associates to examine the life and career of the beloved pop idol.
The book's title comes from the title of the final song that Gibb recorded, though it wasn't released in its entirety until it appeared in a Bee Gees compilation in 2010. He wrote it with his brothers Barry and Maurice as part of what was to be a comeback album.
Related: The Bee Gees and brother Andy dominated the 1978 singles chart
Matthew Hild is a professor at the Georgia Institute of Technology and author of several books on Southern labor history. This is his first book on pop culture.

Latest posts by Best Classic Bands Staff
(see all)