'The Most Famous Musician You've Never Heard Of': Exclusive Book Excerpt
by Andy Cahan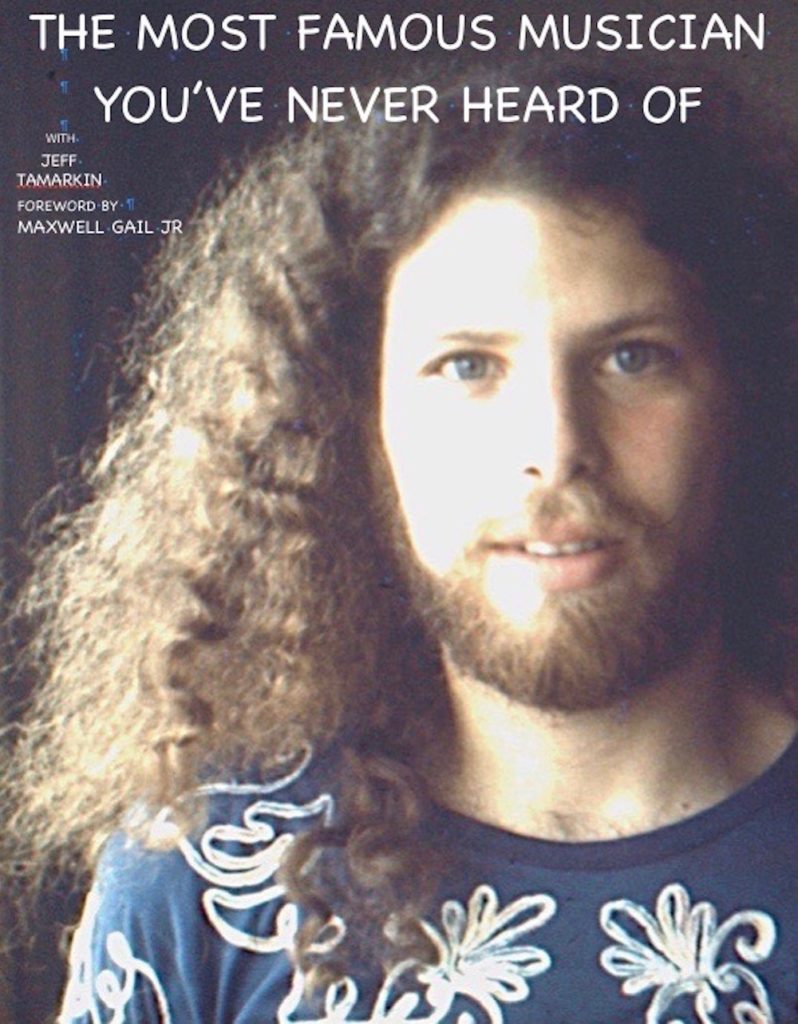 Andy Cahan is the author of the memoir The Most Famous Musician You've Never Heard Of. The book includes never-before-seen photos and amazing stories about Andy's experiences with Jimi Hendrix, Paul McCartney, George Harrison, Ringo Starr, The Turtles, Frank Zappa, Little Richard, Chuck Berry, Seals & Crofts, John Bonham, Jimmy Webb, Billy Bob Thornton, Eric Carmen, Ray Bolger, and many, many more. In this exclusive excerpt, Cahan recalls his first meeting with the great singer-songwriter Harry Nilsson, with whom he would write and record numerous new songs and undertake a series of wild adventures. The book is available directly from Andy Cahan here or contact the author at andycahan@gmail.com.
Flo and Eddie—Mark Volman and Howard Kaylan of the Turtles—had their own radio show in New York on K-Rock, 92.3 FM, which aired in the afternoons after Howard Stern. K-Rock was one of 30 radio stations doing a live broadcast from Universal City Studios for the Alice Cooper/Clarence Clemons Octoberfest. Mark Volman asked me to drive a limo and pick up the various celebrities that were to be on the broadcast. After I picked up each celebrity, Mark and Howard would do a full interview. Afterward I would play along on my synthesizer on the hit song of that celebrity. As the finale of each artist, we would all perform "Happy Together."
When I drove out to Agoura Hills to pick up Harry Nilsson, I was really nervous. After all, this was the Beatles' favorite American singer/songwriter, Nilsson! When I arrived at his home, I opened up the rear door of the limo. Harry said, "No thanks, I'll sit up front with you."
There we were, driving down the 101 freeway to Universal City Studios, jammed in traffic. What else to do but to light up a cig and talk about the Beatles! I was in heaven. Harry would tell me so many stories, I could hardly remember them all. But I do remember him telling me that Keith Moon and Mama Cass both died in his bed when they'd each stayed in his London flat! Harry had difficulty and used a cane. I drove the limo all the way up to the steps leading to the radio tent instead of parking in the parking area, so Harry would have a short walk to do the broadcast. Harry chose a song by the Dillards called "Hey Boys," from their 1968 release Wheatstraw Suite. Mark and Howard sang great harmonies while Harry sang lead.
Listen to "Me, Myself & I," one of several songs recorded by Harry Nilsson with Andy Cahan
At Universal Studios, when Harry and I got in the limo to head back to his home, instead of driving to Hidden Hills, we stopped by his production office in Studio City. Hawkeye was Harry's company that supplied scripts to film production companies. He said, "Do you mind if we stop here? You can come on in and have a drink of water." I felt so comfortable with Harry, he was like a brother. A great song I recorded with Harry was "What Does a Woman See In a Man?" Jimmy Webb wrote this one for his album Suspending Disbelief, produced by Linda Ronstadt and George Massenburg in 1993. Harry loved it so much that we kidnapped Jimmy from his session with Linda Ronstadt at Record One Studios on Ventura Boulevard in Studio City.
After much coaxing, Harry convinced Jimmy to lay down the piano track for the song. Afterward, we drove Jimmy back to finish his album with Linda. Harry and I returned to my studio and proceeded to finish our version. I overdubbed violins, viola and French horn on the demo and Harry sang it beautifully.
It was Harry's 52nd birthday. Harry's wife Una invited me and my girlfriend Karen Stout, Ringo and his wife Barbara Bach, Van Dyke Parks and his wife Durrie Parks to an Italian restaurant on Ventura Blvd. There was a band playing and the birthday celebration was wonderful. At one point during the evening, the band was playing classic Italian songs. All of a sudden, Ringo started to sing "Besame Mucho" as Harry, Van Dyke and I all joined in. The band heard us all singing then they accompanied us. The entire restaurant applauded with laughter, clicking their drinks together. The band immediately recognized Ringo and brought him over a bottle of champagne as a gift. This did insult Harry somewhat, since it was his birthday party. Since Ringo was "on the wagon" and wasn't drinking or smoking, he gracefully declined the champagne and gave it to Van Dyke. Then we all sang "Happy Birthday" to Harry, ending the evening with a real great time for everyone.
Watch: Learn the story behind the book
Harry was extremely gracious and funny, clever and great company. We went out on another adventure in Harry's Mercedes, listening of course to Harry's albums, with both of us singing at the top of our lungs while taking an occasional hit off a pipe. Harry drove down to some street in Beverly Hills and made a couple of turns. All of a sudden there we were in front of Timothy Leary's house. Harry wouldn't tell me where we were. He just said, "Come on." Harry rang the doorbell. The door opened to a very happy man, who grabbed Harry on both cheeks and gave him a big kiss on the lips. Harry then looked over to me with a big smile and said, "Timothy, this is my friend Andy." Timothy grabbed both of my cheeks, pulled my head toward his head and gave me a big kiss, and invited us in.
The first thing I saw was a life-size Gumby about 12 feet tall, staring at me. I turned to the right to the kitchen to find the kitchen table was a rainbow. Walking into the living room, there were three young ladies watching one of Timothy's films, Love. He suggested that we all sit on the floor and play some music. There were no instruments except for an upright bass that Timothy lay down on the rug facing down. He proceeded to play the back of the bass like a drum. Harry picked up a spoon or something and started to play along. I looked around. not finding anything to play, so I just pounded on the rug like a kick drum. This wonderful madness lasted about an hour. In fact, the whole event was so amazing that after watching that movie and playing music, I don't even remember leaving! Turn on, tune in and drop out.
It was a pretty special day when we hopped in Harry's Mercedes after recording in my studio and visited Joe Walsh. Up in the hills behind Ventura Boulevard we entered Joe's house. He took us into the bar area and we sat on this huge, beautiful couch. After all kinds of conversation, I remember Joe saying to us, "Would you like to hear the latest song that I produced?" Harry and I both said yes in unison and nodded our heads as Joe walked over to his cassette player. Then he smiled, "Check it out." He pressed play and Harry and I were very impressed with Joe's very cool arrangement of "Walk Away Renee" by the Left Banke. The arrangement was so amazing. The track was heavy rock with great vocals and an amazing mix. Joe was very kind and gracious; what a great pleasure and honor to hang out with Joe Walsh.
Harry and Ringo were doing a project together. They would pick out their favorite children's stories. Ringo would narrate the stories. The plan was for Van Dyke Parks, Harry and me to do background music. We rehearsed at Ringo's place, where Harry suggested we record a demo of the stories in my living room on my 4-track cassette. About a week later, Ringo called me and left a message, trying to set up a time to come over. Soon enough, Harry and Ringo arrived at my place on a very hot summer day. It was over 100 degrees. I had to turn off the air conditioner in my living room so it would be quiet enough for Ringo's narration.
After we finished recording and I turned the air conditioner back on, Ringo would tell us Beatles stories. One was about the creation of the title Sergeant Pepper's Lonely Hearts Club Band. As the story goes, Paul McCartney and Mal Evans (road manager for the Beatles) were sitting next to each other on an airplane. Paul was trying to think of an alternative name for the Beatles for the new concept album they were recording at Abbey Road Studios. He told Mal that he wanted a pretend band that wasn't the Beatles to be on the album. Mal thought a minute and then said, "Why don't you call it Sergeant Pepper's Lonely Hearts Club Band?" The rest is history. When we were ready to leave for Ringo's house, I said, "Ringo, I'd like to ask you a flavor."
"A flavor?" Ringo questioned.
"Yes, would it be OK if Harry took our picture?" He smiled, "There's a price for everything." So I handed Harry a Kodak throwaway camera. He took our picture. I asked Ringo and Harry if they would pose in a shot for me. "Gladly," Harry smiled as he and Ringo got together for the picture.
Listen to "Papa's Got a Brand New Robe," another song recorded by Harry Nilsson with Andy Cahan. The song remained unreleased at the time of Nilsson's death.
After the recording session with Harry and Ringo, we drove to Ringo's house via Laurel Canyon Blvd. in Harry's Mercedes. We stopped at a red light at Sunset Blvd. There was a homeless man standing there with a cardboard sign, "Please help." Ringo rolled down the window and handed him a twenty-dollar bill. Very philanthropic, I must say. That shows how very cool Ringo really is.
I was so excited having Ringo over to my place that I advertised in Music Connection magazine, using Ringo's picture. Soon after I received a letter from Ringo's lawyer, Bruce Grakal, telling me to remove Ringo's picture from any of my Demo Doctor advertisements. I responded immediately and complied. Whoops, my bad!
Harry and I were sitting around my living room just shooting the shit. We were talking about his wonderful cartoon The Point, which was narrated by Dustin Hoffman for the first telecast. Harry told me later he asked Ringo to narrate it. He told Ringo that he would pay him the same money that he paid Dustin Hoffman. Ringo gladly accepted. Little did Ringo know that Harry only paid Dustin five hundred bucks. After laughing with Harry about this story, Harry had a brainstorm. He suggested we make a 30-second radio spot of "Me and My Arrow 93 and Me" and send it as a gift to Arrow Radio in L.A. I sampled the beginning phrase off the master recording of "Me and My Arrow," then programmed the music and added Harry's new vocal on my Fostex four-track cassette. Tommy Edwards, program director of Arrow 93FM, loved it and played it for a long time.
On one of our wondrous excursions riding in Harry's Mercedes out into the land of Hollywood, Harry made a quick turn and drove us up this long and winding road off of Sunset Blvd. At the top was Blue Jay Way. To me, that was so fucking cool to be sitting there with Harry, looking at this street sign, knowing it is part of Beatles history! We took a minute and talked about George Harrison and "Blue Jay Way." Then Harry said, "Why don't you climb up the pole and take the sign?" I laughed and said, "Are you serious?" He said, "Yes!" Well, I was ready to climb, but we didn't have any tools for me to remove the sign, so we took a couple more hits off the pipe and headed back down the hill to Sunset Blvd. Fun times.
To purchase a copy of The Most Famous Musician You've Never Heard Of, go here or contact the author at andycahan@gmail.com.
Bonus video: Watch the Turtles perform the Monkees' "Daydream Believer" with Andy Cahan on keyboards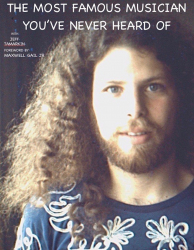 Latest posts by Andy Cahan
(see all)