Anderson Rabin Wakeman Deliver Yes Songs in NYC
by Greg Brodsky
Fans of the rock band Yes—who have received their third nomination for a long overdue induction into the Rock and Roll Hall of Fame—have two opportunities to enjoy the progressive rock group in concert. There's the band that uses the official Yes name, and which features the longtime members, guitarist Steve Howe and drummer Alan White. And then there's ARW, made up of Yes co-founder/vocalist (and primary songwriter) Jon Anderson, and keyboardist Rick Wakeman and guitarist Trevor Rabin, both longtime Yes members.
Related: Recap of Yes' Rock Hall Class of 2017 induction
Anderson, Rabin & Wakeman are in the midst of a two-month U.S. fall tour of their new collaboration, billed as "An Evening of Yes Music and More." When the band's formation was announced in May, they were said to be "working on new songs," but at their November 1, 2016 sold-out performance at New York City's Beacon Theatre, the music was all Yes. (The lone exception: a beautiful pairing of Anderson and Wakeman on "The Meeting," a track from 1989's Anderson Bruford Wakeman Howe album.)
The trio was more than capably supported by bassist Lee Pomeroy and drummer Louis Molino. Pomeroy is being asked to fill the very big shoes of Chris Squire, the Yes co-founder who died of a rare form of leukemia in 2015 at just 67. It's a tough task yet on several songs, including "Long Distance Runaround,"—from 1972's Fragile—Pomeroy briefly takes center stage as he very capably tackles the songs' bass solos that were always highlights of Yes concerts.
For his part, Molino takes a (literal) back seat to his band mates, save for a drum solo early in the program in which he is seen to be visibly beaming while enjoying his brief time in the limelight.
Rabin has numerous opportunities to stretch out, particularly on "Hold On," which he co-wrote for the band's 90125 LP, and the concert's pre-encore finale, "Owner of a Lonely Heart."
The progressive rock band routinely sold-out arenas during their world tours in support of their hugely successful run during the 1970s. (I attended several from way up in the blue seats at Madison Square Garden.) While lengthy album cuts like "Starship Trooper," "Yours is No Disgrace" and "Close to the Edge" were favorites of free-form FM radio stations, it wasn't until 1983's "Owner of a Lonely Heart" that Yes earned a Top 10 pop hit. (The song reached #1 in the U.S.)
ARW's Beacon Theatre set list focused on some unexpected gems in the Yes repertoire. Two early highlights, "Perpetual Change" and "I've Seen All Good People," both from 1971's brilliant The Yes Album, had the audience in rapt attention, particularly when Anderson enunciates "We have the whole world in our hands" during the former.
And when he sings the often-unnoticed background lyrics on "All Good People," borrowed from John Lennon—"All we are saying, is give peace a chance"—his spirituality shines brightly.
For his part, Wakeman, resplendent in his King Arthur cape, delivers the majestic church organ on "All Good People" and on "And You and I." The latter song allows all three of the band's namesake members to shine. And halfway through, as the number transitions, Anderson motions ever-so-slightly to the audience that there was more to come with Wakeman's playful keyboard leading to Anderson's pretty "The Preacher The Teacher" section of the song. The audience sings along to every word.
Related: Our interview with Roger Dean, who designed Yes' iconic bubble logo and many of their album covers
Another highlight was "Heart of the Sunrise," from 1972's Fragile. It's not one of the first songs one thinks about from the band's extensive output—Anderson doesn't even begin singing until four minutes into its 11-plus-minute length. But it's always been a showcase for the band's musicianship. And Anderson commands the stage when he punctuates "Sharp… Distance…"
Related: Yes' Tales From Topographic Oceans has been remastered and expanded
The middle section of the concert's lone encore, "Roundabout," allows Rabin and Wakeman one more opportunity to stretch out, supplemented by Pomeroy's bass line.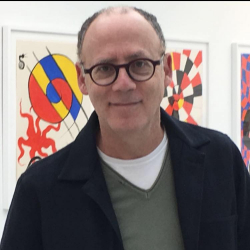 Latest posts by Greg Brodsky
(see all)