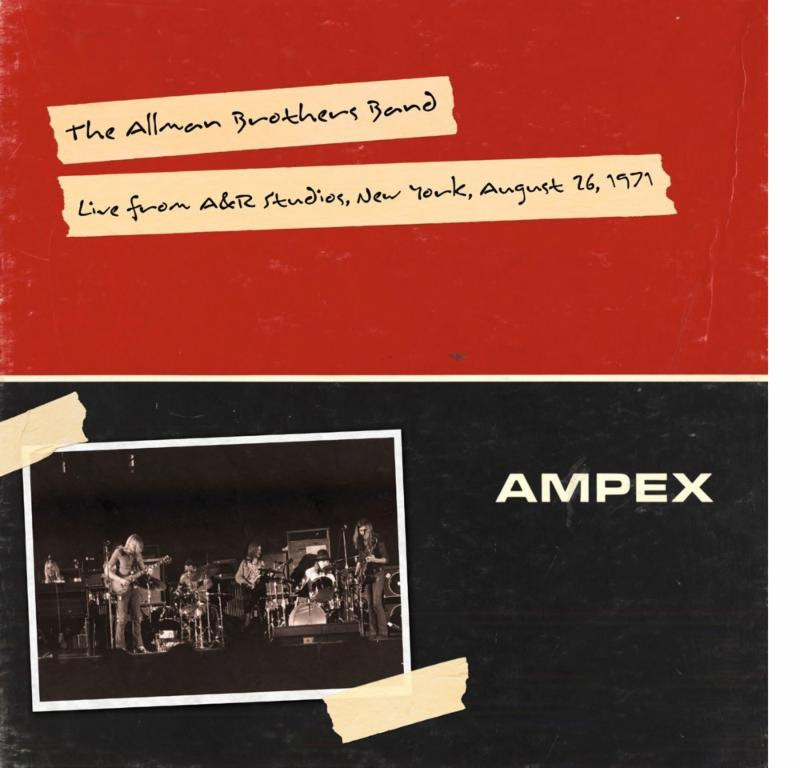 The Allman Brothers Band may have called it quits as a live performing unit in 2014. But they will continue to have a presence in the marketplace with a series of archival releases, starting with Live From A&R Studios: New York, August 26, 1971, finally available since April 1.
Tracked a month after the band's breakthrough At Fillmore East was issued and eight weeks before the death of guitarist Duane Allman, it captures the original line-up of the legendary classic rock band – Duane and singer/keyboardist Gregg Allman, guitarist Dickey Betts, bassist Berry Oakley, and drummers Jaimoe and Butch Trucks – in its prime.
Long a bootleg favorite, the August 26, 1971 performance is outstanding in every way. (Our only complaint is that it's not being made available on vinyl.) And it serves as a "new" companion to At Fillmore East. While the majority of the repertoire is identical, the new release adds "Trouble No More" and "Don't Keep Me Wonderin'." "Whipping Post" is the sole Fillmore track that wasn't performed at the studio concert.
Originally recorded as a live broadcast on New York City album rock station WPLJ-FM, the 10-song album was a special performance for the group, said drummer Butch Trucks in Rolling Stone. "Oh, man, I'll never forget that one. We were set up in that studio just like we did on stage. But it was better. Rather than having their backs to me, the front line – Duane, Dickey and Berry – was facing us in kind of a semi-circle, which made it even easier to communicate." The package includes a number of classic Allmans songs as well as a take on "Soul Serenade," a number by saxophonist King Curtis, who Duane Allman had recorded with and was murdered two weeks prior to the broadcast (you can listen to it here).
Don't miss a post! Sign up for Best Classic Bands' Newsletter; form is on every page.
While thousands may claim to have been in attendance, in fact there were only around 200 lucky souls there. Assuming you weren't one of those at the historic gig, we recommend you buy it… stat! It's that good. (See the link below.)
Live From A&R Studios is the first album to be issued in a new deal between the band's Allman Brothers Band Recording Company label and RED Distribution. It will feature a variety of recordings from the Allmans archives and reissue live Allmans albums made at American University (12/12/1970), Stony Brook, NY (9/19/1971), Macon City Auditorium (2/11/1972), Nassau Coliseum 5/1/1973) and Boston Common (8/17/1971).
The band's members continue to remain busy. Gregg Allman has started recording a new studio album (details here) and will host and play an expanded slate of five Laidback Festival dates this summer (see our news item here). Trucks and Jaimoe have formed a new band, Les Brers, which will appear at the Wanee Festival in Live Oak, Florida on April 15th and Peach Music Festival in Scranton, Pennsylvania on August 11th (more on that here). Trucks also plays with his guitarist son Vaylor and bass player Berry Oakley Jr. as the Freight Train band. (See our separate story here.)
Related: The Dennis Elsas Conversation with Gregg Allman
Live From A&R Studios: New York, August 26, 1971 track listing:
1. Statesboro Blues
2. Trouble No More
3. Don't Keep Me Wonderin'
4. Done Somebody Wrong
5. One Way Out
6. In Memory of Elizabeth Reed
7. Stormy Monday
8. You Don't Love Me/Soul Serenade
9. Hot 'lanta
(If you're a new reader of ours, we'd be grateful if you would Like our Facebook page and/or bookmark our Home page.)

Latest posts by Best Classic Bands Staff
(see all)