The 2023 Allman Family Revival Tour, a coast-to-coast celebration of the music of Gregg Allman and Dicket Betts, will perform in the U.S. beginning Nov. 25 in St. Louis. According to the original Aug. 8 announcement, "The Allman Betts Family Revival promises nearly three action-packed hours that will leave fans with the musical experience of a lifetime." Special guest lineups were revealed on Oct. 26.
The Allman Family Revival initially began as a one-off concert in 2017 at the Fillmore in San Francisco to celebrate the late Gregg Allman's life on what would have been his 70th birthday. Now in its seventh year, it has since expanded into a full tour.
This year the tour is officially rebranding as the Allman Betts Family Revival. Devon Allman (son of Gregg) and Duane Betts (son of Dickey), says a press release, "have hand-picked an array of guests who will perform two sets—one featuring songs by Gregg Allman and one featuring songs by Dickey Betts. Fans will enjoy listening to the hits along with the deep cuts from their legendary Allman Brothers catalog, performed by Anders Osborne, Luther Dickinson and Cody Dickenson (North Mississippi Allstars), Jimmy Hall (Jeff Beck, Wet Willie), Jackie Greene, Larry McCray, Alex Orbison, Ally Venable, Devon Allman, Duane Betts, and the Allman Betts Band featuring Tal Wilkenfeld on bass (Jeff Beck). There will also be guest artists that will join the tour in select cities, including Chuck Leavell, Sierra Hull, G. Love and more. The tour will also welcome back the Brotherhood of Light for visuals.
Watch the ensemble perform "Midnight Rider" at a 2021 performance
The Allman Betts Family Revival Tour Dates (Tickets are available here and here)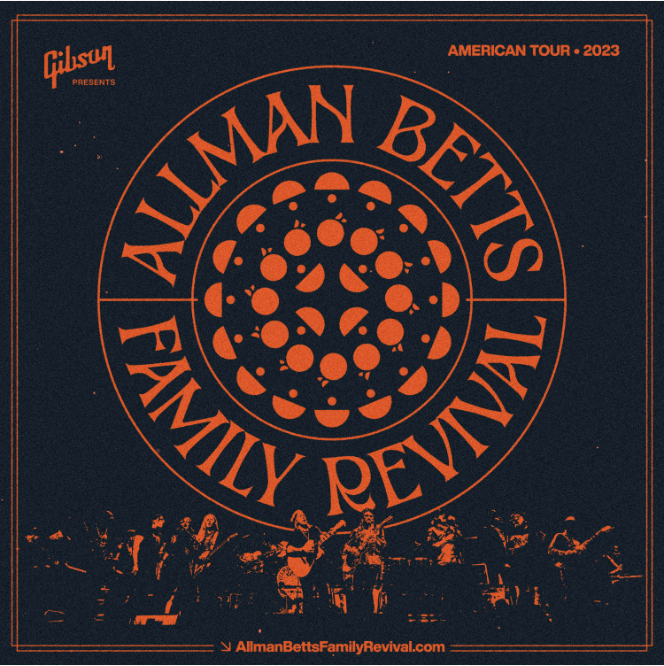 Nov 25 @ The Factory | Saint Louis, MO
Nov 26 @ Brown County Music Center | Nashville, IN
Nov 27 @ The Arcada Theater | St. Charles, IL
Nov 29 @ Kleinhans Music Hall | Buffalo, NY (with Sierra Hull)
Nov 30 @ Santander Performing Arts Center | Reading, PA (with Sierra Hull)
Dec 01 @ Orpheum Theater | Boston, MA (with Greg Koch, Sierra Hull)
Dec 02 @ Beacon Theatre | New York, NY (with Greg Koch, Sierra Hull)
Dec 03 @ The Paramount | Huntington, NY (with Greg Koch, Sierra Hull)
Dec 05 @ Capitol One Hall | Tysons, VA
Dec 07 @ Macon City Auditorium | Macon, GA (with Chuck Leavell, Vaylor Trucks, Melody Trucks)
Dec 08 @ Gaillard Center | Charleston, SC
Dec 10 @ Sunrise Theatre | Fort Pierce, FL (with J.D. Simo, Melody Trucks, Frank Hannon)
Dec 12 @ Van Wezel PAC | Sarasota, FL (with J.D. Simo, Melody Trucks, Frank Hannon)
Dec 13 @ Florida Theatre | Jacksonville, FL (with J.D. Simo, Melody Trucks, Frank Hannon)
Dec 14 @ Spartanburg Memorial Auditorium | Spartanburg, SC (with J.D. Simo)
Dec 15 @ Ryman Auditorium | Nashville, TN (with G. Love)
Dec 16 @ Mobile Civic Center | Mobile, AL
Dec 17 @ ACL Live at The Moody Theater | Austin, TX
Find tickets for hundreds of classic rock acts here.
Related: Our conversation with Devon Allman and Duane Betts

Latest posts by Best Classic Bands Staff
(see all)