The sons of Gregg Allman (Devon Allman) and Dickey Betts (Duane Betts), who have formed the Allman Betts Band, have rescheduled many of their August and September North American concerts following the emergency appendectomy that Allman had on July 30 while on tour in Germany.
The news of the surgery came on August 5 which noted the cancellation of three remaining European dates of their tour.
The surgery had knocked out 31 dates including their opening slot on John Fogerty's 50th anniversary tour.
The band's Aug. 5 Facebook post said: "Devon Allman has been advised by doctors that he cannot perform during this time due to an upcoming surgery and the necessary recovery time. Devon is expected to make a complete recovery and will be back onstage in October."
On Aug. 19, Allman's Facebook page noted a second surgery set for St. Louis by a "rock star team of doctors." The group have announced dates for the fall as well as their first dozen shows for 2020.
The pair had been in the midst of a busy 2019 calendar to support their debut album, Down to the River, released June 28 via BMG.
On August 2, Allman was already up and about, and sent a video greeting to his fans, from Germany:
Due to a commitment to perform at the 2019 Peach Music Fest in Scranton, Pa., on July 26, the band performed in Amsterdam on July 24, flew to the U.S. and then back overseas for their scheduled date at the Herzberg Festival in Germany on July 28. They also performed in Hamburg on July 29.
Watch them perform a Tom Petty classic at the Peach Music Fest on July 26
At the time of the announcement of the Fogerty tour, Betts had said: "Anytime you get to play with your heroes it's a dream come true, but John Fogerty, that's pretty special. We are beyond honored to share the stage with him on these upcoming dates."
"As a longtime fan of CCR, I'm so amped up to do some shows with one of the best voices in rock music." Allman had said at the time.
Watch the "Shinin'" video from their new album
The tour included many festivals and was to feature new music, songs from their solo projects and classic Allman Brothers and Gregg Allman tunes in honor of the 50th anniversary of the Allman Brothers Band. The new album, originally slated to be released in the spring, was produced by Matt Ross-Spang (Jason Isbell, Margo Price, John Prine and Elvis Presley).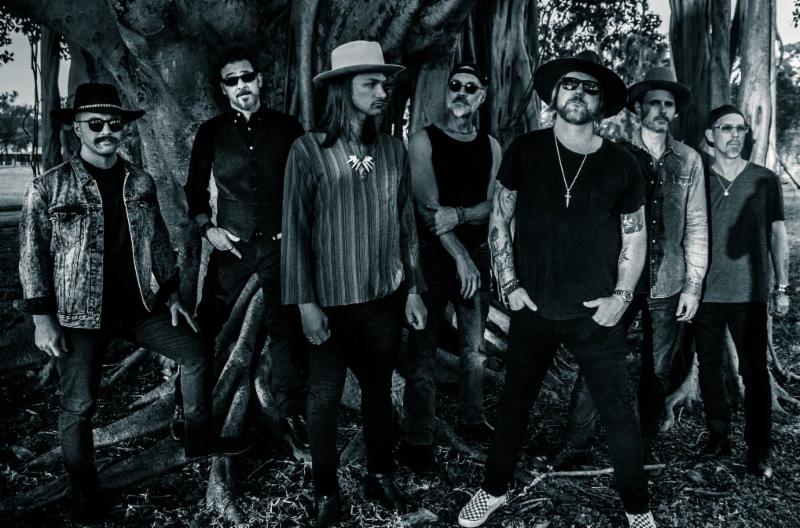 The new ABB includes Devon, Duane, Berry Duane Oakley (son of original Allman Brothers Band bassist Berry Oakley), slide guitar virtuoso Johnny Stachela, keyboardist John Ginty, and DAP percussionists R. Scott Bryan (Sheryl Crow) and John Lum.
Peter Levin (Gregg Allman's Hammond B3 player) and Chuck Leavell (former Allman Brothers Band keyboardist and current Rolling Stones keyboardist) also appear on the record.
Listen to "All Night" from the album
The band's first performance on March 26 was 50 years, to the date, after The Allman Brothers Band first jammed in Jacksonville, Florida.
Watch a teaser clip for the Down to the River tour
In a March 11 announcement, Allman said: "It's a new band and new transition for us to go from being brothers to being band mates. We have natural organic chemistry that exists concurrently alongside our legacy and roots. This band stands on its own abilities. I'm so stoked to crank the amps and bring the music to the people."
Betts added: "It means so much to us to be able to put this record out and play these songs live for the people. We've put in a lot of hard work and this is just the next natural step in what hopefully will be a long journey."
Related: Dickey Betts is recovering from brain surgery
Watch the Allman Betts Band perform the title cut from the album on April 3
The Allman Betts Band 2019 Cancelled Tour Dates
Aug 09 – Providence, RI – Bold Point Park*
Aug 10 – Duluth, MN – Bayfront Blues Festival
Aug 11 – Portland, ME – Maine Savings Pavilion*
Aug 13 – Boston, MA – Rockland Trust Bank Pavilion*
Aug 15 – New York, NY – Radio City Music Hall*
Aug 16 – Ann Arbor, MI – Ann Arbor Blues Fest
Aug 17 – Troy, OH – Hopewell Music Fest
Aug 23 – Somers Point, NJ – William Morrow Muni Beach
Aug 24 – Arrington, VA – Lockn' Festival
Sep 01 – Lakeville, PA – Cove Haven Southern Rock Festival
Sept 5-8 Las Vegas, NV – Big Blues Bender
Sep 14 – Telluride, CO – Telluride Blues & Brews Fest
Sep 19 – Florence, SC – Francis Marion Univ. PAC
Sep 21 – Frederick, MD – Great Frederick Fair
Sep 22 – Greensboro, NC – Carolina Theatre
* with John Fogerty
The Allman Betts Band 2019 Tour Dates (Tickets are available here)
Oct 18 – Natchez, MS – Great Mississippi River Balloon Festival
Oct 19 – New Orleans, LA – Crescent City Blues & BBQ Festival
Oct 22 – Walhalla, SC – Walhalla Civic Auditorium
Oct 23 – Charleston, SC – Charleston Music Hall
Oct 24 – Ponte Vedra Beach, FL – Ponte Vedra Concert Hall
Oct 25 – Fort Pierce, FL – Sunrise Theater
Oct 26 – Punta Gorda, FL – Big Orange Music Festival
Oct 27 – Pembroke Pines, FL – Charles F. Dodge City Center
Oct 28 – Key West, FL – Sunset Green
Oct 31 – Augusta, GA – Miller Theater
Nov 01 – Auburn AL – Woltosz Theatre
Nov 02 – Tybee Island, GA – Tybee Post Theater
Nov 03 – Charlotte, NC – Neighborhood Theatre
Nov 04 – Frankfort, KY – Grand Theatre
Nov 06 – Morgantown, WV – Metropolitan Theatre
Nov 13 – New York, NY – Beacon Theatre*
Nov 14 – Glenside, PA – Keswick Theatre*
Nov 15 – Wallingford, CT – Oakdale Theatre*
Nov 16 – Waterloo, NY – The Vine*
Nov 17 – Northampton, MA – Academy of Music Theatre (rescheduled from Aug 22)
* w/Charlie Daniels Band
Allman Betts Band 2020 Tour Dates
Feb 05 – St. Charles, IL – Arcada Theater (rescheduled from Aug 29)
Feb 06 – Grand Rapids, MI – 20 Monroe Live (rescheduled from Aug 28)
Feb 09 – Cleveland, OH – House of Blues (rescheduled from Aug 27)
Feb 13 – Albany, NY – Skyloft (rescheduled from Aug 20)
Feb 14 – Salisbury, MA – Blue Ocean Music Hall (rescheduled from Aug 14)
Feb 21 – Anniston, AL – Anniston PAC
Mar 04 – Colorado Springs, CO – Pikes Peak Center (rescheduled from Sep 13)
Mar 06 – Phoenix, AZ – MIM (rescheduled from Sep 10-11)
Apr 23 – Cleveland, MS – Bologna PAC
May 06 – Florence, SC – Francis Marion Univ. PAC
May 14 – Baton Rouge, LA – Manship Theatre
May 15 – Lafayette, LA – Acadiana Center for the Perf. Arts

Latest posts by Best Classic Bands Staff
(see all)