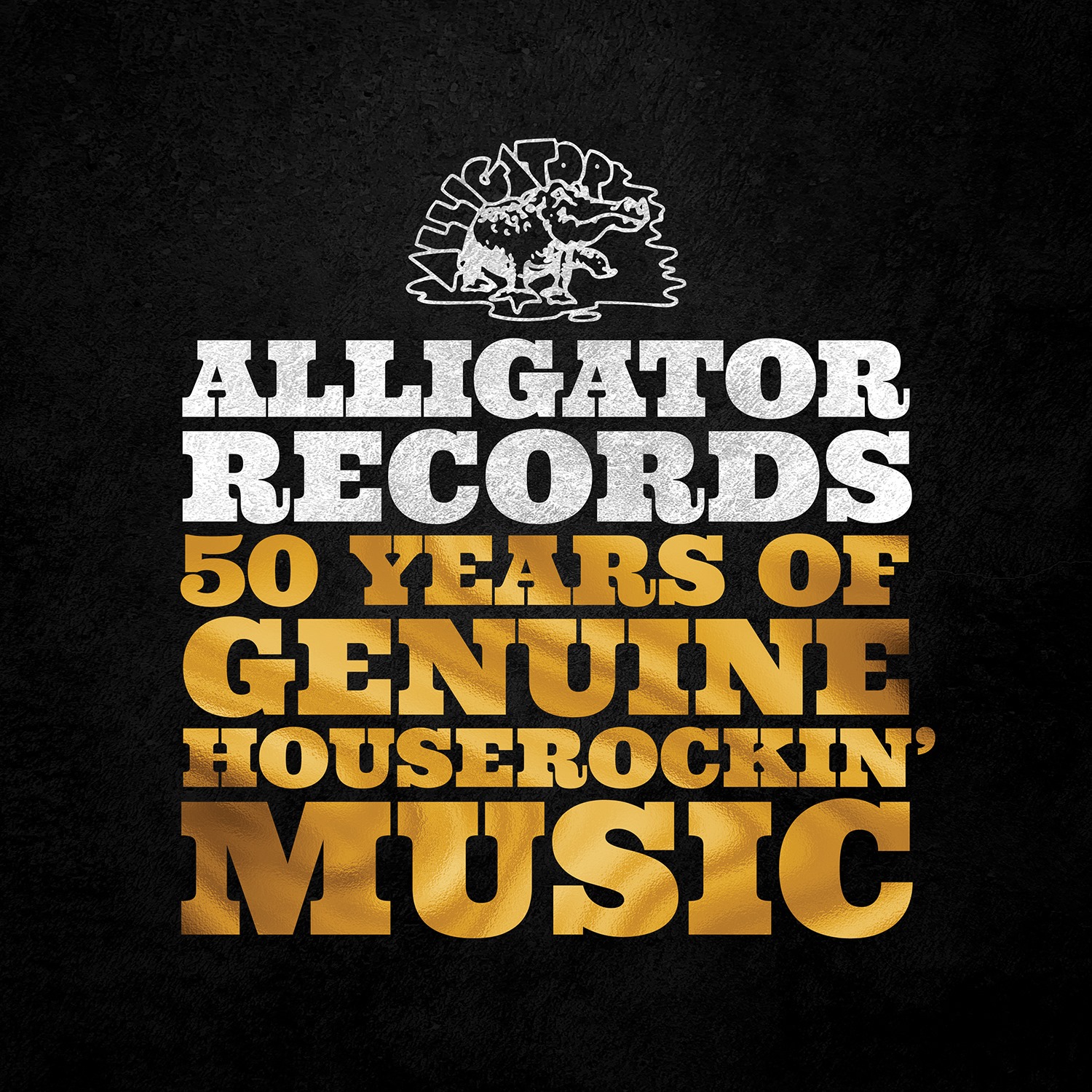 Alligator Records will celebrate a half-century of recording history-making blues and roots rock with the June 18, 2021 release of Alligator Records — 50 Years of Genuine Houserockin' Music. Both the 24-song gatefold two-LP set (over 100 minutes of music) and the 58 song three-CD set (over 230 minutes) lay out label founder and president Bruce Iglauer's vision. The collection — with richly detailed liner notes written by Iglauer himself — highlights the label's extraordinary past, headline-generating present, and a future dedicated to nurturing new generations of blues artists and fans.
Alligator Records — 50 Years of Genuine Houserockin' Music features songs from legendary artists like Hound Dog Taylor, Koko Taylor, Son Seals, Albert Collins, Johnny Winter, Professor Longhair, Lonnie Brooks, Luther Allison and Michael "Iron Man" Burks, interspersed with cuts from current blues and roots icons Elvin Bishop, Charlie Musselwhite, Guitar Shorty, Billy Boy Arnold and Mavis Staples. Songs from today's world-renowned stars like Shemekia Copeland, Lil' Ed & The Blues Imperials, Rick Estrin & the Nightcats, Marcia Ball, Tommy Castro & the Painkillers, and Roomful of Blues flow together seamlessly with music from newer voices, including Christone "Kingfish" Ingram, Nick Moss, Toronzo Cannon and Selwyn Birchwood.
The CDs are packaged in an 8-panel, 4-pocket CD wallet with 40-page color booklet. The LPs packaged in a double-pocket gatefold cover with extensive liner notes. This marks the first Alligator anniversary release on vinyl, as well as the first double-LP in label history.
Fifty years ago, 23-year-old blues fan Bruce Iglauer spent his meager savings to record an LP by his favorite Chicago blues band, Hound Dog Taylor & the HouseRockers, and founded Alligator Records to release it. Today, Alligator boasts a catalog of over 350 titles, many of which are renowned, award-winning, time-tested classics of the genre. Alligator Records' artists and recordings have received 48 Grammy Award nominations and three Grammy Awards, over 150 Blues Music Awards (the blues community's highest honor) and over 70 Living Blues Awards (presented by Living Blues magazine).
From the April 13 announcement: Since releasing that first Hound Dog Taylor record, Alligator Records — with the input and guidance from the 14-person staff (many of whom have been with the label for more than 25 years) — has become the most successful blues label in the world. And the Alligator story is still unfolding. From the early days of recording only Chicago talent, to attracting national and international musicians, to the label's commitment to nurturing the new generations of blues and roots artists, Alligator, like the blues itself, continues to break new ground while staying true to its roots.
See below the links for the CD track listing.
Related: Many of these legends are featured in our story, 7 Class Axes & the Guitarists Who Wielded Them
Disc 1
1 Hound Dog Taylor & The Houserockers – Give Me Back My Wig
2 Koko Taylor – I'm A Woman
3 Big Walter Horton with Carey Bell – Have Mercy
4 Fenton Robinson – Somebody Loan Me A Dime
5 Professor Longhair – It's My Fault, Darling
6 Son Seals – Telephone Angel
7 Johnny Winter – Lights Out
8 Albert Collins – Blue Monday Hangover
9 James Cotton – Little Car Blues
10 Albert Collins, Robert Cray & Johnny Copeland – The Dream
11 William Clarke – Pawnshop Bound
12 Lonnie Mack – Ridin' the Blinds (Live)
13 Lonnie Brooks – Cold Lonely Nights (Live)
14 Luther Allison – Soul Fixin' Man (Live)
15 Clarence "Gatemouth" Brown – Got My Mojo Working
16 Saffire–The Uppity Blues Women – Sloppy Drunk
17 Roy Buchanan – That Did It
18 The Paladins – Keep On Lovin' Me, Baby
Disc 2
1 Michael Burks – Love Disease
2 Kenny Neal – I'm A Blues Man
3 The Holmes Brothers – Run Myself Out Of Town
4 Little Charlie & The Nightcats – Jump Start
5 Katie Webster – I'm Still Leaving You
6 Smokin' Joe Kubek & Bnois King – Don't Lose My Number
7 The Kinsey Report – Corner Of The Blanket
8 Carey Bell – I Got A Rich Man's Woman
9 C.J. Chenier & The Red Hot Louisiana Band – Au Contraire, Mon Frere
10 Mavis Staples – There's A Devil On The Loose
11 Michael Hill's Blues Mob – Presumed Innocent
12 Steady Rollin' Bob Margolin – Not What You Said Last Night
13 Billy Boy Arnold – Man Of Considerable Taste
14 Cephas & Wiggins – Ain't Seen My Baby
15 Long John Hunter – Marfa Lights
16 Dave Hole – Phone Line
17 Eric Lindell – Josephine
18 Joe Louis Walker – I Won't Do That
19 Janiva Magness – That's What Love Will Make You Do
20 The Siegel-Schwall Band – Going Back To Alabama
21 Corey Harris & Henry Butler – Why Don't You Live So God Can Use You?
Disc 3
1 Marcia Ball – Party Town
2 Lil' Ed & The Blues Imperials – What You See Is What You Get
3 Roomful Of Blues – In A Roomful Of Blues
4 Billy Branch & The Sons Of Blues – Blue and Lonesome
5 Christone "Kingfish" Ingram – Outside Of This Town
6 Shemekia Copeland – Clotilda's On Fire
7 Curtis Salgado – The Longer That I Live
8 Selwyn Birchwood – Living In A Burning House
9 Elvin Bishop & Charlie Musselwhite – Midnight Hour Blues
10 The Cash Box Kings – Ain't No Fun (When The Rabbit Got The Gun)
11 Tommy Castro & The Painkillers – Make It Back To Memphis (Live)
12 JJ Grey & Mofro – A Woman (Live)
13 Rick Estrin & The Nightcats – I'm Running
14 Coco Montoya – You Didn't Think About That
15 Tinsley Ellis – Ice Cream In Hell
16 Chris Cain – You Won't Have A Problem When I'm Gone
17 Guitar Shorty – Too Late

Latest posts by Best Classic Bands Staff
(see all)