Manifesto Records will release a new, complete 12-CD boxed set by prog-rock/jazz guitar innovator Allan Holdsworth, titled The Man Who Changed Guitar Forever, along with a 2-CD updated and expanded "best of" collection selected by the artist, titled Eidolon. Both are out on April 7.
According to a press release, "Manifesto Records referenced the boxed set's seemingly portentous title from the cover story title featuring Holdsworth in Guitar Player magazine's April 2008 edition. Given his humble nature, Holdsworth is a bit embarrassed by the title and finds the notion that he changed 'guitar forever, somewhat overblown—more befitting of names like Orville Gibson, Leo Fender, or Ned Steinberger."
Holdsworth, born in Bradford England in 1946, embarked on a solo career as composer and bandleader exclusively in 1979. His career as producer, bandleader and lead composer is documented in this set, and with the artist's 28-track selection of favorites in Eidolon. Both packages include extensive liner notes, and an updated 2016 interview with Holdsworth discussing each release, his history and approach to the instrument.
Related: John Wetton dies at 67
From 1982 through 2003, Holdsworth recorded a dozen albums that have been put together for the The Man Who Changed Guitar Forever collection. Featured on the boxed set are 11 remastered studio albums, starting with the 1982 studio release, Allan Holdsworth, I.O.U., and the archival 2003 live release, Then!, recorded live in Tokyo in 1990. All feature bonus tracks added for special editions or the original Japanese releases, along with the original artwork and studio credits. Also included are the Grammy-nominated Road Games (1983), Metal Fatigue (1985), Sand (1987), Secrets (1989), Wardenclyffe Tower (1992), Hard Hat Area (1993), None Too Soon (1996), The Sixteen Men of Tain (2000) and Flat Tire: Music for a Non-Existent Movie (2001).
Pre-order is available here.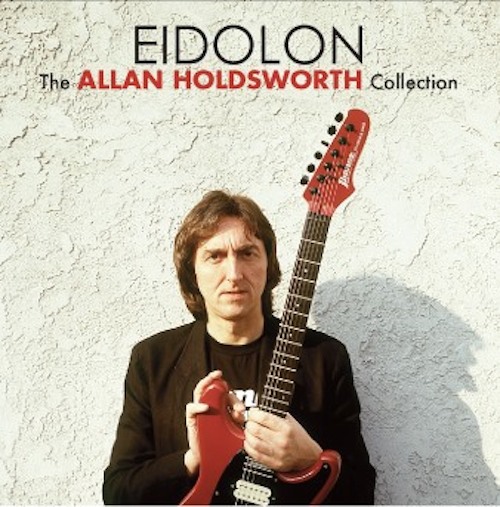 Holdsworth, the press release states," has been recognized by many of the world's most accomplished and unique rock and jazz guitar virtuosos. Luminaries including Eddie Van Halen, Carlos Santana, Frank Zappa, Pat Metheny, John McLaughlin, Joe Satriani and Tom Morello universally expressed reverence and astonishment at Holdsworth's pioneering approach to his playing and vast vocabulary of 'uncommon' chord voicings. He further expanded the guitar's orchestral potential with a range of electronic effects, then moved on to become one of the early innovators of guitar-based synthesizer controllers. In the nearly five decades Holdsworth has been touring, collaborating, and recording, he has created an immense sonic and musical legacy."
In the '70s he played with legendary Miles Davis drummer Tony Williams and Cream bassist Jack Bruce as the band Lifetime and toured with Soft Machine. He worked with former Yes and King Crimson drummer Bill Bruford's first solo project, Feels Good To Me, and subsequent recordings with Jean-Luc Ponty and Gong. Bruford suggested Holdsworth for the progressive-rock "supergroup," U.K., which, along with Bruford, also featured the late John Wetton and Eddie Jobson.
Watch Allan Holdsworth in Japan in 1984
Amazon pre-orders for the boxed set are available here, and for Eidolon here. 
Never miss a post! Sign up for Best Classic Bands' Newsletter; form is on every page.

The BCB team brings you the latest Breaking News, Contests, On This Day rock history stories, Classic Videos, retro-Charts and more.

Latest posts by Best Classic Bands Staff (see all)