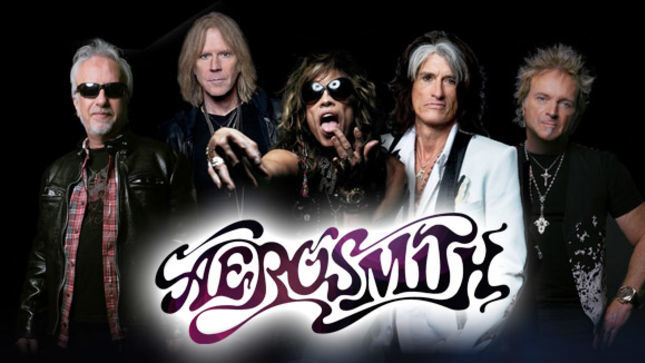 One of classic rock's longest running superstar acts may be nearing the end of its career. Though group plans call for a tour next year, Steven Tyler recently speculated that it could be Aerosmith's last hurrah.
"I'm doing 30 [solo] shows from May until August," Tyler told Rolling Stone. "And then in 2017 we go out with Aerosmith. We're probably doing a farewell tour. Look, there's two bands that still have the original members, us and the Stones. I'm grateful for that."
Late last year, guitarist Brad Whitford confessed that the members of Aerosmith had been discussing the possibility of the band formally saying goodbye. "We are actually talking about that – about actually putting together a sort of wind-down tour which we would call the Farewell Tour," he said to podcaster Eddie Trunk. "I guess it's just because of our age. You know, something's gonna happen. It's just inevitable that somebody's not gonna be able to do it anymore. So it would be very nice to take a nice long bow and say thank you and… put it to bed kind of gracefully."
Tyler has embarked on a solo career as a country music artist and plans to issue his debut album (no title has been announced yet) later this year (no date yet announced) on the Nashville-based Big Machine Group's Dot Records label. So far he has released two songs: the flag-waving "Red, White & You" (which name checks Tom Petty) and spirited devotional "Love Is Your Name."
The former tune left Tyler's bandmate and songwriting partner Joe Perry less than impressed. "Hey, if I didn't know him when I heard the song I'd go, 'It's okay, next,'" Perry said in USA Today. "I'm not going to say anything else about that. Steven is in Nashville doing whatever he's doing. He's got a [bleeping] rhinestone cowboy hat going 'Yippee ki yay.' I don't know what else to say about that." The Aerosmith guitarist has lately been pursuing his band project with Alice Cooper and Johnny Depp, Hollywood Vampires (read our review of their album here).
Please sign up for Best Classic Bands' newsletter!
In the tradition of the pair who once called themselves The Toxic Twins, Tyler first sniped back that Perry was "jealous' (Perry left Aerosmith from 1979 to '84). But then the singer became more conciliatory. "I really, really, couldn't be here doing what I'm doing now if if wasn't for Joe Perry. I wouldn't be anywhere without those guys," he says of his band, "so I'm as grateful as I can be."
Aerosmith last played together at a concert in Moscow, Russia in September 2015 and released their most recent and 15th album, Music From Another Dimension!, in 2012. Concludes Tyler (who plays a special benefit show in New York next month), "Whether we do a farewell tour or go into the studio and do another record, I'm just excited about it."

Latest posts by Best Classic Bands Staff
(see all)