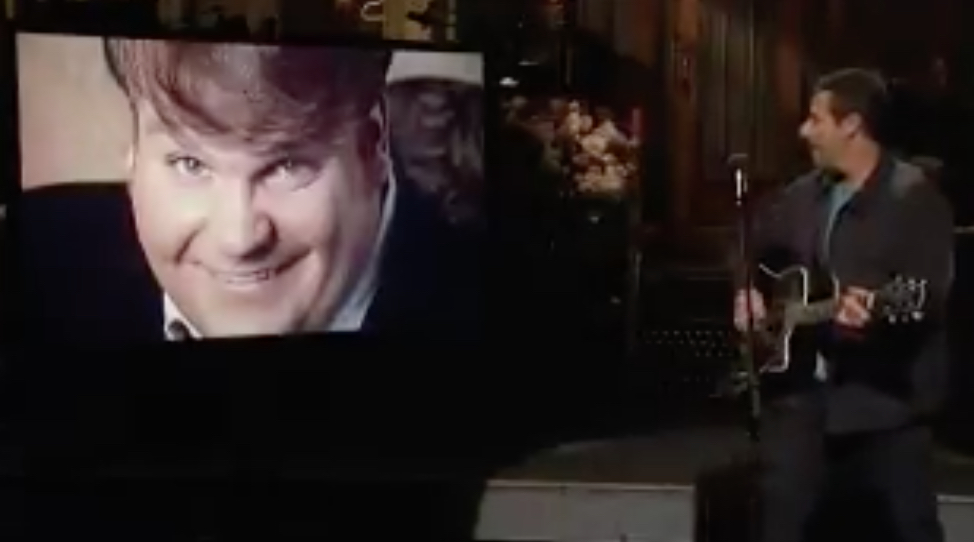 Adam Sandler hosted Saturday Night Live on May 4, 2019, and paid tribute to "my friend, Chris Farley" with an original song. The two cast members' SNL careers had intersected from 1990-1995.
Sandler had never hosted SNL before. During his years on the late night program, he became known for his original musical compositions that celebrated Hanukkah ("Hanukkah is the Festival of Lights; instead of one day of presents, we get eight crazy nights") and Thanksgiving ("Eat that turkey all night long; 50 million Elvis fans can't be wrong").
In the new song, which was the evening's final segment, Sandler seamlessly wove in many of Farley's most memorable SNL sketches and characters including Matt Foley, a Chippendale's dancer, and a lunch lady.
Did you know the Matt Foley character was created by Bob Odenkirk of Breaking Bad and Better Call Saul fame?
Sandler's performance was accompanied by many photos and clips from the series, as well as numerous ones from his own private collection.
Sandler, a Brooklyn native, was born September 9, 1966. He initially joined SNL in 1990 as a writer at the ripe age of 24 and a year later became a featured player. Though he appeared on the sketch comedy series for only five seasons, his impact was certainly felt and he used his fame as a springboard to feature films and his own Happy Madison production company.
Farley, born February 15, 1964, in Madison Wisconsin, joined SNL in 1990 and stayed for five seasons. Following small roles in feature films starring SNL alums, he starred in such comedies as Tommy Boy, Black Sheep and Beverly Hills Ninja. On December 18, 1997, he was found dead in his Chicago aparment. Farley was just 33.
Watch Sandler perform his "Chris Farley Song" on SNL
Related: Some classic scenes from the road comedy Tommy Boy, with Farley and David Spade

Latest posts by Best Classic Bands Staff
(see all)