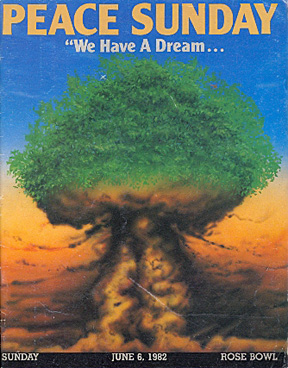 The idea behind the concert was a simple one: mass annihilation is bad for humanity. And with that in mind, a stream of famous singer-songwriters gathered at the Rose Bowl in Pasadena, Calif., on June 6, 1982, with the aim of promoting nuclear disarmament. With the crowd size estimated at 80-90,000, an all-star assemblage of classic rock greats including Stevie Wonder, Bonnie Raitt, Jesse Colin Young, Donovan, Gil Scott-Heron, Taj Mahal, Nicolette Larson, Dan Fogelberg, Stevie Nicks, Linda Ronstadt, Tom Petty, Timothy B. Schmit and Don Felder of the Eagles, Jackson Browne, Crosby, Stills & Nash and others entertained the crowd.
But the highlight of Peace Sunday, for most, arrived during Joan Baez's set when, after performing "Diamonds and Rust," her hit about her relationship with Bob Dylan, she welcomed the man himself to join her onstage. The audience erupted at the introduction of the surprise guest and the old friends and one-time lovers then sang three songs together: Dylan's antiwar classic "With God on Our Side," a cover of Jimmy Buffett's "A Pirate Looks at Forty" and—one of the most durable and poignant anthems of the Civil Rights era of two decades earlier—Dylan's "Blowin' in the Wind."
Watch Dylan and Baez sing "With God on Our Side"
Dylan's brief appearance at the one-day event would be his only live concert appearance for the entire year of 1982, coming after his "Christian" concerts of the past three years.
Watch the pair perform "Blowin' in the Wind"
The Baez-Dylan collaboration was, of course, a major highlight of the 10-hour concert, but not the only one. CSN came together for "Chicago" and "Long Time Coming" and then left Stills with Dave Mason to sing Muddy Waters' "Hoochie Coochie Man" and Joe Walsh's "Rocky Mountain Way." Graham Nash and David Lindley joined Jackson Browne for the latter's opening number, "The Crow on the Cradle," and Nash also met up with Raitt for a duet on "Love Has No Pride."
Listen to Stevie Nicks' set at Peace Sunday
Browne stuck around to sing three tunes with veteran rocker Gary U.S. Bonds, including Browne's radio staple "The Pretender," while Petty offered up his own take on two Buddy Holly numbers, "Well All Right" and "Not Fade Away."
The obligatory show-ending sing-along featured the entire cast harmonizing on CSN&Y's "Teach Your Children" and—of course—"Give Peace a Chance." Nearly four decades later, nuclear disarmament still has not been achieved, but for one day, at least, some of the world's greatest rockers let their support of the movement be known.
Related: Listings for 100s of classic rock tours
Complete Program
Gil Scott Heron – Alien
Gil Scott Heron – Please Save The Children
Gil Scott Heron – Shut 'Em Down
Reverend Jesse Jackson speech
Jesse Colin Young – Imagine
Jesse Colin Young – Get Together (with Freebo, Susie Young, Graham Nash, Jerry Corbitt)
Graham Nash – Military Madness
Bonnie Raitt & Graham Nash – Love Has No Pride
Donovan – Sunshine Superman
Donovan – Season Of The Witch
Donovan – Mellow Yellow
Timothy B. Schmit & Don Felder – I Can't Tell You Why
Crosby, Stills & Nash – Long Time Gone
Crosby, Stills & Nash – Chicago
Stephen Stills – Love The One You're With
Stephen Stills – For What It's Worth
Stephen Stills – Dark Star
Stephen Stills & Dave Mason – Hoochie Coochie Man
Stephen Stills & Dave Mason – Rocky Mountain Way
Taj Mahal – Mailbox Blues
Taj Mahal – Stagger Lee
Stevie Wonder – Front Line
Stevie Wonder – speech and poem
Stevie Wonder – Master Blaster
Stevie Wonder – Do I Do
Stevie Wonder – "We Demand World Peace Today" chant
Joan Baez – Do Right Woman
Joan Baez – Warriors Of The Sun
Joan Baez – Imagine
Joan Baez – Diamonds And Rust
Joan Baez & Bob Dylan – With God On Our Side
Joan Baez & Bob Dylan – A Pirate Looks At Forty
Joan Baez & Bob Dylan – Blowin' In The Wind
Dan Fogelberg – The Garden
Dan Fogelberg – You're Leaving Now
Dan Fogelberg – Face the Fire
Dan Fogelberg – There's a Place in the World for a Gambler
Stevie Nicks – Edge Of Seventeen
Stevie Nicks – Sara
Stevie Nicks – I Need To Know
Stevie Nicks – Rhiannon
Ed Asner – speech
Linda Ronstadt – Blue Bayou
Linda Ronstadt – The Shoop Shoop Song (It's In His Kiss) (with Rosemary Butler & Nicolette Larson)
Linda Ronstadt & Nicolette Larson – I Only Want To Be With You
Linda Ronstadt – Get Closer
Linda Ronstadt – Back In The U.S.A.
Bette Midler – The Rose
Jackson Browne & Graham Nash – Crow On The Cradle
Jackson Browne – Running On Empty
Jackson Browne – Doctor My Eyes
Gary U.S. Bonds & Jackson Browne – Happy Birthday
Gary U.S. Bonds & Jackson Browne – This Little Girl
Gary U. S. Bonds & Jackson Browne – The Pretender
Tom Petty – Well Alright
Tom Petty – Not Fade Away
Everyone – Teach Your Children
Everyone – Give Peace A Chance

Latest posts by Best Classic Bands Staff
(see all)