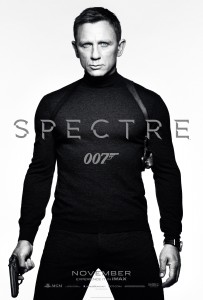 Daniel Craig may have recently said he'd rather slit his wrists than star in another James Bond movie, but fans of "The Franchise" – as it's known to its producers and Hollywood types – are always ready for another adventure with James Bond, agent 007, license to kill, of England's MI6 intelligence service. And have been for 53 years now ever since Sean Connery debuted as Bond in 1962's Dr. No (and Ursula Andress emerged from the warm waters of the Caribbean in a white bikini to the delight of red-blooded males the world round) in what has become one of the longest-running and most successful series in the history of cinema, now with its 24th Bond flick from Eon Productions, who have overseen all but two 007 movies.
It's almost as if the plot points in Spectre don't even matter by now as long as there is evil to be stopped, a stunning "Bond girl" or three, a number of scenic international locales, at least one edge-of-your seat chase scene and a few close brushes with death for our hero. But if you really need to know now and can't wait until it arrives on November 6th – U.K. moviegoers got first crack with an October 26th opening setting box office records with $15.6 million over its first two days – the film details his first encounter with the shadowy international criminal organization SPECTRE (last seen in 1971's Diamonds Are Forever) and Bond's past coming back to haunt him.
And of course, as always, there's a theme song from a current pop star. This time it's Sam Smith with "Writing's On The Wall," which has already topped the U.K. singles chart. But to us it sounds a bit slim compared to other Bond songs in the past.
For those of you keeping track, Dame Judi Dench was out as M and replaced by Ralph Fiennes as of Skyfall. Ben Whishaw returns as Q, the MI6 quartermaster. And Christoph Waltz, who made a splash in Quentin Tarantino's Inglorious Basterds as an SS officer and then Django Unchained as a bounty hunter is now Bond's SPECTRE nemesis with a mysterious past connection to the ultimate silver screen spy.
The Skyfall team of director Sam Mendes and screenwriters John Logan, Neal Purvis and Robert Wade return (with the addition of Jaz Butterworth to the screenplay team). Craig's gripe about never playing Bond again is reportedly a result of his dissatisfaction with the script, a knee injury on the set that required an operation, and numerous reshoots well after production was slated to end.
Craig will be missed if Spectre, his fourth turn as Bond, is his final. (For the record, Sean Connery made six Bond films, Roger Moore the most at seven, two for Timothy Dalton and four by Pierce Brosnan.) His debut as Bond in 2006's Casino Royale signaled a sea change away from a reliance on flashy gadgetry (the only one used is Royale is a GPS), sometimes tacky salaciousness and too often flat humor in the franchise's lowest ebb during the later Moore years. It reinvigorated the Bond series with a seriousness that harked back to the original Ian Fleming books that launched the films to begin with.
No matter who plays 007 in Bond 25 – the intriguing notion of Idris Elba as a black Bond was bandied about earlier this year – it's obvious after a half century that like diamonds, secret agent James Bond is forever.

Latest posts by Best Classic Bands Staff
(see all)