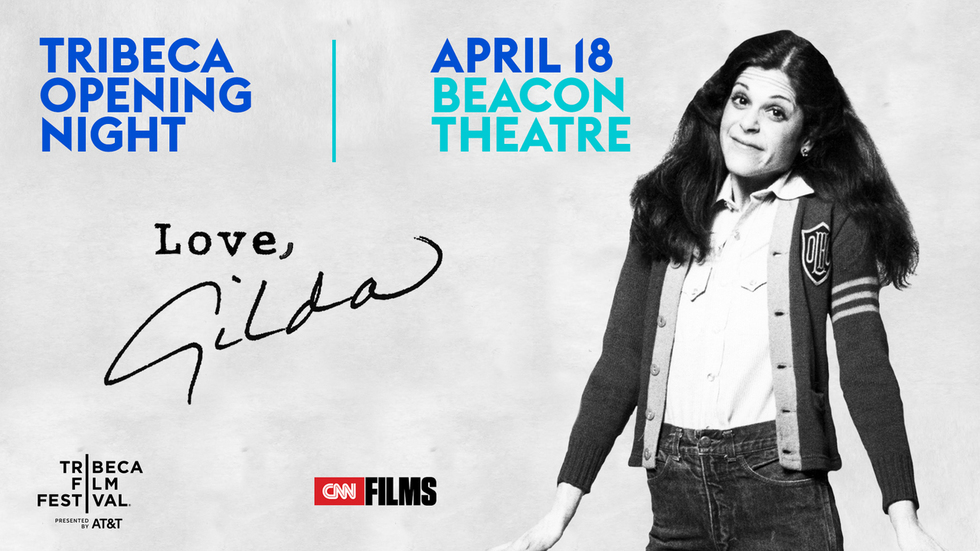 The Tribeca Film Festival will open its 17th edition with the world premiere of a documentary about Gilda Radner. Love, Gilda, a feature length film from CNN Films. The Emmy and Grammy award-winning comedian became a cultural icon the moment audiences first laughed with her on the 1975 debut episode of Saturday Night Live.
The film will premiere on the opening night of the Tribeca Film Festival at the Beacon Theatre in New York, the city she called home and in which she catapulted to fame.
This year's festival also includes a 35th anniversary screening of Scarface, which will include a reunion and panel discussion with Al Pacino and Michelle Pfeiffer. Tickets for both films went on sale March 20 here. The 2018 Tribeca Film Festival runs April 18 – 29.
Love, Gilda is directed and produced by Lisa D'Apolito with the support of the Gilda Radner estate. The film is a true autobiography of a pioneering woman, told in her own voice and through her own words. It weaves together audiotapes, rare home movies, diary entries, and interviews with her friends and those inspired by her, including Bill Hader, Amy Poehler, Maya Rudolph, and Cecily Strong, original Saturday Night Live cast and crew members Chevy Chase, Laraine Newman, and Paul Shaffer, as well as SNL creator-producer Lorne Michaels, series writer Alan Zweibel, Broadway composer Stephen Schwartz, Second City CEO Andrew Alexander, and long-time friend and actor Martin Short.
Radner captivated millions of television viewers as an original cast member of Saturday Night Live from 1975 to 1980. The popularity of her now-classic comedic characters Roseanne Roseannadanna, Emily Litella, and Lisa Loopner fueled the young talent to meteoric fame in television, movies, and on Broadway.
After finding happiness in love with Gene Wilder, she received the cruelest joke of all: cancer. Her fight against the disease served as an inspiration to people impacted by the illness to stay positive and to keep laughing no matter what challenges life brings you.
"As a Festival that has always supported women's voices and is largely run by women we are incredibly proud to celebrate the inimitable voice of Gilda during the opening night of our Festival," said Jane Rosenthal, Co-Founder and CEO of TFF. "Gilda Radner was a powerful comedic force of nature who opened doors and thrilled audiences while becoming one of the most prolific comedians of a generation. Her cutting edge humor was only second to her dedicated leadership in cancer care with her eponymous Gilda's Club."
Love, Gilda brings audiences into the honest and whimsical world of a beloved performer, who found what might have been her greatest role by truthfully sharing her own stories.
The 2018 Tribeca Film Festival will announce its feature film slate on March 7.
Related: Our Classic Video from Tommy Boy, starring SNL alums Chris Farley and David Spade

The BCB team brings you the latest Breaking News, Contests, On This Day rock history stories, Classic Videos, retro-Charts and more.

Latest posts by Best Classic Bands Staff (see all)