Gilda Radner became a cultural icon the moment audiences first laughed with her on the 1975 debut episode of Saturday Night Live. She and her fellow Not Ready For Primetime Players changed the face of television comedy. Saturday nights at 11:30 p.m. became appointment television almost immediately, changing evening entertainment plans for millions in those early pre-VCR days.
Bill Murray joined SNL's cast for Season Two, replacing breakout star Chevy Chase, and seamlessly fit in with cast holdovers Dan Aykroyd, John Belushi, Jane Curtin, Garrett Morris and Laraine Newman.
By 1978-1979's Season Four, the series was clicking as the show's writers reprised several sketches that audiences loved.
One such recurring skit was "The Nerds," which starred then-32-year-old Radner, born June 28, 1946, as the teenaged Lisa Loopner and her widowed mother, "Mrs. Loopner," played by Curtin. Lisa's libido-driven boyfriend, Todd DiLaMuca (Murray), was also a constant, as he sought Lisa's attention.
For the "Broken Fridge" sketch, which originally ran in the October 7, 1978 episode, Lisa and Todd arrive home from school. "You kids must be starving," says Mrs. Loopner dressed, as always, in a housecoat. "Let me get you some miniature marshmallows."
She explains that the old Norge refrigerator is "on the fritz" as she empties it for when the repairman arrives. Lisa is excited because she's received a reply to a letter she sent to grandmaster chess champion Boris Spassky. "I'm gonna be president of the Chess Club and you're gonna be president of the Pepperoni Pizzaface Club," she teases Todd.
Murray, born Sept. 21, 1950, then goes into full lounge lizard mode turning Frankie Valli's recent hit single, "Grease," into a parody called "Chess."
Once Mrs. Loopner leaves, Todd does his best to flirt with Lisa. "Here comes the Noogie Patrol," he yells. At the 3:15 mark, the refrigerator repairman, played by Aykroyd, arrives, in a too-small, midriff-baring t-shirt.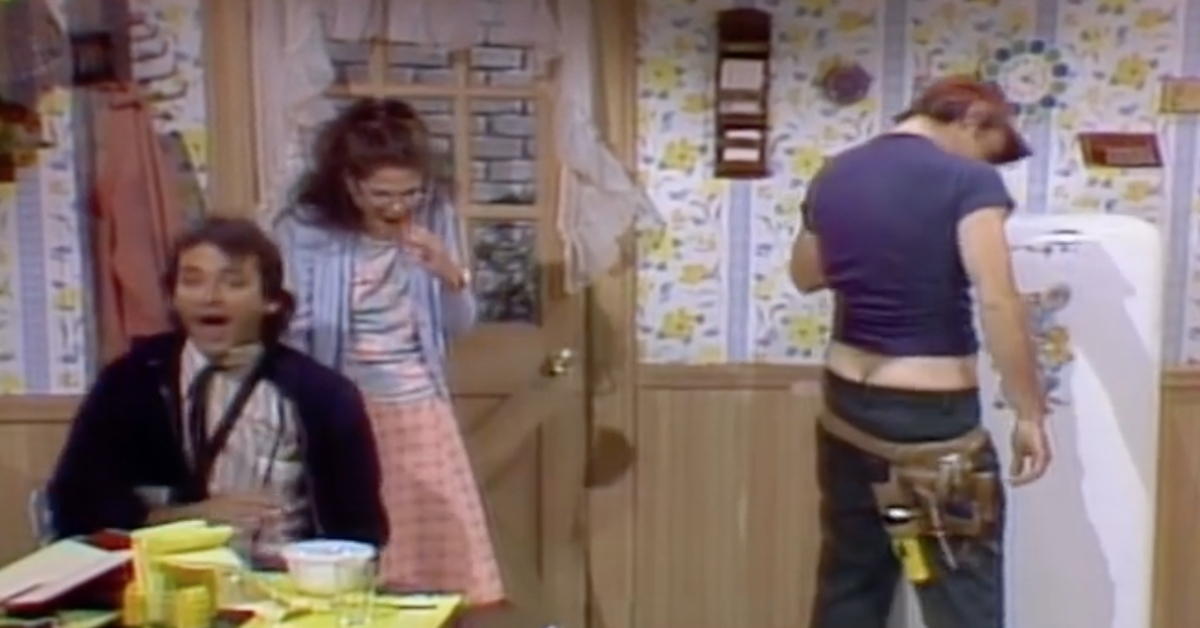 He admires the appliance. "What a beauty!" he exclaims. "An old Norge." As he turns towards the refrigerator, Radner and Murray – and the TV audience – are in for a surprise. Aykroyd's pants, weighed down by his tool belt, are sagging, revealing his… butt crack.
Lisa and Todd can't contain themselves. "That's a rare sight, alright," says. Todd. When Aykroyd bends over, even more is revealed. He wonders why the pair are having such a good time doing homework. "We're just laughing at something funny that happened on the way home from school," Radner says, laughing hysterically.
"Yeah, the moon came out surprisingly early," adds Murray.
Watch the "Broken Fridge" sketch
Radner died May 19, 1989.
Related: SNL's "Cheeseburger Cheeseburger" sketch

Latest posts by Best Classic Bands Staff
(see all)