The Youngbloods' 'Get Together': Unique Path to Success
by Jeff Tamarkin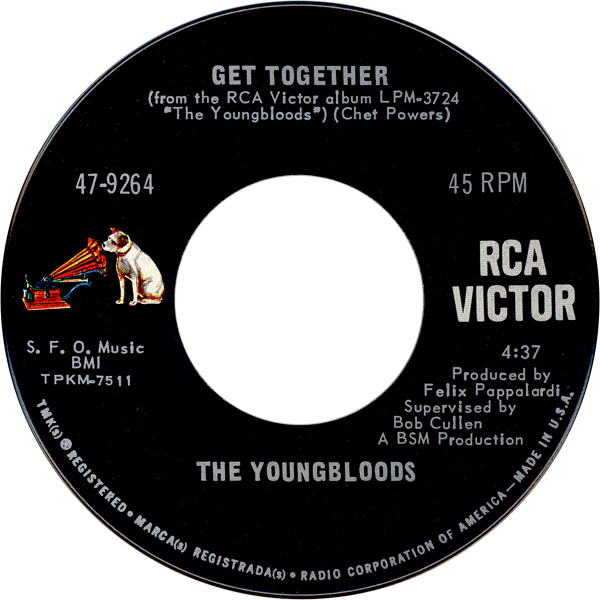 "Come on people, now
Smile on your brother
Everybody get together
Try to love one another right now"
With that simple chorus, a band called the Youngbloods laid out a sentiment only the harshest cynic wouldn't take to heart. It's straightforward, a universal plea—stop hating and let's all find a way to coexist on our planet. It was vital in the Summer of Love, and it's just as meaningful in today's increasingly shattered world.
The song, "Get Together," released on an RCA Victor single in July 1967—after it had already made the rounds as a track on the band's self-titled debut album—was not a hit at first for the Youngbloods. Nor was it a new song.
And they didn't even write it.
"Get Together" is credited to Chet Powers, the abbreviated name of Chester William Powers Jr., a singer-songwriter born in 1937 in Danbury, Conn. Powers had served in the Air Force before trying his luck as a folksinger in the coffeehouses of Greenwich Village, Cambridge and San Francisco. By 1963, as the folk revival heated up with the arrival of Bob Dylan, Peter, Paul and Mary and others, Powers had landed in Los Angeles, where he penned the song that he originally titled "Let's Get Together." It began:
"Love is but a song we sing
Fear's the way we die
You can make the mountains ring
Or make the angels cry
Though the bird is on the wing
And you may not know why"
Through the various verses and chorus, the lyrics—set to a jangly, uplifting melody—made the case for unity. The final verse:
"If you hear the song I sing
You will understand
You hold the key to love and fear
All in your trembling hand
Just one key unlocks them both
It's there at your command"
The chorus repeats and we're left knowing that what we've heard is the inalienable truth, and hoping that some day everyone else will know it.
Powers—who also went by the stage name Dino Valenti—was not the first to release his composition. That would be the Kingston Trio, who included it on their live album Back in Town, in June 1964.
Listen to the Kingston Trio's acoustic version here
In late 1965, "Let's Get Together" made it to the Billboard singles chart for the first time via a peppy folk-rock rendition by We Five, a San Francisco-based group that had months earlier enjoyed a #3 hit with "You Were on My Mind," itself a cover of Ian and Sylvia's original.
The song also became an early addition to the repertoire of that same city's newest folk-rock sensations, Jefferson Airplane who—still under the original title, and giving it a bit of a psychedelic edge—included it on their 1966 debut album for RCA, Jefferson Airplane Takes Off. Sung in three-part harmony by founding members Marty Balin, Paul Kantner and Signe Anderson, the Airplane's crisply arranged version helped establish them as a leading voice within the emerging San Francisco scene.
Listen to the Airplane sing it
By the time the song found its way, in 1966, to the New York-based quartet the Youngbloods—lead vocalist and bassist Jesse Colin Young (real name: Perry Miller, born in Queens, N.Y., in 1941), guitarist Jerry Corbitt, guitarist/keyboardist Lowell Levinger (who called himself Banana) and drummer Joe Bauer—the author of "Let's Get Together" had relocated to the San Francisco area, where he had joined up with a group of local musicians that would soon call itself Quicksilver Messenger Service.
But Chet Powers/Dino Valenti (sometimes spelled Valente) didn't get to experience that band's initial flush of success or, for that matter, the Summer of Love—not the way most of his peers did, anyway. Before Quicksilver could get very far, Valenti was arrested for marijuana possession, which, in those days, was still a major crime in California. He was sentenced to one to 10 years in Folsom State Prison, but not before he sold the rights to "Let's Get Together" to Frank Werber, the Kingston Trio's manager, in order to raise cash for his defense.
By the time Dino Valenti was back on the streets in the late '60s—rejoining Quicksilver for the duration and giving that band its biggest hits (including "What About Me" and the top 50 "Fresh Air," both of which he sang)—the Youngbloods' cover of his song had already come and gone on the Billboard Hot 100—twice!
The song had found its way to the Youngbloods via a New York singer-songwriter named Buzzy Linhart. "The night I met him in the Village years ago at the Cafe Au Go Go he was singing 'Get Together,' wrote Jesse Colin Young on Facebook when Linhart passed in 2020. "I had never heard it before and was struck dumb by its power and beauty. I rushed backstage and asked him to write the lyrics out for me, which he did with a smile I will never forget. I took it into rehearsal with the Youngbloods the very next day."
Upon its initial release in 1967, "Get Together," as the Youngbloods retitled it, had stalled at #62, even falling behind their first charting single, the uptempo "Grizzly Bear," which had hit #52. It quite possibly would have gone down in history as a footnote, but then, two years later, their recording of "Get Together" was used to score a public service announcement by the National Conference of Christians and Jews. In the months preceding Woodstock, in the spring of 1969, "Get Together" finally found its audience: The new exposure it received via the ad for the interfaith organization gave it a new life. For the week ending Sept. 6, the Youngbloods' "Get Together" (produced, as was their entire debut album, by Felix Pappalardi, then Cream's producer and later a member of Mountain) peaked at #5 nationally.
The Youngbloods placed a few more singles on the chart as well as several albums, including the sublime Elephant Mountain, released in 1969, just around the time that the earlier "Get Together" was experiencing its second life. By the time all of this was happening, Corbitt was no longer an official member (he died in 2014). The group continued first as a trio, then added another member, Michael Kane, on bass (freeing Young up to play guitar).
The Youngbloods split up in 1972 and Jesse Colin Young began a solo career that is still going today. Banana formed a new band, appropriately called Banana and the Bunch, while Bauer released a solo album. He died in 1982. As of 2023, Banana was a member of the band of Little Steven (Van Zandt).
Related: What were the other big radio hits of 1969?
"Get Together"/"Let's Get Together" was only just beginning to make its impact as the '60s faded into history. The song has since been recorded by numerous other artists over the decades—one of the most head-scratching uses was by Nirvana, who incorporated the "smile on your brother" refrain into "Territorial Pissings" on their zillion-selling Nevermind album—including England's Dave Clark Five, who changed the title yet again, to "Everybody Get Together," and had a U.K. top 10 hit with it.
Mostly though, "Get Together," in the familiar version by the Youngbloods, has been kept in the public consciousness via the many TV programs and films that need a positive 1960s-era anthem to illustrate a plot point or an attitude. From Forest Gump to The Simpsons it's ubiquitous even today. For whatever inexplicable reason, the group's recording has also turned up in commercials for everything from chicken to diapers. It would be easy to scoff at a song as optimistic as "Get Together" today, to call it naive, but it was written and recorded as a sincere and non-ironic plea.
We could use more like it.
Dino Valenti/Chet Powers died at age 57 in 1994, having lost the publishing rights to his song many years earlier. He cut a demo of the song in 1964, before the Youngbloods or even the Airplane, but his own version, a solo, slower, bluesy take, didn't go anywhere. It's since been resurrected on a few compilation albums. Give a listen…
Bonus video 1: Here is a rare demo recording of the song cut by David Crosby in 1964, before he joined the Byrds
Bonus video 2: Watch the Youngbloods perform a medley of "Get Together" and "Sunlight" acoustically on The Hollywood Palace, hosted by Milton Berle who introduces "the hottest group we have today in show business"

Latest posts by Jeff Tamarkin
(see all)