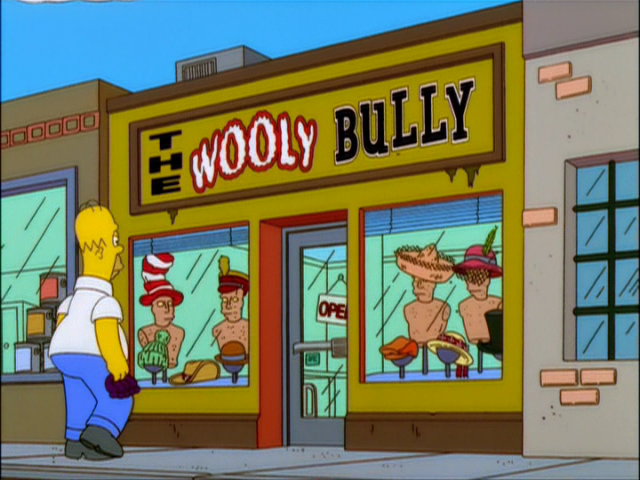 I might be mistaken about this, but I believe that "Wooly Bully" is the only song sung in separate movies by two multiple-Oscar-winning actors: Sean Penn in Fast Times At Ridgemont High and Meryl Streep in Ricki and The Flash. That's pretty heavy, because as versatile as Penn and Streep are, as speckled with grand achievements as their careers may be, there aren't that many things they've both done, so scenes wherein they gamely blast through a classic '60s rock tune by Domingo Samudio (that's Sam the Sham to you) will be fun to see side by side in around 2025 when they're being jointly honored by the Golden Globes for a lifetime of Exceptional Emoting. It would also make a delightful duet, Jeff Spicoli and Ricki Rendazzo counting "Uno, dos, one, two, tres, quatro!"
Sam the Sham and The Pharaohs' "Wooly Bully" was released on March 12, 1965. I've had discussions about the song over the years: one, on Facebook, about the names of the song's non-wooly characters (Hattie and Mattie is the consensus, although strangely, there were votes for Hallie and Sally, which I completely don't understand), and one in person about whether the legacy of "Wooly Bully" is as durable and significant as I believe it to be.
What I've discovered since that debate is that although the song did not reach #1 nationally (it was stymied by the Beach Boys and the Supremes, not shockingly), it was named Billboard's #1 Record of the Year for 1965, and I should note here that the year's actual #1 singles included "Downtown," "You've Lost That Lovin' Feelin'," "Ticket To Ride," "Mr. Tambourine Man," "(I Can't Get No) Satisfaction," "Yesterday" and "Hang On Sloopy," and it was also the year "Like A Rolling Stone" came out. So good going, Mr. Samudio. (He was born on March 6, 1937 [or Feb. 28, depending on your source].)
If you're a new Best Classic Bands reader, we'd be grateful if you would Like our Facebook page and/or bookmark our Home page.
"Wooly Bully" is nonsense. The Wooly Bully is a two-horned creature ("Here it comes! Here it comes!") of some sort, with a wooly jaw (that is, a kind of beard), but Mattie and Hattie's chatter is less creature-specific. Hattie, the more adventurous one, tells Mattie, "Let's not be L7, come and learn to dance" ("L7" being a slang term, going back to '50s Beatniks, for "square"), so has this Wooly Bully become, like the Hully Gully that inspired Samudio, a dance step? It's a primitive, driving, raucous, ridiculous thing, and it might have become a '60s version of a forgotten '50s novelty record like "The Purple People Eater," but it didn't; it became a staple of the rock and roll repertoire, a bar-band stand-by like "96 Tears" or "Gloria," and part of my second argument about "Wooly Bully" stemmed from my position that I would rather, from a historical-cultural standpoint, although obviously not from a financial one, have made one "Wooly Bully" or "96 Tears" (or, needless to say, "Louie Louie" or "Wild Thing") than the collected works of Genesis, including the solo projects of Collins and Gabriel.
"Wooly Bully," from the moment it hit the radio in 1965, was covered extensively, internationally. Spanish-singing garage bands, in particular, embraced it for obvious reasons: Los Shains, Los Johnny Jets, Los Teen Tops, Los Rockin' Deviis, Los Freddys…all did it as "Bule Bule." It was done in Italian, in Chinese. in French. Singapore's "A Go-Go Queen" Rita Chao did it as "凌雲 我不能没有你"
It was interpreted by the Sir Douglas Quintet, the Swingin' Medallions, the Bobby Fuller Four, covered instrumentally by the Ventures, Ace Cannon and Hal Blaine, but none of that was the least bit unusual for the '60s; when a single took over the charts, the song turned up on dozens of albums. That was common practice. But "Wooly Bully"'s post-'65 life — up to its inclusion in the Jonathan Demme-directed Streep vehicle –has been wildly impressive for such a goofball of a composition. Hugh Laurie hasn't won an Oscar yet, but he's grabbed some Golden Globes, SAG Awards, People's Choice Awards and six Emmy nominations (plus: he's a Brit, so added prestige), and he's performed "Wooly Bully." When Bruce Springsteen and the E Street Band headlined at the Harley Davidson Festival in Milwaukee (2008), "Wooly Bully" was part of the set. That suave crooner Bryan Ferry's done it, and so have The Great Gonzo, Rizzo the Rat and Fozzie Bear. It's a crazy-long list: Joan Jett and the Blackhearts, Los Lobos, the Smithereens. Ry Cooder, Canned Heat, Elton John with the Bread and Beer Band. It's been done as ska (Bad Manners), as punk-rock (Eddie and the Hot Rods). Kubrick used it in Full Metal Jacket. And Wiki informs me that there is an Iranian version ("Atal Matal") by a group called Zinguala Ha.
The crossroads of genius and stupidity is where so much great rock and roll sets up camp, records knocked off in two or three takes, where genres collide for a few minutes (or less: "Wooly Bully" is around 140 seconds) and lyrics are alternately exclaimed and garbled. Friends of mine insisted that Sam the Sham is saying "Hand job! Hand job!" at the beginning of the song (the "Here it comes! Here It comes!" part being so slurred), and other people puzzled over the "don't you be L7" line. And what is he saying before starting the first verse?: "Watch it it'll get ya." I tried to figure that out for 50 years,until I discovered the video above. But it never mattered. Because it's a song that makes Jeff Spicoli run up to the stage and sing along (he doesn't know a lot, but this he knows), Springsteen shout it at a biker event, kids learn it from Muppets and Chipmunks. It's a song that connects Hugh Laurie and Meryl Streep to Doug Sahm and Joan Jett. Because no one wants to be L7.

Latest posts by Mitchell Cohen
(see all)