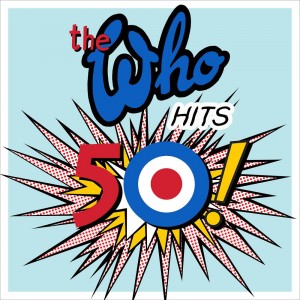 Universal Music Enterprises continues its exhaustive reissue campaign of Who singles with The Track Records Singles 1967 – 1973. The new seven-inch 45 RPM vinyl collection, due October 30th, features 15 singles that helped vault the group into true international superstardom, spanning the era from just prior to their first rock opera, Tommy, to their second Quadrophenia.
This third volume includes classic rock radio mainstays like "Won't Get Fooled Again," "Magic Bus" and "5:15." But the set is also noteworthy for its inclusion of such rarities as The Who's Rolling Stones covers "The Last Time" b/w "Under My Thumb," recorded as a gesture of support for Mick Jagger and Keith Richards when they were briefly imprisoned on drug charges.
This collection also contains tracks like "Join Together," "Relay" and "Let's See Action" as well as plenty of B-sides which were not included on any of the band's studio LPs. And while The Who were never pop radio darlings – as evidenced by their only one Billboard Hot 100 hit (not a typo) – this volume includes favorites like "I Can See For Miles," "Pinball Wizard" and "See Me, Feel Me." (The British band fared far better at home with 14 Top 10 singles.)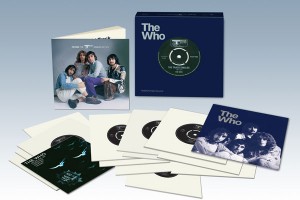 The four-part series features classic Who singles on the Brunswick, Reaction, Track and Polydor labels to mark the ongoing The Who Hits 50! celebration. Each set is pressed on heavyweight vinyl with paper sleeves (reproducing the period graphics front and back). The box includes a 20-page color booklet with liner notes about each release and period memorabilia. The Brunswick and Reaction collections were released earlier this year; the Polydor set has not yet been announced.
Complete Volume 3 track  list:
"Pictures of Lily" b/w "Doctor Doctor"
"The Last Time" b/w "Under My Thumb"
"I Can See For Miles" b/w "Someone's Coming"
"Dogs" b/w "Call Me Lightning"
"Magic Bus" b/w "Dr Jeckyll & Mr Hyde"
"Pinball Wizard" b/w "Dogs Part Two"
"The Seeker" b/w "Here For More"
"Summertime Blues" b/w "Heaven and Hell"
"See Me, Feel Me" b/w "Overture"
Tommy EP: "See Me, Feel Me," "Christmas" b/w "Overture," "I'm Free"
"Won't Get Fooled Again" b/w "Don't Know Myself"
"Let's See Action" b/w "When I Was A Boy"
"Join Together" b/w "Baby Don't You Do It"
"Relay" b/w "Waspman"
"5:15" b/w "Water"

Latest posts by Best Classic Bands Staff
(see all)