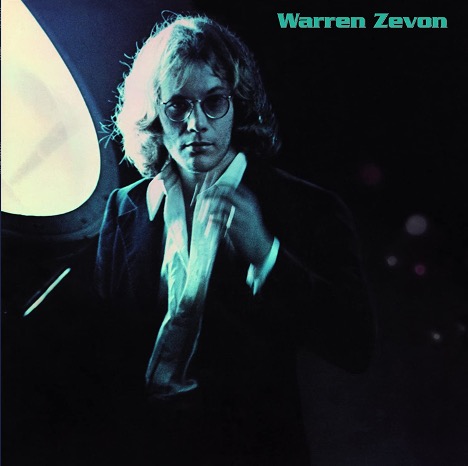 Twenty years after his death, Warren Zevon's legacy is still dominated by 1978's Excitable Boy, spurred to platinum by "Werewolves of London," the absurdist monster mash-up that pitted his stomping piano against Fleetwood Mac's strutting rhythm section. There's no arguing with that album's lean and hungry attack, yet a closer survey of the Chicago-born Californian's four-decade career suggests its predecessor, his Asylum label debut, offers a more revealing portrait. That self-titled 1976 LP shares its sequel's dark humor and brute-force rock, yet overall, it's musically and thematically more varied and ambitious, reinforced by producer Jackson Browne's emphasis on Zevon's more literate music and lyrics.
Related: Our Album Rewind of Excitable Boy
Music had been Zevon's adolescent refuge from a dysfunctional family as he shuttled between Fresno and Los Angeles. An early immersion in classical music was fortified by tween encounters with his idol, Igor Stravinsky. By junior year at Hollywood's Fairfax High, he was notching his first songwriting credits, releasing singles as the leading half of prescient psychedelic pop duo lyme and cybelle (lower case courtesy of e. e. cummings) in 1966. Dropping out for a sojourn in New York City as a folk singer, he followed with 1970's overlooked Wanted Dead or Alive before finding traction as keyboard player and bandleader for the Everly Brothers while crafting his own catalog of original songs.
By mid-February 1975, frustration over his becalmed solo career prompted Zevon and his wife, Crystal, to throw in the towel. Escaping in late May to the coastal Spanish village of Sitges and the Dubliner Bar, Zevon played solo for patrons until a midsummer postcard from Jackson Browne waved an Asylum record contract. Browne's offer was premature, with label chief David Geffen initially skeptical, but Browne prevailed and stepped up as producer when the Zevons returned to Los Angeles that September. Browne assembled a studio cast that would tap various and sundry Eagles and Beach Boys, Asylum labelmates J.D. Souther and Ned Doheny, and Bonnie Raitt, among others.
Zevon leveraged his ties to the Everly Brothers both together and apart, having been onstage for their infamous 1973 breakup at Knott's Berry Farm. Tapped by Zevon for the Everlys, guitarist Waddy Wachtel would anchor Zevon's solo sessions alongside Browne's right hand, David Lindley. Another Everly alumnus recruited for Don Everly's band, Lindsey Buckingham, showed up with his partner Stevie Nicks, now Fleetwood Mac's newly anointed power couple.
Related: David Lindley died in March 2023
Tracking at Elektra Records and Sunset Sound, Zevon drew from a solid backlog of material. Narrative ballads, world-weary love songs, antic rockers and dry-eyed confessions formed a loose but coherent song cycle set in a darker, more dangerous L.A. than the peaceful, easy vistas of his labelmates. An autodidact and avid reader, Zevon drew thematic grit from the hard-boiled novels of Ross Macdonald and the gonzo brinksmanship of Hunter S. Thompson.
"Frank and Jesse James" signals Zevon's prowess as a storyteller and arranger through a masterful fusion of folk narrative and chamber pop. A stately opening piano motif and the intricate keyboard arrangement that follows evoke Stephen Foster and Aaron Copland as he offers a concise recounting of the brothers' outlaw myth "back when the West was young." Lindley's fiddle and Wachtel's electric guitar figures add a country veneer, with the chorus underlining its galloping cadence with its refrain to "keep on riding, riding, riding," as Phil Everly's indelible vocal harmonies add an explicit salute to Zevon's erstwhile employers.
Zevon turns from popular myth to personal history with "Mama Couldn't Be Persuaded," an uptempo recollection of his parents' tempestuous courtship and tumultuous marriage. Warren's father, William "Stumpy" Zevon (born Zivotofsky in Kyiv, Ukraine), was not just a gambler but a low-level mobster with ties to Sam Giancana and Mickey Cohen. He was in his early 40s when he met 21-year-old Beverly Simmons, raised in a strict Mormon family, "who knew what she wanted, and she wanted that gamblin' man." With the marriage doomed by combustible chemistry and the culture clash between her staid Fresno family and his high-rolling lifestyle, their divorce left Warren to drily observe, "stuck in the middle—I was the kid."
Undercutting romantic sentiment with humor, fatalism or both, Zevon brought four nominal love songs to the project. Linda Ronstadt responded to the melancholy "Hasten Down the Wind," recording it as the title track to her seventh album, the first of numerous Zevon covers. Her version arrived three months after Zevon's own reading, one of three album tracks featuring his vivid string arrangements.
"Poor, Poor Pitiful Me" shifts the album tonally, a jubilant, self-mocking rocker that lampoons its hero's pitfalls against Jai Winding's barrelhouse piano and Waddy Wachtel's slashing lead guitar. Self-referential gags ("She really worked me over good…just like Jesse James…") and name-checking Hollywood landmarks (the Sunset Strip's Rainbow Bar and the Hyatt House Hotel, then synonymous with rock excess) add to its cheerful irreverence. If Ronstadt's command of heartbreak made Zevon's ballads an easy fit, her relish of full-throttle rock would lead her to tear into her own version of "Poor, Poor Pitiful Me" with a few sanctioned lyric adjustments.
With "The French Inhaler," Warren Zevon crafts a hard-boiled ballad depicting the title's damaged anti-heroine as she makes her way through "this sleazy bedroom town." The album's darkest song, its lyrics offer a withering assessment of a wayward lover and their shared milieu until the singer turns on himself, confessing, "So I drank up all the money…with these phonies in this Hollywood bar—these friends of mine in this Hollywood bar." With its title character modeled after an ex-lover, the bar is almost certainly West Hollywood's Troubadour, where Zevon, those phonies and his friends had hung out:
"When the lights came up at two,
I caught a glimpse of you,
And your face looked like something
Death brought with him in his suitcase
Your pretty face, it looked so wasted…"
Zevon's orchestration brings full force to its portrait of devastation before receding to just voice and piano.
Respite follows in the cryptic calm of "Mohammed's Radio," a slow-burning meditation that conjures what Van Morrison might have channeled if he had Zevon's sense of humor. "Everybody's restless and they've got no place to go," Zevon laments as he introduces a cast of characters wrestling with their quotidian burdens, the chorus asking, "Don't it make you want to rock and roll all night long." Vocal harmonies from Buckingham and Nicks warm its "sweet and soulful" reverie, underscored by Bobby Keys' tenor sax.
Inspired by a surreal Halloween Zevon spent in Aspen, the song would provide Ronstadt with another bold departure from more mainstream material.
Related: Zevon's final David Letterman appearance
Zevon flexes brutal rock muscle for "I'll Sleep When I'm Dead," driven by jackhammer piano and menacing, barbed guitar. "I'm drinking heartbreak motor oil and Bombay gin," Zevon boasts, "straight from the bottle, twisted again," finding a punchline behind a problem he was beginning to recognize, if not confront.
Covered four years earlier by Canadian singer-songwriter Murray McLauchlan, "Carmelita" extends addiction as theme in its serenade by a singer "all strung out on heroin on the outskirts of town." Spanish guitar decorates a trajectory from Ensenada to Los Angeles' Echo Park, where Zevon meets his man "down on Alvarado Street by the Pioneer Chicken stand," suggesting a sonic nod to Marty Robbins' "El Paso" that sustains the song's tragicomic tone on a knife-edge between pathos and ironic amusement.
The album's finale brings Warren Zevon full circle with the reflective instrumental motif that opened the album as introduction to "Frank and Jesse James," transposed here from piano to strings to cinematic effect. "Desperadoes Under the Eaves" is the album's masterpiece, an existential anthem that celebrates and ridicules Hollywood itself as it captures Zevon at a moment in hiding. The verse finds its singer stranded in the Hollywood Hawaiian Hotel as he stares into his coffee cup, hungover, short of funds:
"And if California slides into the ocean,
Like the mystics and statistics say it will,
I predict this hotel will be standing until I pay my bill…"
Zevon's string arrangement swells beneath a canopy of lush vocal harmonies, their Beach Boys provenance certified by Carl Wilson's arrangement for the "Gentlemen Boys," with Carl and Billy Hinsche joining Browne, Wachtel and other session guests in a choral backdrop that climaxes with calls to "Look away down Gower Avenue," a Hollywood street that ran straight through a cluster of the town's movie studios in their celluloid heyday, now fading in the grittier '70s.
Released on May 18, 1976, Warren Zevon was a critical success but a modest seller, creeping to #189 on the U.S. album chart. Browne would later admit that both "Werewolves of London" (which Browne himself knew was a hit after playing it in his live sets) and "Roland the Headless Thompson Gunner" (written with Zevon's Dubliner Bar proprietor David Lindell) were considered but held back to give Zevon's more literate material prominence.
Browne's guidance may have handicapped the album commercially, but as released, Warren Zevon still affords a richer, more nuanced cross-section of his work. Track for track, it remains more consistent, if less explosive, than Excitable Boy, which would pare its ensemble attack with a harder guitar edge courtesy of Wachtel, elevated to co-producer alongside Browne.
[After being eligible for decades, Zevon was finally nominated for induction into the Rock & Roll Hall of Fame's Class of 2023. The voting decision will be revealed in May.]
Bonus Videos
 Watch Zevon perform "Poor, Poor Pitiful Me" live in 1980
Watch Linda Ronstadt perform Zevon's "Hasten Down the Wind" in 1976

Latest posts by Sam Sutherland
(see all)