Waddy Wachtel on Playing With Keith, Linda, Seger and More
by Greg Brodsky
Guitarist Waddy Wachtel has been a first-call Los Angeles-based session and touring musician for many of the biggest artists of the era, including such stars as Linda Ronstadt and Stevie Nicks. His name often gets mentioned along with fellow session aces Danny "Kootch" Kortchmar, Leland Sklar and Russ Kunkel, and for good reason: they've worked together for over five decades. Now the four, along with "newcomer" Steve Postell, are preparing the release of their second full-length album and upcoming tour as a unit, calling themselves The Immediate Family. (A first single arrived Oct. 28, 2022; listen to it below.)
They're also the subject of a new film, Immediate Family, which had its world premiere on Sept. 30, at the Woodstock Film Festival, and won the Audience Award for Best Documentary Feature.
Earlier in 2022, Best Classic Bands published the first part of our extensive interview with Wachtel, in which he talked about his musical brothers as well as working with Nicks, for whom he has served as musical director and lead guitarist for decades. In this second part, we asked him to share some insights of some of the recording sessions he's done for other stars with whom he has collaborated over the years.
First up was Bob Seger, and specifically the recording process for "Roll Me Away." "That's Russ [Kunkel], [Little Feat keyboardist] Billy Payne and myself. A lot of times you get in the studio… the artist may not even be there to sing a vocal. Someone else will sing a guide vocal. When I went into the studio with Bob Seger… it was like 10 in the morning… he had probably ingested half a pack of Marlboros already. And he got in that booth, and he sang so intense. I mean, it's just like what you hear on his records. Blasting at 10 in the morning, it was fantastic! It was so inspiring. Bob was unbelievable in the studio."
Wachtel, who turned 75 just before our interview, was a member of Ronstadt's studio and touring band for years. "It seems like she had an ability to shift to a higher gear than any other singer," I observe. "Tell me about her recording of 'Just One Look.'" "On that song, when she gets to that ending, she just goes to a whole other level," he says. "Those are live vocals on the session. That's not her singing a casual guide vocal because she's going to do 'the real one' later. [Producer] Peter Asher's approach was, 'No, no. These are performances.' So when we're doing the song, she's going for the vocal. For 'Blue Bayou,' that vocal you hear… she sang that when we cut the track. That's the real vocal. That's why when we go on the road it sounds the same. Because it's the band playing and it's her driving the band with her incredible voice. It was the same with 'Just One Look.' That was the way we recorded it. That's a live vocal. When she hits that ending… 'Ohhh, baby…' It's like holy Christ! You could lose your place when you're playing along with that."
Watch Ronstadt and her crackerjack band – including lead guitarist Wachtel – perform two classics in 1977
Ronstadt's musical arranger for many years was the immensely talented multi-instrumentalist Andrew Gold. He and Wachtel overlapped for many years in her band, and for a while Gold also served as the opening act for Ronstadt. "We would [also] play for Andrew's show," recalls Wachtel. "After we rehearsed one day, he said he wanted to play [bass guitarist Kenny Edwards and me] a song. And he sat down at the piano and played us this ballad. We're listening to it and I'm looking at Kenny and I said to Andrew, 'Why don't you do it as a fast song?' And he goes, 'What?!?' I said, 'Give it a beat. Make it a fast song.'
'Really? No, I don't think so.'" Wachtel was insistent. "'Make it a fast song.' Kenny and I were thinking the same thing. (starts mimicking the uptempo beginning) He goes, 'Oh, man! That's pretty cool.'"
The song was "Lonely Boy."
"That's how it became the beat that it had and we went into the studio… again… live. My solo on that is a live solo. Everything on that track is live. By the end of that tour, is was part of the repertoire. The funny postscript about it… So we cut the song and it became the hit it should have been. It was really great and I was happy I was able to do what I did on it. One night I'm going into a 7-Eleven to buy some cigarettes (laughs) and I get in there and I reach into my pocket and I've got no money. That's the thing about being a musician. You're working, you're working. You have no money. (laughs) So I get in this store and 'Lonely Boy' is on the radio and I don't have a dime on me. And I'm looking at the guy behind the counter and I think, 'Gee… I wonder if I tell that guy that's me playing that solo, would he give me a cigarette?' I just walked out thinking I'm not gonna bother. That's the highs and lows of the music business right there. (laughs) It's blasting on the radio and I'm thinking I can't even buy a pack of fucking cigarettes." (laughs)
Related: In 2021, we talked to Wachtel about his work on legendary recordings from Warren Zevon, Randy Newman and others, and appearing in… The Poseidon Adventure
The subject turns to Keith Richards.
I met Keith when I was on the road with Linda [in the mid '70s]. We were in London, doing a European tour and we were playing a theater called the Old Vic. Before we left, we had done a run at the Amphitheatre in L.A. and I had met Mick and Woody, and then after the Old Vic show downstairs in the dressing room, next to Peter Asher, there's Keith Richards. I went over and I said, "Oh, a Rolling Stone, and we're the same height. Nice to meet you, man." And Kenny Edwards and I spent the next three nights hanging at Keith's house in London, and just had a great, great time. The first night, I told him the band would love to meet him, and everybody came to my hotel room and Keith was so gracious. He was so amazing. He was fielding questions from everybody. I was sitting there looking at this thinking, 'This is insane.' I kept thinking, 'I can't ask him a question.' And finally I said, 'Well, I do have one question.'
"I said, 'Keith, when you guys finished "Street Fighting Man" in the studio, what was that first playback like, to hear it all together?' And he just looked at me like I was from Mars and he went, 'I don't fucking know.' And I thought, 'Great. He just answered every other question from all these people, but for me, he shines me.' (laughs) I couldn't believe it!
"We became really good pals. He spent three days hanging with me and we actually did a recording session right before we left London. And then over the years, whenever he'd come to [Los Angeles], I'd see him. We'd hang out, play guitars for a while and talk music. Dug each other right away. And played together very well, always.
"And then I get a call from an attorney one day. 'I'm an attorney for Keith Richards; he's looking for you.' I said, 'Oh, he's looking for me. Why don't you give him my number?' (laughs) He said, "He's at Larrabee Studio. Do you know where that is?' And I went, 'Of course, I do.' And he said to call him.
"So I call him and he says, 'Wadds… hey man, how are you?' He said, 'Listen, I'm putting a band together, and you're the other guitar player.' I went, 'What?!?' And he goes, 'Yeah, man. That's it. You're it. You're the one I want.' I went, 'Fine with me.' (laughs) 'Okay with me.'" The band Richards was organizing was the X-Pensive Winos.
Richards and drummer Steve Jordan were in town working on the Hail, Hail Rock and Roll movie and he invited Wachtel to stop by the studio. "I knew Steve for years, so we were buddies anyway. So now there's Steve, and Keith and myself. So Steve brought in Charlie Drayton and everybody thought of Ivan Neville together. That's the Winos. And of course, Keith said, 'We've gotta have Bobby Keys.' So the Winos formed like that. That was it. There was no auditioning, really. It was, 'You're it. You're it.'"
Drayton subsequently departed and the touring band added a bass player, Jerome Smith. "The rest of the band was the same: Bobby Floyd, Sarah Dash, Bobby Keys and the rhythm section, Steve, myself and Ivan." Over the decades, they've recorded three albums, 1988's Talk Is Cheap, 1992's Main Offender and 2015's Crosseyed Heart.
In 2022, they reunited onstage to play three songs at a New York City benefit concert. "It had been around 30 years in between gigs," he laughs.
Wachtel is asked if he's ever been starstruck. "Let's put it this way, when I met Linda Ronstadt I was blown away. When I met Keith, I might've been starstruck, but we got along, you know what I mean? Being 'starstruck' became secondary to the friendships that developed right away. We relate. That's what I loved. That's what I still love. When the [Stones recorded 1997's] Bridges to Babylon, [drummer] Jim Keltner and I were there every night. Keith called me and said, 'Come down and play.' Play on a Stones album? Yup.
"It was wonderful to meet these guys that I had been playing along with their songs forever and I knew every song that they did. When I met Mick, he and I had a contest. We were listening to some old R&B tunes and we were trying to outdo each other with who knew the phrasing better… who knew exactly how the song went, better than the other guy. That's the thrill. The music is the thing. Being able to relate to music in the same way with people you've respected all these years and you find out they're as crazed about the detail of it as you are. That's the thrill. Or it becomes something like I said to Keith one day about his song 'Hand of Fate.' I said, 'I love that song and I love the five-string part.' And he goes, 'What?' And I said, "You know, the five-string part.' 'Huh?' And I played him his song and he goes, 'Oh, yeah, right. That's how it goes. I forgot. That is good, isn't it?'"
As for the Immediate Family, Wachtel, Kortchmar, Sklar, Kunkel and Postell will be back on the road together beginning in November for a series of West Coast dates, continuing on the East Coast in January, with the expectation that their tour will continue well into 2023. Tickets to see the band perform are available here.
Listen to the Immediate Family's cover of Sparks' "The Toughest Girl In Town," from their 2023 album
Download the track here.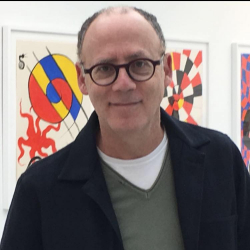 Latest posts by Greg Brodsky
(see all)