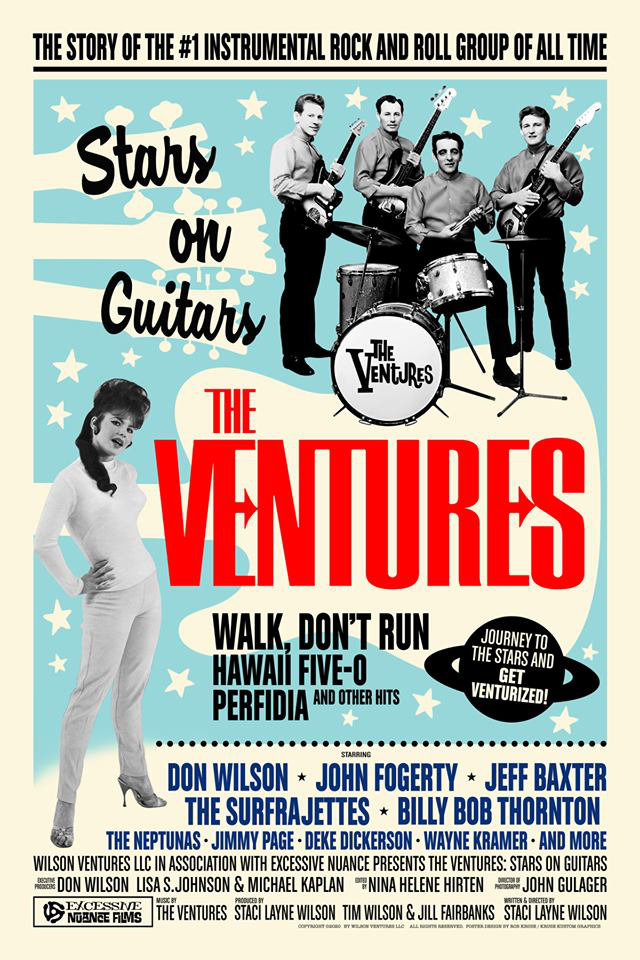 The first-ever feature-length documentary about The Ventures, titled The Ventures: Stars on Guitars, has been completed. The influential instrumental rock group are well known for such '60s hits as "Walk, Don't Run," "Perfidia" and "Hawaii Five-0."
The project was announced on January 30 by Wilson Ventures LLC, associated with the co-founder and last surviving original member of the quartet, Don Wilson. The classic lineup of the band consisted of Wilson (rhythm guitar), Bob Bogle (initially lead guitar, switched to bass), Nokie Edwards (initially bass, switched to lead guitar) and Mel Taylor (drums). Watch a trailer below.
Says the announcement, "The Ventures are the bestselling instrumental rock group of all time. They sold 112 million records around the world with 280 different releases in the U.S. and abroad, and are the first to have the same song with different arrangements both hit the Top 10: 'Walk Don't Run' and 'Walk Don't Run '64.' The Ventures charted 37 albums in the U.S. to the Beatles' 36 (Billboard) and from 1959 to the present day, they are still touring and recording."
Related: Founding Ventures member Nokie Edwards died in 2018
The documentary, which coincides with the group's 60th anniversary, features brand-new, never-before-seen interviews with rhythm guitarist Don Wilson. Director Staci Layne Wilson (Don's daughter) "takes the viewer back through the '60s, '70s, '80s and up to now as their legacy is set in rock and roll history," says the press release.
Interviewees include John Fogerty, Jimmy Page, Jeff "Skunk" Baxter (Steely Dan, the Doobie Brothers), Randy Bachman (the Guess Who, Bachman-Turner Overdrive), Billy Bob Thornton (the Boxmasters), Waddy Wachtel, the Neptunas, the Surfrajettes, Leon Hendrix, Wayne Kramer (the MC5) and many more.
Cover models from the Ventures' albums, record producers, film composers and music historians are also featured.
Related: 10 great 1960s instrumental hits
The Ventures were inducted into the Rock and Roll Hall of Fame in 2008.
Don Wilson told Best Classic Bands: "It's actually kind of amazing that there has never been a documentary about The Ventures. Aside from from some television specials, this is the first and I am really proud of my kids for putting this movie together."
Staci Layne Wilson is an award-winning filmmaker. The Ventures: Stars on Guitars is produced by Don Wilson, Tim Wilson, Jill Fairbanks and Lisa S. Johnson of 108 Rock Star Guitars.
The Ventures: Stars on Guitars has been completed and submitted to various film festivals, and is seeking distribution.
Watch the trailer for The Ventures: Stars on Guitars

Latest posts by Best Classic Bands Staff
(see all)