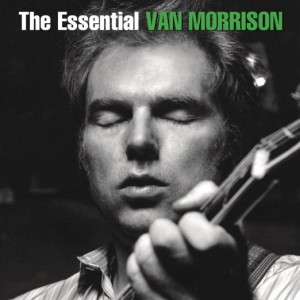 Since Van Morrison first emerged onto the international music scene in 1964 as the lead singer for the Irish rock group Them he has been one of classic rock's most acclaimed artists. But his deep catalog of albums and more has been inconsistently available via digital music sources and as physical product, and as yet not efficiently repackaged for contemporary music consumers.
But as of this coming Friday, August 28th, the situation will be remedied as Sony Music's catalog division Legacy Recordings has now acquired the rights to the most complete Morrison discography ever assembled under one label imprint. The Morrison Legacy catalog spans a half-century of albums, videos and compilations, including his work with Them and his full solo output since 1971. Much of the catalog has been out-of-print in any format, with some titles being unavailable for as long as 15 years.
First up: A new compilation titled The Essential Van Morrison, a 37-track career-spanning anthology, available digitally and as a two-CD physical album on August 28th. As well, 33 Morrison albums will become available on the same date as digital releases and through all streaming services.
It's just the beginning of Legacy's program to give the collected works of the artist who was recently knighted by Queen Elizabeth II (see our earlier news item here) for his his "services to the music industry and to tourism in Northern Ireland" the showcase it merits. Near-term plans include a new single CD compilation of his best tracks and deluxe Legacy Editions of key Morrison solo albums Saint Dominic's Preview, It's Too Late to Stop Now, Hard Nose the Highway and Enlightenment.
As well, Warner Bros. Records will expand and remaster two early Morrison classics: Astral Weeks and His Band and The Street Choir. Both will be available digitally and on CD on October 3oth.
Morrison recently reasserted his stature as one of rock music's finest singers and songwriters with the release earlier this year of Duets: Re-Working The Catalogue, which featured collaborations with Steve Winwood, Mark Knopfler, Mavis Staples, Taj Mahal, Michael Buble and others on new versions of hidden gems from his multi-faceted discography, and his debut release under a new recording deal with RCA Records. As our reviewer noted, "The singer that outshines everyone is Morrison, which comes as no surprise to this longtime admirer of his skills. Hence Duets: Re-Working The Catalogue is a worthy addition to his estimable catalog, and underscores how Van's pipes and how he uses them are a true gift from God" (see full review here).
Says Morrison – who was inducted into the Rock & Roll Hall of Fame in 1993 – of the Legacy program, "Throughout my career I have always preferred to let my music speak for me, and it is a huge honor to now have that body of work recognized in this way."


Latest posts by Best Classic Bands Staff
(see all)